It could be Champions League or bust for Moyes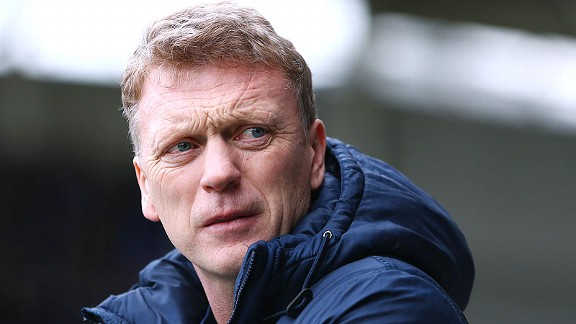 Michael Steele/Getty ImagesA failure to finish in the top four could very well lead to David Moyes' departure from Everton.
On 14th March 2002, David Moyes made a decision that shaped this last decade at Everton Football Club. Since accepting the reins at Goodison Park, the fiercely determined Scot has turned a declining side into European hopefuls. Finishing fourth in 2004-05, Everton have achieved seven top-eight finishes in the last eight years.

Providing stability and continuity within the club, Moyes is only the third manager to complete a decade at a Premier League club, following in the footsteps of Sir Alex Ferguson and Arsene Wenger. In terms of Everton, only Harry Catterick has managed the club for longer in a single spell (1961-1973).

In the upcoming weeks and months, Moyes will tackle the exact scenario that faced him in 2002. As his contract ticks towards expiring, his decision, whether renewal or departure, will have serious ramifications for his shrewdly assembled side.

- Moyes to decide future in the summer

Back in November, Moyes made his intentions clear: With the team primed for an assault on the Champions League places, he wanted ambition; he wanted progression. "I will probably wait until after January and see how things go," said the Everton boss. "I want to see what we're going to do and where the club are looking to move to in the future. And that's what I'm really looking for as well."

Now, with the morale-sapping transfer window at an end, talk is again centering on his future. "I'll give as much as I can, but I want to see how the team do," said Moyes. "I want to see how we do in the cups, in the league, and it's more than likely I won't make a decision until the end of the season."

Based on these latest comments, Champions League football could be the deal breaker. Highly ambitious and with a constant thirst for improvement, Moyes is unlikely to let his career stagnate at Everton. Continually working with meagre resources, the January window may prove to be the straw that breaks the camel's back.

After the fates conspired to keep his transfer targets out of reach, Moyes has already voiced his concerns at the lack of depth and growing fatigue within the squad. Assembling his strongest squad to date, this season was the golden chance to shatter this European glass ceiling. While that may still happen, the fixture list and paper-thin squad suggest otherwise and this season is drifting towards missed chance territory.

Despite Moyes appearing to throw down the gauntlet, the board have barely shown any of the necessary ambition and progression. With the financial situation unlikely to change, Moyes is sure to question his own motivation. Able to gear towards a Champions League push, after a strong start, the building process would need to start again if fourth proves elusive.

Tired of scraping and scrapping through each transfer window, Moyes may decide enough is enough. Working minor miracles each transfer window and fending off the circling vultures, while trying to find hidden gems in the bargain bucket, failure this season may be a step too far for this battle weary manager.

Likewise, while the supporters crave silverware, FA Cup success could prove guilt-edged, as a trophy would crown Moyes' tenure. Able to point to a symbol of his success, a Wembley win would leave Moyes with nothing left to accomplish at Goodison. Although, well aware of the financial ramifications, Moyes would prefer fourth place to silverware.

"Qualifying for the Champions League means more because the financial rewards are far greater," said Moyes. "We can think of a lot of teams who have won the FA Cup and it's not desperately changed their fortunes, whereas qualifying for the Champions League does."

Given the monetary shackles worn during his tenure, few would blame Moyes if this season proved his Goodison swansong. Given the nature of his latest comments, fourth spot and signs of ambition from the board may prove vital, as Everton look to hold onto their prized asset.