Less bravado, more elbow grease needed from Heitinga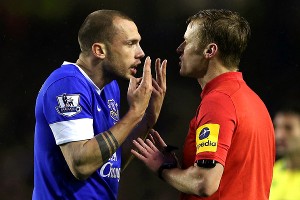 Clive Brunskill/Getty ImagesEverton supporters are looking for less talk and more action from John Heitinga.
Following a string of impressive performances, Everton supporters picked John Heitinga as their 2011-12 player of the season.

Now, just nine months down the line, every shred of confidence has ebbed away and Heitinga's current form is alarming. Solely or partially culpable for five of the last six goals conceded, the Dutch defender is a liability at present and risks derailing Everton's European hopes.

Discounting current form, Heitinga does possess quality and boasts 85 international caps. At his focused best, the assurance in possession and reading of the game shine through. Unfortunately, at his unfocused worst, the glaring concentration lapses and lacking physicality make him a target for opposing players.

Surprisingly, given his experience and ability, Heitinga is continually eased into the team each season. In recent months, doubts have crept in over Heitinga's focus and his incremental use each season strengthens that view. Each year, during the early stages, Heitinga is out of position or benchwarming before returning to his favoured centre back position.

In 2009-10 and 2011-12, there was no centre back start until October. The '10-11 season saw no central defensive appearances until January; this season, five league games elapsed before Heitinga surfaced at centre back. During his first season, the decision to ease Heitinga in was understandable as the defender adjusted to the frantic nature of the Premier League; the worry is that this trend has become a pattern.

The concerns, which are currently evident, begin when Heitinga is in and out of the team. When unable to establish a rhythm, his form is often erratic and errors creep in. Ahead of Saturday's trip to Oldham, Heitinga has started just half of the matches. Unused 11 times, Heitinga has made 15 starts in defence with four substitute appearances in midfield.

Struggling to find top form, errors have plagued Heitinga in recent weeks. Poor control gifted West Brom an undeserved lifeline with Everton cruising. David Moyes kept the faith in Heitinga against Aston Villa, but his reward was a defensive disaster. At fault for each Villa goal, the perceived lack of effort from Heitinga angered the Goodison faithful. Easily outmuscled for the first Manchester United goal last Sunday, it was another day to forget for the Dutch defender.

The erratic form is a problem. However, Heitinga is capable of better; he knows it, his manager knows it and the fans know it. After his customary early season wait, the Dutch international missed just two of the remaining matches last season. Making 33 of his 39 appearances at centre back, Heitinga deservedly earned his award and has to strive to get back to that level.

For a number of fans, Heitinga's demeanour and apparent bravado are the sticking point. For all the social media battle cries, pre-match fist bumps and crowd cheerleading, performances are the supporters' bread and butter. Contrast Heitinga with Phil Jagielka and the difference is vast. The England centre back quietly goes about his business while showing the same level of commitment and endeavour each week.

Starting the Manchester United game due to a late withdrawal, Heitinga played like a man expecting a day off. Sluggish from the start, Everton cannot afford to carry out-of-form players as the final stretch arrives. At present, Heitinga has the look of a man who has his mind elsewhere. Needing to convince people otherwise, Heitinga has to do his talking on the pitch rather than beforehand.