Phil Neville: Deal or No Deal?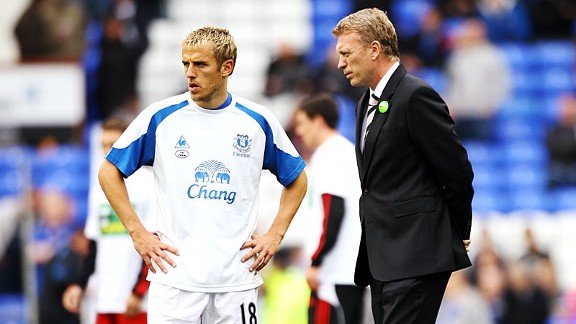 AP PhotoThe inevitable departure of Phil Neville, left, from Everton is something manager David Moyes is not looking forward to.
Earlier this week, one Merseyside-based defender announced his retirement at the end of the season. Depending on your viewpoint, it could be time for another to follow suit. After years of loyal service, Jamie Carragher will hang up his Liverpool shirt in May and Phil Neville may choose to do likewise for Everton.

Set for his 300th Everton appearance, after almost 400 for Manchester United (who Everton visit Sunday), Phil Neville falls firmly into the veteran category. Recently celebrating his 36th birthday, Neville is weighing his future with his contract expiring at the end of the season.

At 36, doubts over fitness and ability will no doubt creep in and Neville is sure to assess both before deciding on his future. Everton's final league placing could factor in Neville's decision, with the Everton captain keen to sample European football again before retiring. Should this season prove his last, Phil Jagielka is ready to step in. The England centre back, minding the captain's armband in Neville's absence, is set to become the next captain.

Upon first glance, statistics support the continuation of Neville's Everton career. However, we must remember that while an important part of football analysis, statistics can be moulded to fit almost any argument. With Neville in the team, Everton have won nine, drawn seven and the only blemish is the dismal defeat at West Brom.

Without Neville, the results are one win, five draws and two defeats. On the surface, those are severely contrasting numbers but opposition and venue are a factor.

Neville started the trip to Wigan and the home game against Sunderland, yet Everton trailed in both before his withdrawal. After sacrificing Neville for a more attacking option, David Moyes' men fought back to draw at Wigan and claim all three points against Sunderland. Statistically, those matches count as 'with Neville' despite his substitution prior to both turnarounds; further proof statistics can fit almost any purpose

Although there is only one win without Neville, it was against European rivals Tottenham. Without Neville, Everton also drew at Manchester City and Stoke - tough places for any visiting side. It is hard to judge points dropped to Arsenal and Chelsea; few would expect wins against both. The only real copybook blots without Neville were the Reading defeat and the recent draw with Aston Villa.

In addition, in the games without Neville, there is little evidence that his presence could have altered the outcome. In the Norwich, Manchester City, Stoke and Aston Villa draws, opposing goals were the result of goalkeeping errors, defensive slipups and set-piece mistakes - areas Neville cannot bolster from his midfield position.

Making just three appearances at right back this season, Neville's primary use is as a central midfielder. While his leadership qualities shine through, his playing ability poses more questions than answers. A fragile passing range often slows attacking moves and his advancing years come with their own problems.

As the years catch up with Neville, his pace has evaporated. When opposing players attack, his propensity to back off invites pressure and puts Everton on the back foot. To counter this, Neville tends to dive into tackles in a bid to regain possession.

Unfortunately, as he gets older, the tackling has become more erratic and less accurate with Neville making Paul Scholes seem like Bobby Moore.

Lacking the required positional sense and the ability to cover ground quickly, Neville's limitations arise against fast counterattacking sides. During the draw at Southampton, with Leighton Baines, Steven Pienaar and Leon Osman pressing forward, Neville's poor positional awareness was all too apparent.

After failing to spot the danger and cover the defence, Southampton doubled up with Everton overran in midfield.

Rarely used as a defender these days, Everton's midfield alternatives are simply a class above. That is not a slight against Neville, more a harsh reality. As the body clock ticks, age and the speed of the game are getting the better of the Everton captain. There are few better leaders and motivators within the game but that is not enough.

Having expressed a desire to try his hand at coaching, and with plenty of applicable attributes, now could be the time for Neville to hang up his boots. Throughout his time at Everton, his effort, application and will to win are without dispute. After eight years of service, the time to say thanks but no thanks may have arrived.