As Mirallas nears return, Oviedo deserves a chance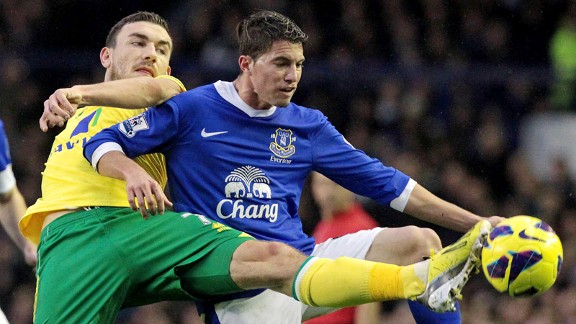 Lindsey Parnaby/AFP/Getty ImagesWhile Everton wait for Kevin Mirallas to return, Bryan Oviedo, right, should get more playing time
Returning to training after a long layoff, the impending return of Kevin Mirallas will provide a timely boost to Everton's European push. However, with Mirallas having suffered previous reoccurrences of his injuries, David Moyes is sure to ease the player back into first-team action.

After turning Andre Wisdom inside out in the Merseyside Derby Oct. 28 at Goodison Park, Mirallas withdrew at half-time and Everton rarely threatened after his departure in a 2-2 draw. Recovering in double quick time, he managed to feature in the next match at Fulham and capped his performance with an assist.

Unfortunately, Mirallas found himself hamstrung again in the next match and limped off after 30 minutes. Sidelined about a month, the winger made his comeback at home to Spurs but injury struck again and Mirallas lasted just 45 minutes.

Since his arrival, Mirallas has made quite an impression at Goodison Park, albeit a rather fleeting one. The Belgian international has impressed with his quick feet, pace and ability to beat a man. Adding a new dimension to the right side of the team, his partnership with Seamus Coleman gives Everton another line of attack.

Since the win over Spurs, the £5.3million capture from Olympiakos has remained on the sidelines. His return is sure to lift the side with matches against Southampton (Monday), Aston Villa and West Brom on the horizon. Clear-cut chances were at a premium in the recent Swansea draw and Mirallas add another weapon to the attacking armoury.

In his absence, Steven Naismith is frequently asked to fill the void, a task in which he is yet to fully convince. Drifting infield all too often, he tends to leave his right back fighting a lonely battle on attacking and defensive fronts. With an eye for a goal, the Scottish forward appears more suited to a central role.

Centrally, Naismith would have the opportunity to strike up his former Rangers partnership with Nikica Jelavic. Both are out of sorts at presents and could benefit from having a familiar face in close proximity.

Another player tasked with filling the Mirallas void is Victor Anichebe, the footballing equivalent of Marmite amongst Everton supporters. Having turned around his attitude and form, Anichebe has proven a valuable asset this season. Nevertheless, he faces the same problem as Naismith. For all his endeavour and industry, he is not a midfielder and it shows.

In spite of infrequent appearances, Bryan Oviedo has impressed on his brief outings. Defensively sound due to his ability to play at left back, Oviedo is equally adept in forward areas. Possessing a strong left foot, pace and the ability to beat a player, Oviedo is akin to Mirallas Lite.

Staking a claim for increased time, Oviedo could be provide a possible solution to the right-sided problems as Mirallas eases his way back into the picture. Anichebe and Naismith in midfield smacks of square pegs in round holes and Oviedo offers a different option. Yes, he is relatively inexperienced at this level but, technically adept and positionally sound, the Costa Rican deserves the chance to prove himself within the current squad.