Behind the scenes at Cheltenham-Everton (Part 2)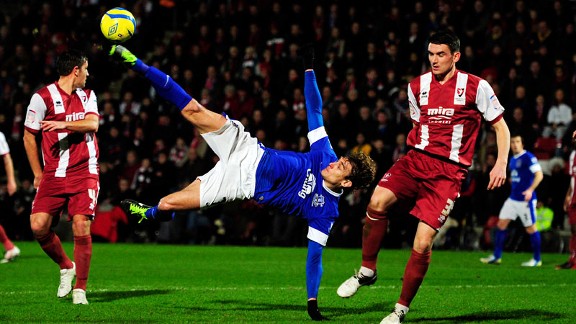 Stu Forster/Getty ImagesEverton's Nikica Jelavic went all out on this effort versus Cheltenham.
The Cheltenham-Everton match grows closer and the on-screen side of the production continues their preparations. The group entrusted with delivering onscreen analysis are presenter Ray Stubbs, pundits Steve McManaman and John Barnes as Craig Burley provides the co-commentary.

One by one, these media men break from their routines to provide interviews. What stands out from the onset is how much each one values their role at ESPN. While not all of them had designs on a media career, they are grateful for the positions they find themselves in.

With over 25 years of experience, Stubbs is a broadcasting veteran but still likes to keep to his pre-match rituals. "The main one is walking around the stadium, I always get here as early as I can and I like to walk around the stadium," said Stubbs.

The colossal production trucks loom in the background and Stubbs is well aware of the scale of this operation. "When you turn up and see the vans, it is a bit like putting the wagons in a circle." He continues, "It is our base camp; it becomes our office for the day and how this works astounds me, it amazes me."

Joining ESPN after 26 years at the BBC, Stubbs' love for his work is yet to diminish. If anything, it continues to grow and his eyes light up as he talks about the job. "I love coming to these stadiums for the FA Cup. You sense how much it means to the community," he says. As the topic shifts, it is clear that the presenter reveres the FA Cup and its potential for shocks. "I love this competition because whatever level you are at, you get a chance to be in the same competition as Everton, Manchester United, Liverpool and Chelsea and it is your moment," he adds.

Pressed on his favourite sport, Stubbs gives little away. "I just think, how lucky am I to be involved and working in this game." He goes on, "I know it sounds glib, but you would never choose. I love working on this, I love working on anything, and I'm incredibly privileged to be in this position."

As Stubbs departs, McManaman approaches. McManaman began working for ESPN's American production before joining the British coverage, but the former Liverpool man hadn't always envisaged taking this route: "When I was playing, I actually quite liked the thought of staying in football as a manager. But, in the last 10 years, the job has changed so dramatically and you see players starting to drift away from the job which is quite sad really."

After answering several other questions, McManaman is called away to a production meeting and Barnes takes his place. As a player, manager and pundit, Barnes is accustomed to the spotlight and looks at ease throughout as he answers various questions.

Making almost 600 appearances, playing was the highlight for Barnes but he enjoys his current role, as he makes clear, "Playing beats everything, but to still be involved is fantastic." Although happy in his current role, the media route was not always the plan. "After retiring, I wanted to go into management which I did, as it was the natural progression, but to still be involved and talking about football is great," said Barnes.

With preparations cranking up a notch, Barnes departs are further questions. Taking a break from preparations, co-commentator Burley is the next former player to answer questions. While McManaman and Barnes were unsure of a media career, Burley saw it as the obvious move. "I always wanted to go into this. I worked quite a lot in the media when I was playing and I always enjoyed it," he says.

On the issue of dealing with the critical side of his job, Burley is pragmatic. "I try not to hang about with players or managers. Otherwise, I think it is difficult as you can become very hypocritical. One minute you are patting them on the back, the next minute you are talking about them. I have always tried to distance myself from the minute I stopped playing," he says.

As Burley continues to answers questions about his experiences as a co-commentator, it is clear that he relishes his role. Shaking hands with the journalists as he departs, Burley heads off to continue with his preparations for the match.

Preparation complete and rehearsals finished, the media foursome take their positions with the clock ticking towards the 7pm airtime. Stubbs stands alongside Barnes and McManaman at pitch side while Burley takes up his commentary position. Wholly appreciative of their roles within the production, it is apparent that these media men are enjoying the continuation of their footballing careers.