A trip down FA Cup memory lane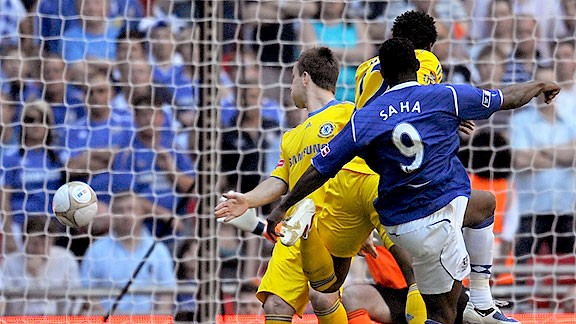 Paul Ellis/AFP/Getty ImagesEverton's last FA Cup final appearance came in 2009 when Louis Saha's goal was the lone Toffees score in their 2-1 loss to Chelsea.
Cheltenham Town welcome in Everton on Monday night with the visitors keen to avoid another high-profile cup upset, in what is the first competitive meeting between the sides. While the teams have never engaged in a competitive clash, they did contest a testimonial in 1990. Making a guest appearance for the opposition, Neville Southall told the Cheltenham team, "We'll win this tonight if we score, because nothing's getting past me". He was right, as Southall kept a clean sheet and Cheltenham won 1-0.

- Distin set to earn new deal
- Jagielka signs new deal

Over the years, Everton have enjoyed plenty of FA Cup success with the boys in blue contesting 13 finals in total; the 2009 defeat to Chelsea being the most recent. There are a number of standout moments in Everton's FA Cup history and, in a nostalgic trip down memory lane, this article looks at some of those highs and lows.

In 1966, Everton arrived at Wembley as the first team to reach the final in its current format without conceding along the way. Other teams achieved this landmark in the early 20th century but there were fewer rounds back then. The feat is even more impressive since the quarterfinal clash with Manchester City required two replays -- Everton won 2-0 after two goalless draws.

Favourites going into the match, Everton found themselves 2-0 down after 57 minutes with Sheffield Wednesday on their way to victory. Step forward Mike Trebilcock. Heading into the match, the forward had made just seven league appearances all season and he was picked ahead of crowd favourite Fred Pickering.

Scoring twice in the space of seven minutes, Trebilcock rescued Everton from their perilous position. Harry Catterick's revitalised side pressed for a winner and it arrived, with 15 minutes remaining, as Derek Temple fired Everton in front to complete the comeback.

Trebilcock left Everton in January 1968 after just 11 league appearances in three years, but that game-changing brace secured his place in Everton folklore. The match is also synonymous with Eddie Kavanagh and his one-man pitch invasion. Running the length of the pitch, Kavanagh managed to evade the pursuing police officers and even left one grasping at his jacket as he slipped out of it.

Another significant FA Cup moment came in 1984. After a less than inspiring start to the season, Everton travelled to Stoke in the third round. Pre-match, Howard Kendall let the Everton fans do his team talk for him. With almost 10,000 vociferous Evertonians making the trip to Stoke, Kendall simply opened the dressing room windows and said, "That's your team talk. Don't let those fans down".

At the final whistle, Kendall's men celebrated a 2-0 victory and Everton went on to win the FA Cup that season. The cup success ended a 14 year wait for silverware and marked the beginning of the most successful period in the club's history.

Unfortunately, there have been a number of lows along the way for Everton. In the grand scheme of things, the fourth round exit to Bradford City in 1997 was just another defeat to a lower league team. However, on a personal note, this was important; it was my first match at Goodison Park at the age of six. Unfortunately, Everton did not follow the script and a Chris Waddle-inspired Bradford dumped Everton out of the cup.

The visitors raced into a two-goal lead in the second half and, while an own goal hinted at an Everton comeback, Rob Steiner soon restored Bradford's two-goal cushion. A last minute Gary Speed consolation put an unfair slant on the final score with Bradford winning 3-2.

If the Bradford defeat was bad, the Shrewsbury defeat was bad on a completely new scale. Managed by former Everton captain Kevin Ratcliffe, Shrewsbury pulled off one of the biggest shocks in FA Cup history. Exactly 80 places separated the two sides and few gave the Shrews a chance but they grabbed a deserved victory with a 90th minute winner.

Former Nottingham Forest forward Nigel Jemson was the home side's two-goal hero with a free kick and a near post header. Substitute Niclas Alexandersson drew Everton level in the second half but Jemson had the final word with the decisive goal. In truth, were it not for the heroics of Richard Wright in goal, Everton could have lost by a more convincing margin.

Having lost to Shrewsbury and Oldham during his Everton tenure, David Moyes is all too aware of the perils of the FA Cup. Nevertheless, with the squad overworked due to injury, Moyes may look to rest some players. Heeding the examples of previous embarrassing exits, the players who come into the side will need to match Cheltenham's endeavour and determination from the first whistle to the last.