Latest Fellaini comments highlight Everton's progress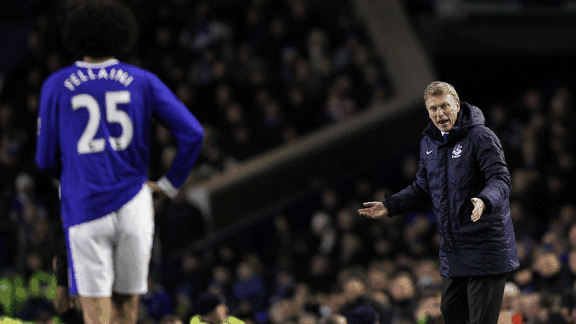 PA PhotosMarouane Fellaini has seemingly back-tracked on previous comments
Back in September, and totally out of character, Marouane Fellaini dropped his first hints about an Everton exit. During an international break, Fellaini told the Belgian press that this season with Everton could be one of his last as he had seen everything he could during his five years at the club.

- Fellaini prepared to see out Everton deal

Swiftly admonished by Everton's hierarchy, Fellaini apologised to the fans for his comments whilst David Moyes offered his thoughts on the matter. "I think what happened was, he gets amongst international journalists and they massage his ego. Sometimes players can slip up and say things they shouldn't," Moyes said.

Needing to learn the language upon his arrival at Everton, Fellaini rarely gave interviews to begin with. Once settled, the midfielder began to assert himself on the pitch and provided interviews off it. Since signing his new contract, the big haired Belgian has spoken of his ambition and his hopes for Everton.

Expressing his aims for the forthcoming season, Fellaini said: "We need to start well as we can qualify for the Europa League or Champions League if we do." Another interview saw Fellaini praising the fans: "Every week, Everton supporters are the best. When you score against a big team, you are happy and give everything for the supporters."

Ahead of his return at Newcastle on Wednesday, Fellaini has again spoken about his future. The September anomaly aside, these latest quotes tie in with previous comments: "I have a contract with Everton until 2016, and if they want me to I will see it out to the end." Fellaini's willingness to stay highlights the progress made by Everton this season.

Everton gave Fellaini his Premier League chance, nursed him through several injuries and helped him settle in a new country; the midfield man appreciates that and has spoken about it in the past. However, regardless of any loyalty or sense of obligation, there also appears to be the realisation that Everton can match his lofty ambitions.

Never one to hide his opinions, Fellaini craves European football but Everton are on course to provide that this season. Set for a Top four tilt in the upcoming months, the Toffees are playing their best football in years and Fellaini is one of the key factors. Scoring eight and creating another three, defences have struggled to cope since Fellaini's conversion into an attacking midfielder.

As his form earns rave reviews and the transfer window opens, Everton's finest is sure to find himself linked with a move. Even so, Moyes has already spoken of his plans for the upcoming transfer window and selling his top players is not one of them. Though numbers are in short supply, the nucleus of the squad is strong with Everton able to match anyone on their day; Chelsea can testify to that.

Ending 2012 in fine form, last year was a progressive one for the blue half of Merseyside. The statistics reflect glowingly on Everton. Strong home form saw just three defeats in 25 at Goodison whilst astute signings improved the squad and, in Leighton Baines, Everton have the most creative player in Europe's five major leagues. Furthermore, 2012 saw the most Everton goals in a calendar year (Premier League era) and the most points in a calendar year since 1987.

Providing Moyes signs on the dotted line and the board support the manager, this is an upwardly mobile team with a burning will to win. Able to match the ambitions of their star man, Everton are a team on the up and Fellaini is a vital part of that. And, judging by these latest comments, that is how it will remain for the foreseeable future.