Pienaar leads East End fightback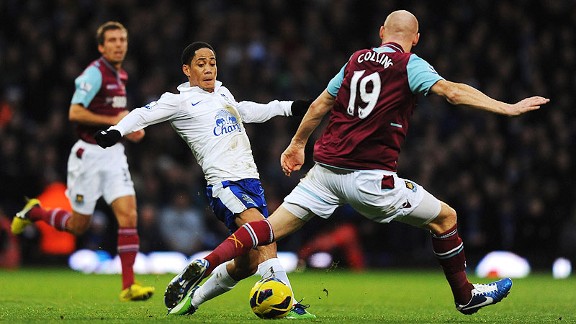 Steve Bardens/Getty ImagesSteven Pienaar, left, led Everton's second-half comeback
After last week's draw at Stoke, Everton's lack of fighting spirit was a concern going into Saturday's fixture at West Ham. With alarming ease, Stoke knocked Everton out of their stride and bullied David Moyes' men. Wary of a similar event Saturday, Moyes opted for strength and experience in the absence of Marouane Fellaini. The fit-again Phil Neville and Victor Anichebe returned with Steven Naismith making way.

Everton began in a composed and purposeful manner with Sylvain Distin spurning a glorious chance in the early stages. Shortly afterwards, Leon Osman gave Everton the lead - or so he thought. The linesman disagreed and disallowed the goal. The very harsh decision appeared to be against Anichebe for obstruction.

Following their reprieve, West Ham increased Everton anguish. Allowed far too much space by the out of sorts John Heitinga, Carlton Cole fired a low effort beyond Tim Howard. For the 10th time in 18 matches, Moyes' men needed to come from behind. Fortunately, Everton were able to do so in a 2-1 victory and improve their impressive recovery statistics – gaining 17 points from losing positions this season; only Manchester United (21) is better.

In spite of that, the lack of clean sheets remains a worry. Everton have gone 14 matches, 13 in the league, since their last shutout. While the scoring run extends to 15 successive league games, the real problems remain in defence. Moyes' team selection was bold but the various defensive reshuffles did not help these continuing issues.

Regardless of the defensive choices, this was an unexpectedly attacking lineup with Everton boasting a two-man attack for the first time in months. Everton rarely use a standard 4-4-2 and, after the first 45 minutes, it was easy to see why. The disjointed defence struggled, with John Heitinga returning at centre half and Phil Jagielka shoehorned into right back; Everton mustered little beyond their bright start.

In the second half, it was a different story. Buoyed by the creative probing of Leon Osman and Steven Pienaar, there was more belief within the Everton ranks. Although several players were out of position, a more assured approach was evident. Heavily involved in Everton's brighter moments, Pienaar provided his fourth assist of the season. Victor Anichebe applied the finish and becomes the first player to score a headed goal against West Ham since their top-flight return.

Lifted by the equaliser, the wave of white continued to attack and the winning goal soon arrived. Displaying tidy footwork throughout, Osman worked his way to the by-line and Pienaar bundled home his cutback. For the most part, this dynamic duo carried Everton with Leighton Baines also offering stout support.

Pienaar has had his doubters in recent weeks but the South African is a vital cog in the Everton system. Regardless of form, good or bad, Pienaar never shirks responsibility and constantly looks for possession. Up against it after Cole's opener, Pienaar was the one dragging Everton back into the match.

In terms of selection, Moyes has to learn to cope better with the absence of Fellaini. Against QPR and now West Ham, numerous positional changes countered the Belgian's absence and they were to detrimental. Thanks to an improved second half, Everton were able to overcome the changes but too many square pegs found their way into round holes.

Despite the questionable selections, the win was the most important aspect and it returns Everton to a Top 4 berth. The only sour note was the loss of Darron Gibson, the recipient of two poor red cards awarded. It is no surprise Moyes intends to appeal. Already shorn of Fellaini and Kevin Mirallas, Everton cannot afford to lose Gibson as well.

Hard fought and much-needed, this win could prove the catalyst for Everton's European push. Led by the artistry of Pienaar, Osman and Baines, Everton are a match for anyone on their day. Nevertheless, with Wigan at Goodison next, Everton will need more guile on Boxing Day and a more structured team selection can help with that.