Bogeymen Everton continue to trouble City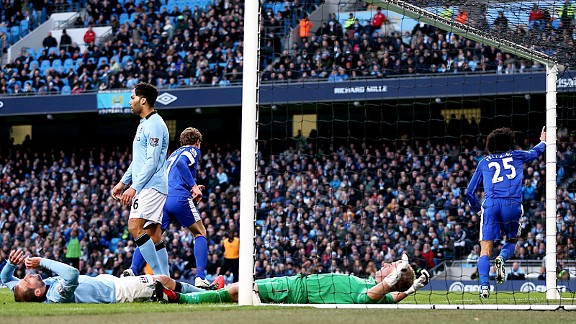 GettyImagesMarouane Fellaini celebrates after putting Everton in front at Man City
Before the game, Manchester City boss Robert Mancini lavished praise upon Everton and spoke glowingly on their potential for a top four challenge. Unfortunately, post-match is a different story with Mancini. When Everton take points off his side, which happens quite often, he reverts to sniping comments. Apparently, this game was a "Champions League final for Everton".

- Man City frustrated by Toffees
- Curtis: A straitjacket made in blue

Thankfully, any football fan with a brain cell will disregard those bitter words and concentrate on the more educated views of City goalkeeper Joe Hart, who had this to say about the game: "It's always going to be tough against Everton. Good team, lots of good players and a good manager. They are a tough, tough team to play against".

Everton left the Etihad after drawing for the seventh time in nine league games. However, this was a good point; if there can be such a thing. Last season, Everton arrived here with the simple tactic of containment... that loosely translates as everyone behind the ball and hope for the best. Adopting the positive approach showcased in May's 4-4 draw at Manchester United, there was far more ambition on this occasion.

Everton began with a purpose, with a belief, almost knowing they could match their expensively assembled opponents. When Marouane Fellaini bundled the visitors into the lead, few were able to question the merit of it. Featuring for the second successive game, Darron Gibson provided the stable platform for Everton to build on with the other midfielder ably assisting.

After giving Everton the lead, Fellaini was involved in the next flash point. Lee Probert awarded the home side a penalty after Fellaini fouled Edin Dzeko. It was a foul, there is no disputing that, but it was of the 'you never see them given' variety. Bizarrely, the fourth official told David Moyes that the penalty was against Leon Osman. Surely, a serious case of mistaken identity since Fellaini and Osman could not look any less alike.

Carlos Tevez coolly brought City level with the spot kick but the expected home onslaught never materialised after the break. The Everton defence, superbly marshalled by Phil Jagielka and Sylvain Distin, stood firm to repel the City attacks. While the measure of control established in the first half began to disappear, as the second half wore on, Everton continued to hold their own. The only real criticism was in the final third with Everton failing to make the most of some promising positions.

Some fans feared the worst with Arsenal, Manchester City and Spurs in quick succession. After strong performances in the first two of those three matches, the only disappointment is the points tally. Overall, Everton deserved a greater return for their endeavours this week. Nonetheless, David Moyes and his players can approach the Tottenham game with renewed confidence and a greater belief in their ability.

The high draw count is slowing Everton down. However, with more performances like this, Everton will have plenty to be positive about in the coming weeks. The under fire players are turning it around, Tim Howard is more commanding of late and Steven Pienaar is returning to his influential best. Despite the impressive performance, it is yet another draw, but this was a step forward rather than a setback.