Supporters too hard on Pienaar, Jelavic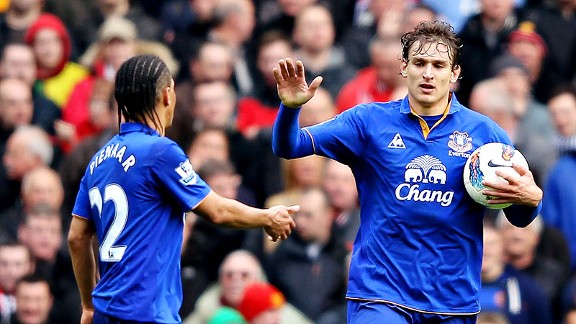 Alex Livesey/Getty ImagesEverton fans have been overly critical of Steven Pienaar, left, and Nikica Jelavic
Everton have turned their form around in 2012 with just six defeats in 35 matches. Two successful transfer windows were a major catalyst for improvement with the addition of Steven Pienaar, Darron Gibson and Nikica Jelavic helping Everton end 2011-12 in fine form. This summer, the arrival of Kevin Mirallas and Steven Naismith further improved the squad and Everton made a strong start to this campaign.

Unfortunately, for Everton, Gibson has missed the last 11 matches through injury. The Irishman is unbeaten in his last 30 league matches with 15 of those in blue. As well as being a lucky charm, Gibson provides stability in midfield and protection for the defence.

Fellow January acquisition Pienaar has also stood out. In 26 appearances since his Goodison Park return, Pienaar has nine assists and five goals. The midfielder has created 67 chances, 35 this season. He is tied with Luis Suarez as the Premier League's fourth-best creator; only Steven Gerrard (36), Santi Cazorla (39) and Everton teammate Leighton Baines (50) have more.

The most expensive of the January arrivals came from north of the border. Arriving from Rangers, many were unconvinced by the signing of Nikica Jelavic. Thankfully, the Croatian has silenced any doubters with his performances and goals. In 25 starts, Jelavic has 16 goals, 14 in 22 league starts. Going into Tuesday's matches, only nine players have more than five league goals.

Despite Pienaar and Jelavic's impact, fans are beginning to criticise their recent performances. While there is some merit to those grumblings, other players are contributing a lot less and seemingly escaping criticism.

Pienaar used Twitter to comment on his recent form and acknowledged his annoyance at his latest outings. While striving to return to his best, the difference between Pienaar and others is that he never hides. Indifferent form or not, Pienaar was Everton's most prominent player in the first half against Norwich and continues to create chances.

Naturally, not everything comes off as Pienaar searches for his best form. Even so, it is refreshing to see a player take responsibility regardless of performance. When a number of other players are not playing well, they tend to shirk responsibility.

The South African is at his best when linking up with Leighton Baines but Pienaar has found himself used elsewhere in recent weeks. Injuries will have played a part in David Moyes' thinking but there is no real justification for moving Pienaar. The Baines-Pienaar pairing has created 85 chances this season. That accounts for 43 percent of Everton's chances with the pair creating just 26 chances less than the rest of the squad combined.

Up front, Jelavic has looked sluggish of late but continues to give everything and his work rate is unquestionable. Attracting criticism from fans, Jelavic was decidedly poor against Norwich but previous criticism was unjustifiable. Often lacking quality service, a drop in Jelavic's performances is understandable when he is continually starved of chances.

Few can deny Pienaar and Jelavic are not quite at their best, but the recent criticism is harsh. As they search for their best form, both are continuing to try to play their way through their patchy form. As neither shirks responsibility during matches, they deserve backing rather than criticism. Their teammates would do well to follow their example.