Tim, thanks but no thanks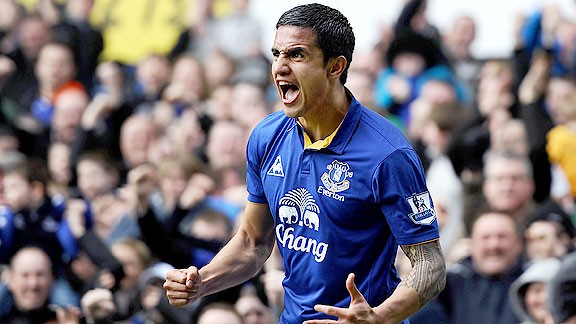 Laurence Griffiths/Getty ImagesTim Cahill celebrating one of his final goals with Everton last spring in a FA Cup match versus Sunderland.
Former fan favourite Tim Cahill is eyeing a January return to his former club.

"I am eager to come back and hopefully something can be done with Everton," Cahill said. The MLS offseason ties in with the January transfer window and players occasionally move to Europe to keep fitness levels up. David Beckham's stints at AC Milan and Landon Donovan's two spells at Everton being two of the more high profile examples.

However, despite his desire to return, Cahill remains realistic about the situation. Yet to have any contact with Everton over a potential return, he said, "It would be nice, but it is not down to me. I have to respect that sometimes the ship has sailed". The transfer represented a shrewd piece of business for Everton and the deal will save Everton several million in wages and fees over the next few seasons.

After eight years of tremendous service, the record books show the impact that Cahill made in an Everton shirt. Only Duncan Ferguson (60) has more Premier League goals (56), and Cahill holds the post-war record for Merseyside derby goals by an Everton player. His return of five is the best in the league since the days of Dixie Dean. Finally, his return of 31 headed goals is the best of any midfielder in the Premier League era.

Arriving from Millwall for £1.5million in 2004, he will go down as one of David Moyes' best ever signings. Upon his arrival at Goodison Park, Cahill said he would, "work for the full 90 minutes and give everything, regardless of whether we're winning 2-0 or losing 2-0". He certainly delivered on that promise putting everything into each of his 278 Everton appearances.

Before the recent Merseyside derby, Cahill posted an image on himself on Twitter, holding an Everton shirt, and the attached tweet read, "This is more than just a jersey; it is a way of life". Some modern players, especially foreign players, are mercenary-like in their approach to football with bank balances taking priority over loyalty. Cahill is different; he understands how much Everton means to the fans and even refers to himself as an Evertonian.

In spite of his past endeavours, there appears little merit to a Cahill return aside from sentimental reasons. Injuries and years of giving blood sweat and tears had caught up with Cahill during the final years of his time at Goodison Park. Prior to the 2011 Asia Cup, the Australian midfielder was in fine form with eight goals to his name. Unfortunately, he returned injured and a 34-game goal drought followed with injuries continuing to lessen Cahill's influence in matches.

When Cahill left, it suited all parties and the same applies with a return unnecessary. Aside from an injury crisis, Everton should not need Cahill's return. The latter part of his Everton career showed that his powers were starting to fade and the goals had dried up. Everton sold Cahill and his return would defeat the object of his initial transfer. While eternally grateful for the eight years he gave and fondly remembering him at his best, Cahill should leave the Everton chapter of his career closed.