Seamus Coleman doesn't deserve scapegoat tag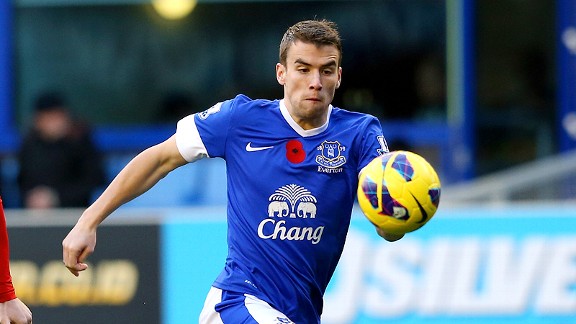 Alex Livesey/Getty ImagesEverton supporters have been overly critical of Seamus Coleman and it's time to let the youngster off the hook.
Each club has a scapegoat, that one player who takes the brunt of fan ire when things are not going well. These players often find themselves blamed for anything and everything, regardless of their actual involvement in incidents.

For years at Everton, it was Leon Osman or Tony Hibbert until Diniyar Bilyaletdinov came along. Now, Seamus Coleman is becoming the latest addition to the scapegoat category. After the recent Fulham draw, Coleman was the obvious target for criticism after his late mistake led to the equalizer. Before the mistake, he had put in another composed display. Unfortunately, it is all too easy to overlook the match and focus on the individual error.

After the recent home win over Sunderland, Coleman was again criticized by fans using a local radio phone-in to express their misgivings. Unlike Fulham, there was no costly error but fans still called to chastise the right back. Coleman kept Sunderland's James McClean well-shackled while offering a threat going forward, making the criticism rather empty.

This season, Everton are performing well; there is little reason to question the performances of the players. But with a number of them well established, it is easier to single out Coleman due to his inexperience. At 24, Coleman is no longer a youngster but relatively new to the right back role and he needs to be given time.

Starting in the Republic of Ireland's friendly loss to Greece Wednesday, Coleman was one of the few bright spots with the Everton man earning praise from his national boss. Speaking afterwards, Giovanni Trapattoni described Coleman as 'fantastic' and 'man of the match'. Fresh from his impressive international showing, Coleman will look to carry it into his club form.

Coleman has started solely at right back this season after a few experimental seasons in midfield. Those were a mixed bag - Coleman troubled defences initially but, once defenders noticed the obvious flaws in his game due to him being a defender, his threat diminished.

From his favoured position, Coleman offers a more enterprising option than Phil Neville and Hibbert but needs to improve defensively.

Having burst onto the scene as an attacking fullback, Coleman is relishing the return to defence. Speaking to the press, Coleman's preference for right back over midfield was obvious. "I've really enjoyed it," he said. "It's been a while really since I've played there for Everton. It's different to playing in midfield, but I've always said it's my natural position."

The Fulham goal aside, Coleman has delivered a series of assured performances with the home win over Southampton his best to date. Coleman assisted one goal and was involved in another, giving Southampton a firsthand view the threat he offers. Improving all the time defensively, Coleman's pace and ability to recover are other useful assets. As an ever-improving player in an ever-improving side, Coleman does not need or deserve to be Everton's next scapegoat.