Jelavic sale is good business mixed with regret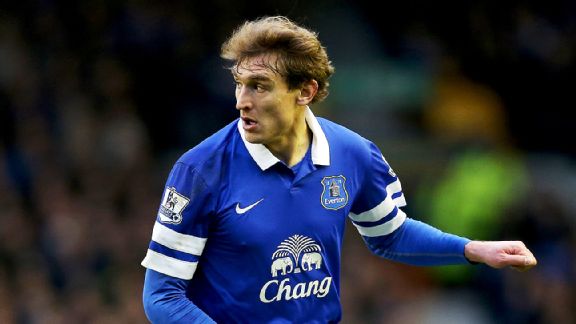 Clive Brunskill/Getty ImagesNikica Jelavic leaves Goodison to join Hull City.
There must be something in the water at Goodison Park these days. Bill Kenwright, the man who once insisted Wayne Rooney was not for sale -- having valued him at 50 million pounds before eventually selling him for 25 million pounds -- has transformed into the shrewdest of negotiators.

Squeezing an additional four million pounds out of Manchester United for Marouane Fellaini displayed a previously unseen hard faced approach, while six million pounds for Victor Anichebe is approaching the realms of fantasy.

Following on from those deals, the prospect of up to 7.5 million pounds for a goalscorer who simply stopped scoring is another masterstroke. Everton acquired Nikica Jelavic for 5.5 million pounds in January 2012; therefore, the profit is a welcome, rather startling bonus.

- Report: Hull complete Jelavic signing

As the exit door opens once more, with Hull hoping the Croatian can rediscover his form under the guidance of Steve Bruce, the Toffees can reflect on another accomplished piece of business.

Given the offer, selling was the logical option, although the lean spell that made this a straightforward decision -- there was just one league goal after December 2012 -- was not always the status quo. In fact, life at Goodison began at a rapid pace.

Nine league goals in 13 appearances saw Jelavic end the 2011-12 campaign as the club's top scorer. Furthermore, having also excelled north of the border at Rangers, the forward finished the season as top scorer at both clubs despite only playing half a season with each.

These opening months saw the striker at his best. First time finishing become a trademark, and sharp movement underpinned much of his early work. There was a classy nonchalance about the match-winning strike on his full debut against Tottenham, while goals at Swansea, Norwich and Manchester United confirmed his penalty box awareness.

Other notable moments included a goal at Wembley in an FA Cup semi-final, one that his team-mates failed to build on, and the crucial opening goal in a raucous FA Cup replay at Sunderland.

There was a lively start to 2012-13, but this merely offered false hope as the malaise in front of goal kick-started soon after. Beginning with nine goals in 13 matches, Jelavic would score just seven times in his next 46 league appearances.

Though somewhat harsh, as it reduces his time on Merseyside to a set of numbers, there is one statistic that encapsulates Jelavic's Everton career. Roaring onto the scene, eight league goals arrived in his first 700 minutes, yet no league goals materialised in his final 700 minutes.

Somewhat fittingly, though, Jelavic signed off with one final reminder of his capabilities. The attempted penalty aside, there were momentary glimpses of the Jelavic of old in the FA Cup tie against QPR. The predatory instincts resurfaced, albeit too little too late in the end.

Regarding his status with Everton supporters, while it was the goals on arrival that elevated Jelavic to the status of fan favourite, it is testament to the player that he remained a favourite on the terraces once the goals dried up.

The main reason for this is the unwavering determination shown throughout his two years at Goodison. Nobody wanted Jelavic to return to form more than the man himself. The sheer work rate evident in matches attested to that. He shared in the frustration of a fan base willing him to succeed.

Moving forward, there is a sense of what might have been, especially if all concerned had somehow found a way to maintain that blistering form shown during the honeymoon period.

As Jelavic departs, with Evertonians wishing him well, it goes without saying that reinforcements are imperative. Romelu Lukaku has broad shoulders, but even he is not strong enough to carry the goalscoring burden on his own.