Everton coast into the fourth round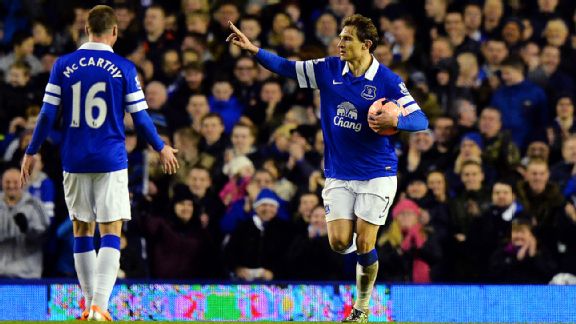 PAUL ELLIS/AFP/Getty ImagesNikica Jelavic's brace helped power Everton into the FA Cup fourth round.
Goodison Park has hosted its fair share of FA Cup nightmares in recent years, including the 3-0 humbling dished out by Roberto Martinez and his former club, Wigan, in March, but this 4-0 win over QPR never looked like it would be one of them.

- Report: Everton 4-0 QPR

Martinez found the right balance with his team selection. Those short of form and match action received game time, while those who looked jaded against Stoke were given the day off.

Perhaps the biggest factor in this third-round stroll is the change in approach. Putting their passing style to great use, the home side never allowed QPR into the game. In years gone by, the Blues often found themselves dragged into physical battles against lower league teams.

Here, though, dominating possession throughout, Everton simply coasted into the fourth round. Joel Robles will not have an easier afternoon for the remainder of his career; QPR barely managed a shot, none of which found the target.

Notwithstanding the processional nature of the match, there were positives aplenty across the pitch. James McCarthy and Gareth Barry complement each other well in the middle of the park, expertly balancing craft and graft, while Antolin Alcaraz, who could probably play just as well in flip-flops, gave the perfect example of how to make defending appear simple.

Rarely breaking above a light jog, the Paraguayan continues to impress with his composure and awareness. On more than one occasion, instead of thundering into tackles, as most would, he merely flicked the ball to one side and calmly regained the ball for his team.

Alongside him, John Stones displayed similar attributes; the pair are at home with this style of play. One perfectly timed slide tackle kick-started a first half counter-attack, and all the early evidence points to a fantastic defensive prospect.

Much like Stones, with undoubted quality on the ball, Ross Barkley once more proved that not all promising English talents are robotic workhorses as he grabbed the opening goal, which was a highlight of his sharp movement and shooting ability. Barkley is indeed a joy to watch.

His confidence, self-belief and lack of fear are a refreshing sight. There is no hiding, regardless of form, and his determination to influence proceedings puts some of his more experienced team-mates to shame.

Another on the crest of a wave is Seamus Coleman, who supplied the fourth; the full-back is scoring for fun at present and has discovered a knack for scoring spectacular goals. Coleman could host his own goal of the month competition at this rate.

Usually found languishing at the other end of this scale is Nikica Jelavic, with the forward suffering a confidence void in recent months, yet there were clear signs of recovery on Saturday. Only a bizarre choice in decision-making prevented a hat-trick. This was a reminder of the Jelavic of old, namely the fiercely accurate first-half strike that left Julio Cesar grasping thin air.

Perhaps it was the chance to impress prospective future employers, with QPR among those interested in signing him, or maybe it was a desire to prove there is still a quality forward lurking somewhere below the surface. Either way, this was the performance that Jelavic needed.

Unfortunately, though, while Jelavic got the performance he needed, Steven Naismith did not. Nobody can fault the commitment, but the gulf between him and his team-mates is a yawning one that shows no sign of closing.

Without wishing to disparage him too much, Naismith had the look of a competition winner, someone who had won the chance to play alongside his heroes in an FA Cup tie at Goodison. With Gerard Deulofeu injured, it no surprise to see Martinez chasing additional wide players.

Still, that minor complaint aside, this was a job well done. The hosts made QPR look distinctly average, despite possessing a squad full of players with Premier League experience, and it was the perfect tonic ahead of the visit of Norwich next week.