Swansea win provides festive cheer for Everton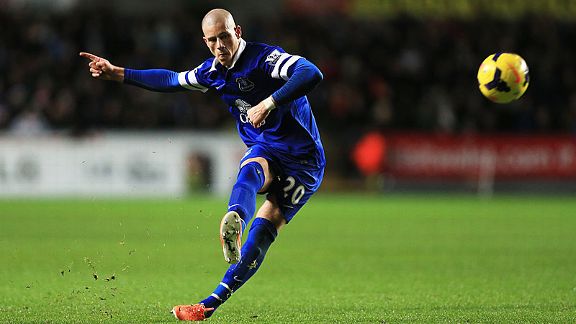 GettyImagesRoss Barkley won the game against Swansea with a fine free-kick.
Like those people in city centres trying to coax you into buying unwanted DVD-by-mail subscriptions, Everton refuse to go away. This is a group that does not know when they are beaten. Once again, despite falling short of their best, the Blues emerged from a tough assignment with three points Sunday with a 2-1 win at Swansea.

Winning is one of better habits to have in football, and this is a squad mastering the ability to grind out the necessary results. Entering this hectic festive period, with little time between matches, results are the most important aspect.

Everton are a team transformed at present; manager Roberto Martinez has built on the defensive platform provided by predecessor David Moyes, while also extinguishing the self-doubt prevalent in the so-called bigger matches. The latter is perhaps the most telling development in the early stages of this new regime.

This fourth win on the road equals the numbers of away wins in the whole of last season, and is symptomatic of a side playing without fear or restraint. Even when the performance drops, as it did both here and against Fulham, the will to win is unbowed.

There was no hint of settling for a draw, in spite of Michael Laudrup's bizarre claims to the contrary, and a definitive example led to the exquisite match-winning free kick from Ross Barkley. Breaking forward, with the match 83 minutes old and those around him tiring, James McCarthy's typical lung-bursting run was halted only by a cynical foul.

After the customary delay -- when did free kicks become such tedious, drawn-out episodes? -- Barkley delivered the decisive goal that lifts Everton into one of those coveted Champions League places, albeit pending the outcome of Arsenal-Chelsea on Monday.

Lashing a late winning goal from distance into the back of the net via the underside of the cross bar and sporting a similar haircut, Barkley is sure to be increasingly compared with fellow academy product Wayne Rooney. Evertonians will hope their latest local gem sticks around for considerably longer than the last.

Returning to the player who won the free kick for Barkley, and provided the pass preceding Seamus Coleman's blockbuster strike, McCarthy underlined his influence in midfield upon his return after suspension.

Whoever invented that well-worn cliché about certain players being willing to run through brick walls surely had McCarthy in mind. His amount of legwork carried out during a match is praiseworthy on its own.

Throw in the other attributes, such as composure on the ball and accomplished tackling ability, and it is easy to see why the initially eyebrow-raising 13 million pound transfer fee now looks like one of the bargains of the summer transfer window.

Speaking of bargains, the 60,000 pound outlay for Coleman is surely up there as one of the best value-for-money signings in Everton history. Acquired from Sligo Rovers, the full-back has undergone stratospheric levels of improvement since his baptism of fire debut against Benfica in October 2009.

Having ironed out the flaws in his defensive game, Coleman is at his best when rampaging forward into the opposing final third and there is no better right-back in the league on current form, although few would have picked him to break the deadlock with a rasping 25-yard missile.

Nonetheless, moving away from those on the pitch for a moment or two, it is clear that Everton must add bodies in January. Glancing at a bench shorn of the talented Gerard Deulofeu and those on the long-term injury list, the lack of depth is slowly creeping into view.

Still, slight concerns over depth aside, these three points ensure Evertonians can tuck into their Christmas dinners with smiles on their faces. For a side synonymous with slow starts, that is perhaps the biggest compliment to the progress made thus far under Martinez.