"Plucky little Everton" a thing of the past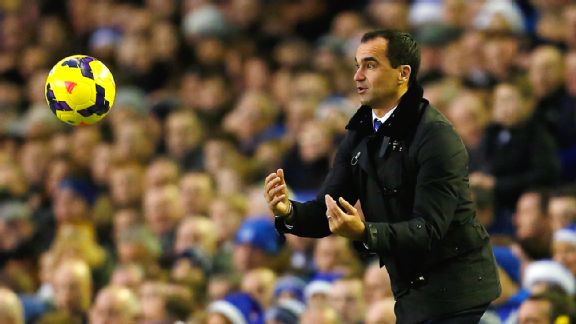 Paul Thomas/Getty ImagesRoberto Martinez has Everton on the road to a top four finish.
In the not too distant past, when David Moyes coined the Peoples' Club moniker and the club carved out their us-against-the-world mentality, there was a sense of needs must. This method harnessed team spirit and helped the squad compensate for a lack of quality with a feverish work rate and a never-say-die approach to matches.

- Report: Deulofeu to miss five weeks

The problem, however, was that this underdog philosophy weighed heavily, especially once the ability of those on the pitch began to improve. Rather than lift the players, it began to hold them back. This outlook became a badge of honour when it ought to become a thing of the past; the gun/knife-fight comment being the most quotable example.

As such, this common, rather outdated perception continues to linger in some quarters. Numerous so-called experts and pundits seem unable to muster more than a handful of phrases before "punching above their weight" rears its ugly cliched head.

David James predicted Everton would struggle and finish 16th; Robbie Savage backed Everton to falter and tipped West Ham to finish above Roberto Martinez in his first season on Merseyside.

Therein lies the problem for many Evertonians. Any attempt to move away from this tag of dogged overachievers is usually countered by an ill-advised 'expert'. One particular channel's half-time analysis of the draw at Arsenal focused solely on how Everton would surely crumble and tire in the second period.

Everton used loans to their advantage; that was scrutinised. Everton kept the in-form Luis Suarez relatively quiet in the recent Merseyside derby and -- the obvious Kevin Mirallas indiscretion aside -- that was likened to some kind of hatchet job. One could easily mistake striving for success on a budget as a footballing sin.

Furthermore, while there is little doubt, financially, that Everton operate on a different level to those around them, the Blues have already demonstrated their ability to match and beat the best this season.

Reaching 40 points is no longer the modus operandi. Martinez, who recently insisted on pictures of past successes adorning the walls of the training ground, is a man of ambitious nature.

His removal of the longstanding inferiority complex ensured a first win at Old Trafford in 21 years; Martinez managed to complete this arduous task at the first attempt, while others tried and failed year-on-year to do likewise.

Jose Mourinho's Chelsea also tasted defeat, as Martinez successfully masterminded a first Everton victory over a Chelsea side guided by Mourinho, and draws against Liverpool and Arsenal underline the progress made this season, although it was the performances that impressed most in those two encounters.

Few could argue had Everton held on for victory in the Merseyside derby; the Toffees were also the dominant force for extended periods at the Emirates. The only defeat thus far arrived against Manchester City, but it was far removed from the landslide victories currently witnessed at the Etihad.

Make no mistake about it, this is an Everton side closing on those Champions League places on merit, and merit alone. Though there is every chance that others will flex their financial muscles and blow the European challenge out of the water in January, there is no reason for those in blue to crumble or fade away of their own volition.

Martinez possesses a first eleven sure to attract envious glance from around the country. There are few if any better full-backs in the division than Seamus Coleman and Leighton Baines, and they form two fifths of the strongest defence in the league: Everton have the most clean sheets and the fewest goals against.

Squad strength is the most likely obstacle -- a collection of injuries threatens to expose the comparative lack of depth -- yet, with Martinez already targeting January additions, there is every chance that a stronger unit will emerge from the upcoming window.

Imperious home form and a varied spread of goals are further pointers toward the potential within this setup. Everton, unbeaten in 17 on their own patch, are closing on a calendar year unbeaten at home, which is something last achieved in 1962.

Martinez can also call on 11 different goal-scorers, with nine of those registering two or more. Prominent in the early stages of his loan, the over-reliance on Romelu Lukaku is being quickly extinguished. Fulham still shipped four on a day when Lukaku and Everton fell short of their best.

Unfortunately, the likelihood is that this promising mix of youth and experience will fall short, as those with the biggest wallets often finish highest -- the law of averages tell us that much.

It is worth remembering, however, that this is the same club that upset the established order to finish fourth in 2004-05. Relying on grit and determination back then, this group are challenging due to their ability. That is the difference between the past and the present; the days of plucky little Everton are fading.