Martinez can join a select club on Saturday
Everton can point to a rich, illustrious history within their 135-year existence. While the trophy cabinet has collected more dust than silverware in recent times, the highs easily outweigh the lows in the overall scheme.

Synonymous with trusting managers, especially in recent years under the steady progress of David Moyes, the club have chosen just 14 men to fill the managerial hot seat on a full-time basis; Howard Kendall and Harry Catterick are the pick of this varied bunch.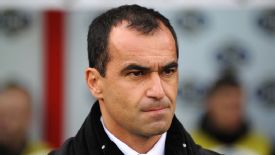 PA PhotosRoberto Martinez is preparing for his first Merseyside derby.
For a club well into its second century, a list of 14 seems on the small side. However, there is a significant contributing factor behind this relatively low number. From 1887, the year of Everton's first competitive match, to 1946, team selection fell to a committee -- this was common practice in the formative years of the football league.

Within the committee, the club secretary stood slightly above the rest in terms of responsibility. Eventually, Everton took the belated plunge and named club secretary Theo Kelly as the club's first official manager in March 1946.

Traveling along the timeline to the present day, Kelly and his successors vary on achievements and significance. Kendall and Catterick stand at the top end of the scale, with their trophies and accolades, while Mike Walker stands at the other accompanied by his paltry 17 percent win ratio.

-Martinez: A unique derby
-ESPN FC's Bennett: 1-on-1 with Rodgers

Nonetheless, regardless of the level of individual success or failure, there is something linking each of the men preceding Roberto Martinez. Each holds a below-par record against the neighbours from across Stanley Park.

Though Kendall went unbeaten with a win and a draw in this third spell, no manager in charge for more than one season can say they won more than they lost. Moyes returned a 4-8-13 record from 25 matches; Billy Bingham spent nearly four years at Everton and never collected three points against Liverpool.

Catterick achieved a more respectable 8-7-10 record, but neither he nor Kendall had the edge over those in red. Although battling it out at the top of the league throughout the mid-to-late 1980s, and with the sides often clashing in cup competitions, Kendall could only muster four wins and five draws in his first spell, which included 20 derbies.

With none of those before him capable of acquiring the so-called bragging rights on a regular basis, this is something Martinez will hope to remedy. Another target is a derby win at the first time of asking; this select group holds only two members.

One is Joe Royle, who also has one of the better records in these matches, albeit during a brief tenure. Royle managed two wins and three draws as he went unbeaten in his five derbies.

Beating Liverpool 2-0 in November 1994, Royle became only the second Toffees' manager to win his first derby -- it was double delight for Royle; it was also his first game at the helm of his beloved Blues.

Seven years previous, having been successful as a player and then as a coach alongside Kendall, Colin Harvey turned manager and secured a 1-0 win at Anfield in the League Cup; Gary Stevens scored the decisive goal as Harvey became the first Everton boss to win his first Merseyside derby.

Looking ahead to Saturday, Martinez will hope to follow in the footsteps of Harvey and Royle, especially since three points can kick-start the promising opening that successive goalless draws have stalled. Furthermore, in the long term, Martinez should certainly have designs on becoming the first Everton custodian to win more derbies than he lost.