Everton fire blanks in Palace draw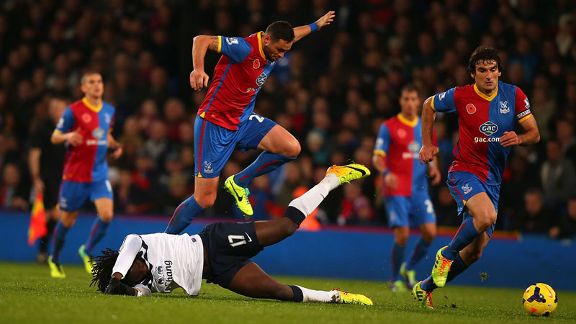 GettyImagesCrystal Palace managed to keep Romelu Lukaku at bay as they played out a 0-0 home draw with Everton.
Though overused, transition and its various synonyms remain wholly accurate descriptions of Everton at present, as Saturday's 0-0 draw at Crystal Palace will testify, with the Blues still striving for the correct balance in their approach and a greater level of consistency in their performance.

This started well enough; there were early glimpses of the flowing football that manager Roberto Martinez aims to turn into a regular feature. This quickly fizzled out, though, and the longer it went on, the more like pulling teeth it became.

-Delaney: Toffees' afternoon of frustration

Going through the motions, seemingly expecting to win by simply turning up -- there was a distinct lack of individuals driving the team on. Eventually, having allowed the visitors to labour around in front of them, Crystal Palace smelt blood. Utilising their meagre 27 percent possession far more effectively, the home side had the better chances. Only wayward finishing symptomatic of their league position stopped Palace stealing three points.

Defensively, six clean sheets in 11 matches is a big improvement on the output in the initial stages of last season. However, there is an undercurrent of fortune prevalent in many. The sizable share of possession appears to contribute to lapses in concentration, possibly due to the previous staple of resolute defending turning into a sporadic requirement.

Everton must ensure complete focus, nonetheless, as the classier teams in this division will punish such lapses.

Furthermore, it is imperative that this admirable desire to dominate possession goes hand in hand with the productive use of it. Despite a staggering 73 percent possession rate at Selhurst Park on Saturday, Everton managed just two shots on target in 90 minutes. After the progress of recent weeks, this represented a regression to the hollow passing style of the opening few games.

There were plenty of passes -- 622 to be precise -- yet the number erring on the cautious side reached excessive levels. Aside from Gareth Barry, who continues to underline his importance to the side, those assigned the creative tasks lacked invention and incision in their play.

Behind Romelu Lukaku, who found himself feeding on scraps for the second successive match, Martinez stuck with the attacking trio chosen against Tottenham. Juggling an uneasy mix of ineffectiveness and occasional creativity this season, Kevin Mirallas, unfortunately, left the latter at home for this one. The Belgian is cutting an increasingly frustrated, petulant figure; the time to consider alternatives for upcoming matches is approaching.

Another struggling for form is Leon Osman. The one-time England international remains neat and tidy in possession thanks to good close control and quick feet, but the anonymity accompanying him is what rankles most.

The problem, primarily, is not that Osman is doing anything wrong; the problem is that the action passes the diminutive midfielder by. Unsurprisingly, low on confidence and lacking attacking intent on the ball, Osman and Mirallas attempted the fewest passes on Saturday.

Clearly, on the periphery, this pairing was in marked contrast to the third member of this trio, Steven Pienaar, who at least attempted to influence proceedings. Still, much like his midfield counterparts, Pienaar struggled and served up a below-par showing.

Everton have looked sharpest this season with Ross Barkley behind Lukaku, and the reuniting of this partnership requires serious consideration. While continuing to learn and mature, Barkley constantly seeks out possession, which is something Martinez has commented on in the past, and it currently sets him apart from the aforementioned.

Moving forward, the task for Everton and Martinez, as the fixtures take on an infinitely tougher shape, is ensuring the passing has a purpose. Retain the possession-based ethos by all means, but inject it with the tempo and movement that underpinned the stronger displays of this campaign.