There is something special about Everton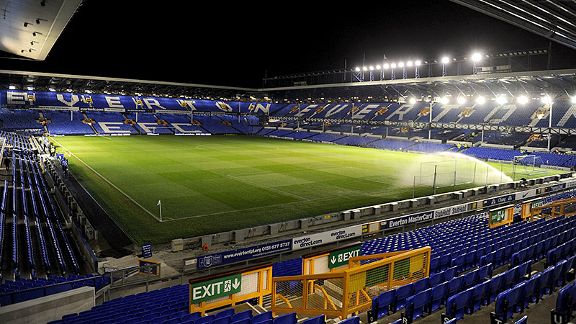 Stuart MacFarlane/Getty ImagesEverton players past and present have expressed their love of playing in front of the home fans at Goodison Park.
There is something special about Everton. The club seems to have a lasting influence on the people associated with it, whether it be players, managers, staff or supporters. New signings regularly comment on how quickly they feel at home.

- Report: Martinez keeps faith in Kone

Gareth Barry spoke this week about settling in quicker at Everton than at any other club in his distinguished career. Upon his deadline day arrival, James McCarthy described the move as a 'no-brainer', while Romelu Lukaku deemed Everton to be the 'best choice' thanks to a 'perfect' style.

Those who turn down the chance to play in royal blue often rue a missed opportunity; those who depart believing the grass is greener are frequently left disappointed. The most prominent example of this is Steven Pienaar and his swift return after an ill-fated sabbatical at Tottenham.

Former players and managers often reflect on Everton as a personal highlight or, at the very least, a memorable chapter in their career. One of the finest examples is courtesy of the club's most successful captain, Kevin Ratcliffe, in the brilliant Still Talking Blue book.

"Football was never the same for me after I left Everton, how could it have been? I was the captain at the club I'd loved all my life in its finest hour. I went on to play for other clubs, and although I always wanted to win, losing never really seemed to hurt anymore."

Moreover, these emotions are not restricted solely to overviews and summaries. Some players eulogise over their whole time at Everton, but others display greater affection toward a significant moment or a special goal.

In the aptly named prequel Talking Blue, Alan Ball proudly recalls one particular standout memory: "I remember being completely overwhelmed with emotion on one particular Saturday when I got two goals against Liverpool. I was running back to the centre circle after I scored the second and pure elation welled up inside me. I remember thinking: 'I just love this place -- I want this place forever.'"

Endless memorable quotes have materialised from former players over the years, including the late great Dave Hickson, who loved the club so much that he "would have died for it", while Alan Harper wanted to bottle and save forever the sound of Z Cars and the roar of the crowd.

Players such as Ratcliffe, Brian Labone loved their time at the club, as they were boyhood fans, yet there are also those who have turned into Evertonians during their stay on Merseyside, which further underlines the impact Everton can have on an individual.

Though born in Birmingham, beginning his career with six years at his hometown team, Bob Latchford quipped in this 2006 interview: "I might have started at Birmingham, but my soul is at Goodison."

Tim Cahill was another to convey similar thoughts on his time at Everton. Following his departure, he said, "I will always be an Everton fan." Likewise, his best friend and former teammate Mikel Arteta would "always have Everton in my heart" and viewed the club as his "family".

The affinity is not just limited to players, though Howard Kendall did also play for the club, with the three-time manager providing a noteworthy quote in Talking Blue, when asked whether he had any regrets:

"I have the honour of being the most successful manager in the history of Everton Football Club, one of the greatest and biggest clubs in the world. It's a tremendous honour and I don't regret for one minute anything or any decision that I've made."

Considering the words of the three deadline day additions and the words of those linked to the club in the recent and distant past, it appears Ball was on to something when he said, "Once Everton has touched you, nothing will be the same."