Pienaar return lifts lacklustre Everton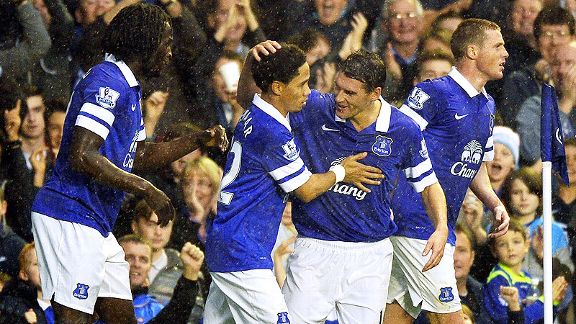 PAUL ELLIS/AFP/Getty ImagesEverton's Steven Pienaar, second from left, celebrates scoring the winner against Hull.
The 2-1 win eked out against Hull on Saturday does not warrant rave reviews, nor will it live long in the memory, yet football remains a results business -- and the three points acquired may be vital in the final reckoning.

Functional rather than fluent, the failure to hit the heights of recent weeks owed much to a stubborn, battling Hull side. Pressing well, causing absolute chaos at set pieces, the visitors harried Everton into basic errors. Phil Jagielka and Sylvain Distin, in particular, struggled to cope under pressure.

Though the team is adjusting well to Roberto Martinez's approach, serious question marks linger over three key players. Imagine the team watching a foreign film -- but Tim Howard, Jagielka and Distin cannot see the subtitles, and then Martinez asks them what the film was about. It is likely that the aftermath would resemble the panicky carnage that plagued this trio on Saturday.

- Buckingham: Sagbo a bright spot at Goodison
-Martinez tips Barry for England recall

The madness threatened to boil over at one point. Distin -- deep in his own half -- overran the ball while attempting to take on a Hull player. The thundered back pass to Howard only increased the panic, as the keeper slashed wildly at a ball that flew behind for a corner.

As the season advances, with distribution and composure not their forte, Martinez must find a way to address this problem. These heart-stopping defensive episodes are bound to prove costly against stronger opposition.

The manager may also have concerns over the recent flurry of goals against. Resulting from individual errors more than opposing brilliance, the clean sheets from the opening weeks have evaporated. Leighton Baines and Gareth Barry will both be disappointed with their role in the Hull equaliser.

Nevertheless, it was not all doom and gloom. There were still positives from this hard-fought victory, with the return of Steven Pienaar arguably the biggest. Replacing Leon Osman, who may want to put his powers of invisibility to better use, the midfielder made an instant impact. Scoring with his first touch, Pienaar improved matters thanks to an inherent desire to influence proceedings.

His partnership with Baines is invaluable; Baines carried a greater threat once Pienaar entered the fray. Buzzing around the midfield, Pienaar is an expert at creating space for team-mates. Often an easy target for criticism, his importance to this side has become clear in his absence.

Elsewhere, the midfield duo of James McCarthy and Barry (aside from an aberration or two) churned out another assured collaboration. Seemingly covering each blade of grass, McCarthy did not give Hull a moment's peace in possession. Marrying his all-action style with a cultured approach on the ball, the young midfielder exudes maturity beyond his years.

Alongside him, usually slipping under the radar, Barry found himself at the heart of a number of key decisions. Replays failed to conclusively show whether he touched Kevin Mirallas' effort into the back of the net, though there is no disputing his offside position -- Hull had every right to feel aggrieved over that one.

The other main talking point, however, was not quite the grand injustice that Steve Bruce painted it to be. Barry's tackle on Sone Aluko was not pretty, but it stemmed from momentum not malice; Barry had won the ball before following through. Furthermore, a reckless tackle by Hull goal scorer Yannick Sagbo on Jagielka, which made no contact with the ball, drew only a foul.

Controversy aside, Barry topped the passing and tackling charts for the Toffees, with McCarthy a close second. The pair are showing that life without Darron Gibson is not necessarily the grim prospect it might once have been.

Looking short of form and fitness of late, Mirallas was another who had reason to smile following his contribution. Claiming the opening goal, providing the assist for a clever Pienaar finish, the Belgian offered glimpses of the ability that he adds when on form.

With many far from their slick best, the overriding positive is three points from a stuttering, disjointed performance. The team has shown plenty in forward areas this season, especially since Romelu Lukaku signed on. The key now is ironing out the defensive issues. Doing so will give Everton the perfect platform to consolidate this good start.