October 15th is a key date in Everton history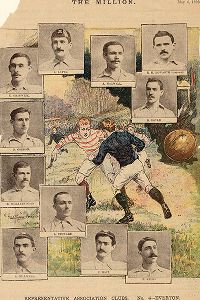 Hulton Archive/Getty ImagesMembers of the 1893 Everton squad, six years after their first ever cup fixture.
Aside from the obvious, that being people linked to the date via a special event or occasion, October 15th is like any other day; the 288th day of the year is unlikely to resonate with too many. For those of a royal blue persuasion, however, the 15th October marks a significant date in the formative years of Everton Football Club.

On this day in 1887, Everton faced off against Bolton Wanderers in their first competitive fixture, as the Blues made the trip to Pikes Lane in the FA Cup 1st round -- Everton had entered the 1886 competition but pulled out prior to kick-off after realising certain players were ineligible.

Ineligibility would soon become a recurring theme in this FA Cup tie. If nothing else, this recounting of Everton and their first competitive outing highlights how, even 126 years ago, abiding by the rules was of paramount importance.

Amid the excitement, with Evertonians travelling to the game on the first recorded football-specific train, the visitors had their FA Cup dream swiftly crushed. Bolton won 1-0 to progress to the second round thereby ending Everton's brief competitive debut, or so they thought.

- Report: Baines: Teams will focus on Barkley

Unfortunately, for Bolton, the formulaic process of the Football Association checking each team selection unearthed a revelation: their club executive had forgotten to register Robert Struthers in time. Due to Bolton fielding an ineligible player, the FA voided the result and ordered a replay at Anfield -- the then home of Everton -- for 29th October.

Sufficiently recovered from their first meeting, the two sides engaged in battle once more. On this occasion, the two sides were deadlocked at 2-2 after 90 minutes (and extra-time could not separate them). Match over, with the score line unchanged, another replay was required.

The replay took place on 12th November, as the side revisited Pikes Lane, and the drama continued. Everton and their supporters arrived late thanks to a train delay, which meant it was too dark for extra-time when this second replay finished 1-1.

One week later, these two leg weary combatants clashed at Anfield in the third replay. Finally, Everton closed out this never-ending saga, as goals from John Goudie and Tom Watson helped the Toffees to a 2-1 victory. It was the first time in FA Cup history that four matches had been needed to settle a contest.

Following four hard-fought, eventful encounters against Bolton, the team could now focus on a second-round tie against Preston North End. One week after securing their first-round win, Everton ventured to Deepdale in search of victory. Victory did not materialise, however, as Preston advanced courtesy of six unanswered goals.

Easily beaten, smarting from their 6-0 defeat, it is highly likely that all connected with Everton would have wanted to erase the 1887 FA Cup from their memory -- and they got their wish, well, kind of.

The sport remained mostly amateur at this stage, with the Football League introduced the very next season, though clubs were beginning to recruit professionals. As a result, while Everton and Preston played out their second-round match, Bolton were busy lodging an appeal to the FA.

Bolton claimed Everton had paid seven of their 'amateurs' and the FA upheld their appeal. Bolton were reinstated, Preston v Everton was wiped from the record books, and the FA suspended Everton for a month.

For those wondering, with their team seemingly unaffected by the chaos accompanying both of their opponents, Preston managed to improve upon their 6-0 demolition of Everton by handing Bolton a 9-0 thrashing.

Somewhat fittingly, on 17th April 1888, less than five months after this action-packed episode, these three teams made up one quarter of the 12 founding members of the Football League. And the rest, as they say, is history.