200k away fund is a start, but that's all it is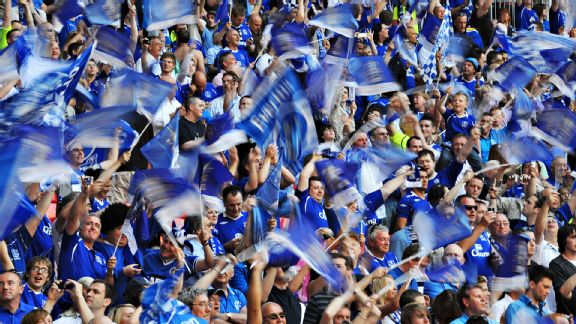 Shaun Botterill/Getty ImagesEverton fans will receive a £5 reduction on their tickets in the away visits to Manchester United, Arsenal, Swansea and Stoke.
On Friday, Everton became the latest club to announce their plans regarding the Premier League fund for away fans. The fund will see top-flight teams handed £200,000 in each of the next three seasons to make away matches more affordable for supporters.

The standout points from the Everton plan are £5 ticket reductions for upcoming trips to Manchester United, Arsenal, Swansea and Stoke, with junior supporters also able to buy a Stoke ticket for just £1 -- a discount of £15.

Unfortunately, while the aforementioned points are positive steps, the rest of the planned changes feel slightly superficial and unnecessary -- extra money off tickets is surely preferable to staff in the away end wearing club colours. Simple math reveals price reductions that equate to less than 30% of the £200,000.

- Report: Everton coach accepts settlement

As pointed out by the Football Supporters Federation -- the group whose protests helped bring about this fund -- ticket prices remain the critical issue. Significant attention to prices should have been the priority for Everton (and many others in this division).

Reducing ticket prices is the most effective method for helping supporters on the financial front. An approach undertaken by several clubs is free coach travel; however, though commendable and thoughtful, this will only help those on coaches. Ticket reduction is the best way of ensuring that each travelling fan benefits from this initiative.

Arsenal, Liverpool and Manchester United have committed to discounting all of their remaining away fixtures between £2-£4, while Sunderland will slice £10 off certain fixtures, and clubs such as Fulham, Swansea and Crystal Palace offer deals on tickets.

Manchester City seem set to add to their £200,000, with players and coaching staff contributing, allowing season ticket holders to enjoy half-price tickets for selected away matches. Nonetheless, with certain clubs more attuned to the needs of their supporters than others, it is Newcastle leading the way.

The North East club look set to offer £20 away tickets, which is the overall aim of the FSF and their 'Twenty's Plenty' campaign. The reciprocal deal allows away supporters to watch their team at St James' Park for £20, providing the visiting team do likewise when Newcastle visit. It will be interesting to see which clubs, if any, match the Newcastle proposal.

At present, though, while this fund for away fans is an obvious step in the right direction, it is also a relative drop in the ocean. The cynics will rightly point to £200,000 as paltry when compared to the record TV deal currently pouring into the Premier League, and how this is simply clubs spending money assigned to them -- rather than dipping into their own cash reserves.

Moreover, it is vital that this is the start of something bigger. There is still significant work required from clubs and various governing bodies to convince supporters that they are something more than exploitable commodities. After all, individual match prices and season ticket prices rose at Everton this season despite the absurd increase in television money.

For the forthcoming Merseyside derby at Goodison, home supporters can purchase a ticket in the Main Stand for the princely sum of £43. At such a price, one would expect optimum viewing, yet £43 is only enough for an obstructed view; almost £50 to sit through 90 minutes with one or both of the goals infringed by a pillar.

Elsewhere, there are others teams, including those reducing away prices for the remainder of the season, who undo their own recent gestures by charging booking fees on top of match tickets. Like those exorbitant ticket prices are not enough.

As Newcastle show the clearest sign of understanding this concept -- making away matches cheaper for all supporters -- the onus is on the remaining clubs to display similar levels of concern in future. This three-year £200,000 fund is a pleasing start, but that is all it is.