Loss of influential Pienaar tempers positive mood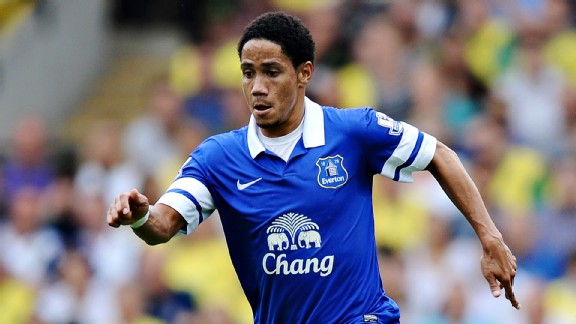 Tony Marshall/Getty ImagesSteven Pienaar's expected month-long absence could severly hinder Everton's attack.
After the obvious high of Saturday, when Everton gained their first three points of the season, the update on Steven Pienaar tempers the victory somewhat; the midfielder looks set to miss three to four weeks with a hamstring injury.

- Report: Pienaar facing month out

Beginning the week alongside neighbours Liverpool as one of two teams still unbeaten, this latest setback is frustrating. Already missing Darron Gibson, the loss of another influential player is a bitter blow.

Often attracting the scorn of supporters, too many undervalue Pienaar and his importance to the team. The former Ajax midfielder is vital in both attack and defence; Leighton Baines (and Everton) are far better with him than without.

Since returning in January 2012, Pienaar has excelled in attacking areas and is second only to Baines in creativity. Following the short-lived, ill-fated move to Tottenham, Pienaar has made 52 league appearances to this point.

From those 52 appearances, Pienaar has contributed 10 goals, 12 assists and created 120 chances for teammates. Subsequent to rejoining from Spurs, excluding players no longer at the club, only Nikica Jelavic has more goals and only Baines has more chances created.

Nobody has registered more assists; Pienaar ended 2011-12 top of the Everton assist chart despite just 14 appearances. Another six assists in 2012-13 saw Pienaar top the charts for a second successive season. His direct involvement in twelve goals last season -- adding six goals to his six assists -- is a personal best.

Prominent in attack, the defensive output will also be sorely missed. Boasting an infectious work rate, Pienaar is a rare commodity -- a creative midfielder willing to match craft and graft. Working in tandem with Baines, it is little wonder this left side is widely regarded as the best in the league.

Pienaar may overhit a pass or concede possession in an attempt to fashion an opening, but an obvious desire to regain possession accompanies it. Never one to hide, regardless of form, Pienaar is a rarity within this current squad; Ross Barkley is the other player in this mould.

Mistakes do not hinder them or their plan to influence a match. While several teammates hide when form evades them, Pienaar is always on the lookout for a pass or a well-timed run. Everton would benefit from more players of this ilk.

Moving forward, the Blues must find a way of recreating the Baines-Pienaar partnership in his absence. Without Pienaar, Baines tends to struggle as the replacement ahead of him lacks the same telepathic understanding.

Prior to the win over Chelsea, Everton played the highest percentage of left-sided football in the division. On Saturday, this dropped to just 20% and Baines had his quietest performance in months.

Some will welcome a teamsheet absent Pienaar, yet none of the replacements can match the linkup with Baines, the work rate, or the creative ability offered by Pienaar. The current replacement is Steven Naismith, in a move that places Kevin Mirallas in the vacant left-sided role.

An exciting, creative talent, Mirallas works best as an individual capable of creating a goal or chance out of nothing. Though these are obviously welcome attributes, the Belgian is unlikely to bring the best out of Baines.

This leaves the raw, talented Gerard Deulofeu. The Barcelona loanee has featured sporadically, offering a glimpse of his undoubted potential on each occasion. Used sparingly, as Roberto Martinez works on his positioning and defensive work, the youngster may have to settle for his current substitute role in the immediate future.

While this injury provides a chance for those waiting in the wings, the player charged with filling the void is undertaking a sizeable task. In spite of his value appearing lost on the majority, the loss of Pienaar is a disruptive, agonising one.