New deal is just reward for indispensable Baines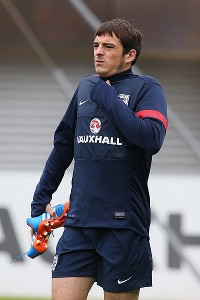 Alex Livesey/Getty ImagesEverton rejected six bids over the summer for Leighton Baines, arguably the Premier League's most creative player last season.
Roberto Martinez has spoken eloquently and impressively since his arrival, yet his truest expression materialised after the bluster of deadline day subsided. On the retention of Leighton Baines, the Everton manager said, "Keeping him in this transfer window was more important than bringing in a new player."

This may appear a hollow statement at first glance -- especially to a fan base accustomed to yarns about how current players can be 'like a new signing' -- but the quote rings true in this instance. Holding onto Baines tops a summer checklist populated by impressive dealings.

-Lomas: The rise of Ross Barkley

Tracked throughout the summer by Manchester United, Baines conducted himself in his usual unassuming manner. Leaving the transfer shenanigans to the clubs, the defender simply focused on football.

Players can easily have their heads turned by speculation. Some fail to report for training, several produce transfer requests, others develop phantom injuries and there are even those who refuse to play.

There was no sign of that from Baines, as examination of his recent display against Cardiff will confirm. Comfortably the best player in a blue shirt, the former Wigan defender is at his peak and improves annually.

A throwback to a long-forgotten era, when players let their football do the talking instead of their agents, Baines is a refreshing exception in the modern-day environment of footballing mercenaries. Although undoubtedly tempted by a move to United, as any sane footballer would be, there was never any chance of the boat being rocked.

First mentioned by Martinez in preseason, the club now intend to reward the player with a new contract. Currently tied to Everton until 2015, the new deal will turn Baines into the highest earner at the club, which is just reward for his attitude and his ability.

Briefly referenced in reaction to the last-minute deals, the true value of Baines and his importance to Everton is hard to define -- it is also a concept lost on many outside L4. Opposing supporters tend to quibble over his position: How can a left back be such a vital cog in this machine? The answer: easily.

Once more, Martinez hit the proverbial nail on the head: "Leighton is a vital player for us. We couldn't replace a player like him." Given the timing and his worth to the team, the sale of Baines would have turned Goodison into Helm's Deep, with supporters as the attacking orcs and Bill Kenwright filling the role of the besieged king.

Signed in 2007 for six million pounds, having rejecting the advances of Sunderland, Baines struggled initially; few could imagine how quickly he would transform from indifferent to indispensable. Baines has not looked back since injuries offered a first-team breakthrough.

Last season, Baines topped the Premier League charts on chances created (126), clear-cut chances created (22) and crosses (241). Add the abundant defensive qualities into the mix and it is easy to see why Martinez proclaimed him "one of the best players in that position in world football."

With the game full of whining prima donnas and unsavoury role models, Baines and Everton are a match made in footballing heaven; the club is steeped in many of the traits displayed by their prized asset this summer. The hope now is that this partnership continues and delivers success along the way.