City reaction to Barry departure speaks volumes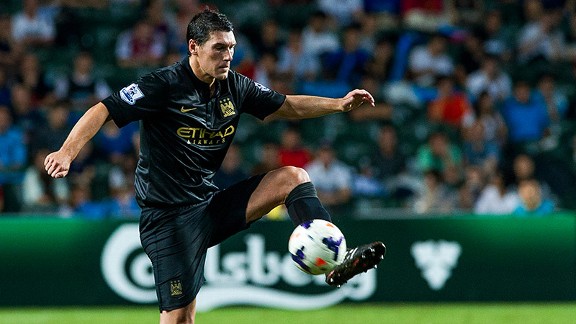 Victor Fraile/Getty ImagesGareth Barry has joined Everton on-loan from Manchester City.
Throughout this hectic summer, one resulting in a catalogue of changes in and around Goodison Park, a cluster of club personnel headed for Manchester United. From David Moyes and his coaching staff to Marouane Fellaini, there is a distinct Everton presence within the champions' post-Ferguson setup.

Amid those swapping Merseyside for Manchester, there was one man moving in the opposite direction, albeit from City rather than United, as Gareth Barry completed a deadline day move to join the Roberto Martinez regime.

- Report: Barry targets top four with Everton
- Tweedale: New players can give Everton missing edge

The news broke in the fading embers of a chaotic final hour: 'Everton sign Gareth Barry on a season-long loan'. While those words resonated across social media, the reaction to the club's latest arrival was mixed at best.

Signed alongside £13 million man James McCarthy, Barry arrives in search of the regular football lacking under Manuel Pellegrini. Possessing a contract in its final year, the obvious incentive is an extended stay on Merseyside - something both Barry and Martinez have hinted at.

Unable to shake memories of the 'Ozil incident' in the 2010 World Cup, along with the misfortune tied to Rafa Benitez viewing him as an upgrade on passing metronome Xabi Alonso, Barry can easily attract derision outside the confines of the Etihad.

It is, however, the reaction of those Barry is leaving behind that best reflects his ability. Stuart Brennan of the Manchester Evening News penned an article explaining why City owe a debt to Barry, with City supporters well aware of his capabilities in a defensive midfield role.

Based on the musings of Simon Curtis, ESPN's City writer and owner of Down the Kippax Steps, which the Guardian describes as "the best City blog around", Everton appear to have made the shrewdest of last-minute purchases.

The midfielder has a no-frills approach capable of strengthening an often-brittle central midfield, and Curtis succinctly depicts Barry as "a diamond that will serve you well without uprooting any trees. He does a seamless, excellent job."

Detailed in this earlier article, Barry compares favourably to his new teammates and everything points to the one-time England international being a hit. Furthermore, this loan acquisition looks increasingly astute when surveying the views of ESPN's City scribe:

"Barry indeed will be missed by the rank and file of the City support who can see past the gleaming Agueros and the shimmering Yayas and fully understand the importance of his role. Barring the occasional blip (Southampton away last season being the standout), he was invariably excellent in his positioning, his mopping up, his tidy passing and timely interventions.

"He has a way of pushing people out of the way with his slightly oversized back end, which was always very effective. Not fast, he is rarely caught out for pace like the infamous Ozil moment in the World Cup, because of his excellent timing and positional sense.

"Barry is a tactically mature, calming influence, no big time fancydan, able to fit in and play the unseen role in keeping things ticking over while the more extravagant talents wreak havoc further forward. He is getting on a little, however, and I could see him lasting one more season doing what he did for City.

"That has now been cut short by Fernandinho's arrival, a quicker, more attacking, more technically adept replacement, but not one -- we are already seeing -- who does the simple little dirty jobs quite as well as Gareth always did.

"You have yourself a gem, despite his slightly tatty international reputation. He is as good as gold."

Given the views of respected writers and the supporters who watch Barry on a weekly basis, the thoughts accompanying the departure of Barry reflect his actual worth instead of the generic misconceptions haunting the midfielder in recent years.