Baines is overtaking Cole and deserves England chance
As his main rivals act like petulant schoolchildren on Twitter, there is one man quietly going about his business. Quiet and unassuming off the pitch, Leighton Baines lets his football do the talking and it is time for England to reward his consistent brilliance.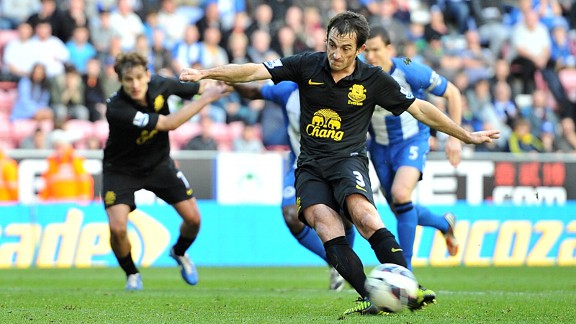 EmpicsLeighton Baines scores from the penalty spot to equalise for Everton at Wigan last weekend
With Roy Hodgson often favouring graft over craft, the inclusion of Baines would greatly improve the quality of England's football whilst providing a constant outlet. Baines roams forward at will but, despite his attacking capabilities, he is just as good defensively with the full-back winning all of his tackles this season.

In terms of competition, Baines is up against Arsenal's Kieran Gibbs and the Chelsea duo of Ashley Cole and Ryan Bertrand. Although impressing for Arsenal, Gibbs still lacks in the finer aspects of the game with his decision making and final ball needing work. Predominantly used as a midfielder at Stamford Bridge, Bertrand's inclusion is bizarre with his ability at left-back rarely seen. With the others young and inexperienced that leaves Baines and Cole battling it out for the one spot.

There is no denying the quality of Ashley Cole, you do not get countless winners' medals and 98 England caps for nothing. However, the growing calls for Baines' inclusion are not because Cole's level of performance has dropped; Baines has just surpassed it.

Beating his international team-mates and some of the world's best players, Baines is currently the Premier League's most creative player with 30 chances made. After Baines, the best England players are Steven Gerrard on 21 and Aaron Lennon with 20. Possessing such attacking capabilities and expert dead ball ability, England can ill afford to leave Baines out.

Attacking wise, Baines' ability is unquestionable but some have doubts over him defensively. Through application and work rate, Baines is much improved in defence and the doubters have been silenced. As mentioned earlier, and despite his small stature, Baines is yet to lose a tackle this season. Helped by the industrious Steven Pienaar, Everton's left side is formidable in attack and defence; therein lays the main England obstacle.

Lacking inventive wide players in the Pienaar mould, England's options consist of grafters like James Milner or flying wingers such as Adam Johnson, Aaron Lennon, Theo Walcott and Alex Oxlade-Chamberlain. For Everton, the ability of Pienaar to create space for Baines is vital and with England lacking a player of that ilk, Baines is wasted.

Featuring in the last two qualifiers, Baines further enhanced his England prospects. Scoring in the five-goal win over Moldova, he tirelessly pressed forward throughout the match. Despite England's failure to win at home to Ukraine, Baines remained one of the better performers.

Regardless of the potential drawbacks, such as England failing to get the best out of him, Baines has earned his chance. England's use or misuse of Baines is Roy Hodgson's problem. While the prospect of England never seeing Baines at his flying best is a grim one, it does not detract from his performances in reaching this point. Initially failing to break into the Everton side upon arrival, Baines has certainly surpassed all expectations.

A number of other clubs' fans still question his ability but Evertonians know they have a special player on their books. Producing arguably his best Everton performance, Baines led a second half fight back at Wigan on Saturday that culminated in him scoring the equaliser. Regardless of any future international success or failure, the Goodison faithful will continue to cherish the sweetest left foot since the days of Kevin Sheedy.