Everton should steer clear of Joey Barton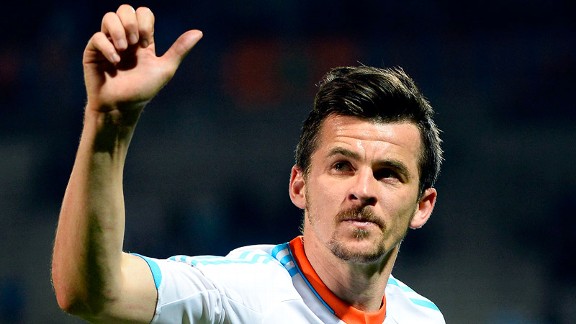 GERARD JULIEN/AFP/Getty ImagesTrouble has followed Joey Barton in his previous Premier League stints.
Recognised more for his Twitter activities, which drip with an overwhelming sense of self-importance, Joey Barton has more baggage than an airport carousel. Widely regarded as a troublemaker, the midfield 'hard man' has proven a disruptive presence at each one of his clubs.

The early signs were ominous for a player possessing the shortest of fuses; a 21-year old Barton caused a 10-man brawl during a pre-season game in 2004. Kicking out at a Doncaster player who was attempting to shield the ball on the floor, Barton was fortunate to remain on the pitch and manager Kevin Keegan condemned his actions afterwards.

- Smith: Barton saga reaches endgame

Later that year, Barton received a six-week fine for stubbing out a cigar in the eye of teammate Jamie Tandy during Manchester City's Christmas party. Many hoped 2005 would see a new Barton, but trouble continued to follow the midfielder.

Although described by Merseyside Police as accidental, breaking the leg of a pedestrian while driving in May 2005 was the last thing Barton needed. Two months later, the Huyton-born player hit the headlines again and, once more, it was for all the wrong reasons.

A bust-up in a Bangkok bar involving teammate Richard Dunne and a 15-year old Everton fan led to a hefty fine, as a gross misconduct charge fell around the midfielder's neck. The list of misdemeanours continued to grow; a £2,000 fine and a slap on the wrists from the FA arrived after dropping his shorts against Everton.

However, finally, there were signs of Barton remembering that he was a footballer. After declaring his happiness at Manchester City in January 2007, impressive club performances resulted in a first England call-up the following month.

Just as common sense and application looked set to take over, the demons plaguing Barton struck again. Either side of a move to Newcastle United, Barton received a six-month jail term for assault and affray, along with a four-month sentence suspended for two years for assaulting City teammate Osumane Dabo.

At Newcastle and Queens Park Rangers, there were signs of Barton maturing with the football eventually doing the talking. Unfortunately, the disciplinary problems and the disruptions continued to linger. Saving the best until last, the midfielder signed off the 2011-12 season by lashing out at several Manchester City players. Barton found his actions rewarded with a 12-match ban, removal of his captaincy and a mammoth fine.

Apparently willing to lower his wages in order to facilitate a move to Goodison Park, this seemingly noble gesture merely hides the desperation of a player looking for one final payday -- an undeserved one at that.

The brief spell at Marseille last season returned several positive performances, as Barton offered a reminder of his failed potential, but the off-field antics refuse to fade and the legacy of his French sojourn is this garish interview.

Everton are a side renowned for their team spirit and togetherness. The arrival of Barton would instantly threaten this. Given his past indiscretions, any pursuit of Barton is akin to placing lit dynamite under a fuel tank; it is only a matter of time before the inevitable explosion decimates the surrounding area.

Sculling around in last chance saloon, Barton needs Everton more than Everton could ever need him. Boasting a fuse short enough to make the Incredible Hulk jealous, the risks far outweigh any hint of ability. There are better players out there; players without destructive tendencies. Any move for Barton would be an ill-advised and unnecessary gamble for a player who simply isn't worth the hassle.