Time for Ross Barkley to realise his potential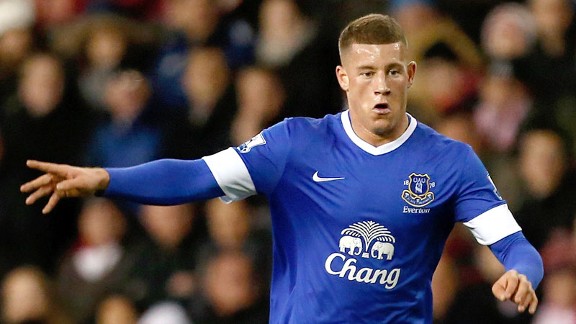 Paul Thomas/Getty ImagesEverton supporters hope 2013-14 will be Ross Barkley's breakout season.
The progress of Ross Barkley has undergone more changes than the cast of Dallas. Set to breeze into the first team picture, multiple leg breaks stalled his rapid development and Barkley would have to wait until August 2011 for a chance in royal blue.

- Baines fit for Everton US tour

Turning in a man-of-the-match debut in a dismal opening day defeat to Queens Park Rangers, Barkley found the praise flowing from all angles. Former Everton, Arsenal and England defender Martin Keown said, "He's young, but he'll be one of the best players of the game we'll ever see in this country."

Prior to his departure, Mikel Arteta also praised the youngster's early performances: "I think he can be really good. He's got something about him. He's brave to take the ball in good areas and creates something, so it's pleasing for him."

Unfortunately, for Barkley, the honeymoon period came to a sudden end. Following his opening day exploits with further promise, another start arrived as the Blues visited Blackburn, but the concession of a penalty proved expensive. Barkley lasted just 53 minutes and, with David Moyes doubting his readiness for the Premier League, the Liverpool-born midfielder would not start another league game in 2011-12.

Remaining on the fringes in 2012-13, Barkley went on-loan to Sheffield Wednesday and Leeds United. Upon his return, Barkley received two unexpected starts. Trips to Tottenham and Arsenal offered a testing reintroduction to first team football; wasted on the flanks at White Hart Lane, there was an obvious improvement in a central position at the Emirates.

Once again, praise followed a promising performance. Leighton Baines offering his thoughts on this occasion: "Nothing fazes him. He is such a good player. That is why he has started a couple of big games away from home. He has a lot of ability and is still a young lad. He will be a top player for the club."

Somewhat inexplicably, Barkley warmed the bench from then on. Unable to build on his pleasing Arsenal display, fleeting cameos were the order of the day for the remainder of the campaign.

Fast-forward to the present day, and the picture is considerably rosier. Ending the season on international duty, Barkley had praise landing at his feet once more. England U-20 coach Peter Taylor proclaimed the midfielder to be "world class at times" and explained how "he is going to be a great player with the way he turns defenders and runs at people."

Fresh from his extended break, Barkley began pre-season on Saturday against Blackburn. Used in the advanced midfield role, there were flashes of ability during the 45-minute outing and it underlined the excitement surrounding the academy graduate.

Afterwards, Roberto Martinez described him as an 'incredible football diamond' and 'something special'. Already impressing his new manager, Barkley should aim to establish himself within the squad in the forthcoming campaign.

"He's still a young man, and he needs to learn the players around him. But I'm excited to have that process with him. He has got an incredible talent," Martinez told the Liverpool Echo.

"At the moment he is a young man who is still learning when to use his talent and when he needs to do things for the team. The early signs have been really good and encouraging."

One of several young players included in the 24-man squad for the US tour, Barkley can build on his first pre-season appearance and looks set to receive a fair chance in the months ahead. Wary of his inexperience yet excited by his potential, Martinez appears the right man to transform an exciting prospect into an accomplished midfielder.

Having spoken enthusiastically about the youth setup at Everton, Martinez is keen to give the younger players a chance to prove their worth. As the praise of his managers -- international and club -- rings in his ears, the onus is on Barkley to live up to the hype.