Kone claims No.9 in era of irrelevant squad numbers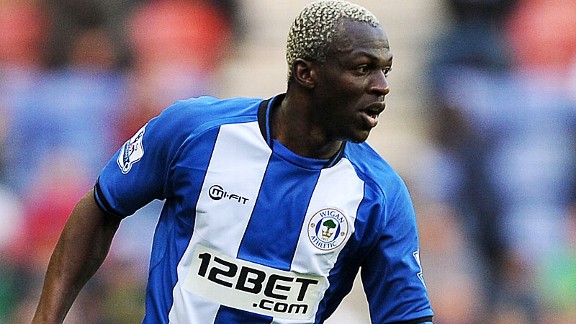 PA PhotosArouna Kone has taken a number some say 'he has not earned'.
Everton announced the 2013-14 squad numbers on Monday, the list showing only minor alterations from the previous campaign. Hallam Hope, Matthew Pennington, Conor Grant, Ibou Touray and Chris Long received their first squad numbers, while fellow youngsters Luke Garbutt, Conor McAleny and Tyias Browning changed their numbers.

Firstly, it is worth noting the irrelevance of squad numbers in the modern era. Superstition and favoured numbers carry greater precedence than history at present. In the not too distant past, Everton went through a spell without a number nine; players shying away from the legend and pressure attached to the shirt.

Nevertheless, the main talking point to arise from this announcement was Arouna Kone claiming ownership of that very number. The faux outrage began almost instantaneously. Anguished cries of 'he hasn't earned it!' became audible across various social media platforms.

Once upon a time, the number nine shirt had considerable weight attached to it; the player in possession carried the burden of fan expectation, but those days evaporated once the likes of James Beattie and Louis Saha held the shirt.

When Dave Hickson played on with stitches across his brow and blood matting his hair, those were the days when squad numbers had value. In the money-driven environment of modern football, squad numbers merely fill the space below a player's name on the back of an overpriced shirt.

After all, there was no objection when a number of unworthy successors followed Neville Southall as number one; Thomas Myhre, Paul Gerrard, Richard Wright and Jan Mucha all failed to live up to the performances of their legendary predecessor.

Over the years, Everton greats Alan Ball, Trevor Steven, Alex Young, Howard Kendall, Kevin Sheedy and Colin Harvey filled numbers ranging from four to eleven. However, there was no public outcry when Mickael Madar, Niclas Alexandersson or Andy van der Meyde inherited number seven.

No witch-hunts formed as Alex Nyarko and Segundo Castillo appeared with eight across their back, nobody sanctioned a protest when Terry Phelan wore number six or Earl Barrett and Danny Williamson held the number four shirt. Kevin Sheedy is one of the finest number elevens in Everton history; the same is not true of Jo or Denis Stracqualursi.

Kone himself wore two at Wigan; Clint Dempsey did likewise at Tottenham. The days of conventional numbering are outdated. During the 2011-12 Serie A season, seven players had the number 99 and four others sported numbers above 90.

Closing with attention on the remaining additions, new signing Joel Robles takes the number one vacated by Mucha and supporters will hope for a goalkeeper worthy of the shirt. Although early days, the strong display against Austria Vienna bodes well for the upcoming season.

Centre back Antolin Alcaraz will occupy the number 32 shirt after his arrival on a free; few complaints are expected as the Paraguayan inherits a number last occupied by Dan Gosling. The most recent arrival, Gerard Deulofeu, will carry number ten. Supporters will hope for a brighter spell than the one Royston Drenthe endured in the shirt.

Overall, shirt numbers are of little consequence in the ever-expanding world of Premier League football. Players could wear numbers 89-99 for what it is worth, results and performances are of greater importance, supporters should focus on the team rather than the numbers they wear.