Baines developments offer a chance to show backbone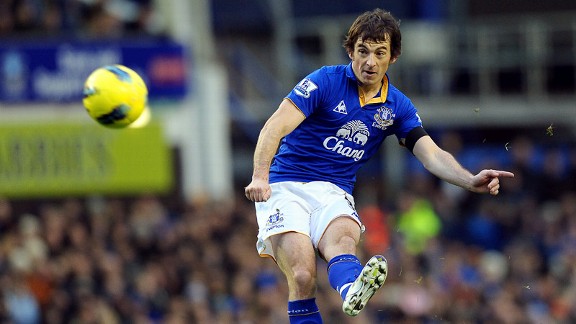 PAUL ELLIS/AFP/Getty ImagesLeighton Baines has recently been linked to join former manager David Moyes at Manchester United.
The longest courtship in football is heating up as David Moyes seeks to poach the prized asset from his former stomping ground; Manchester United finally firming up their interest in Leighton Baines after years of peering over the garden fence.

Ironically, the man behind the reported £12 million bid, Moyes, is the man who would have defined such a bid as derisory during his Goodison tenure. The Everton hot seat barely cold, with Roberto Martinez not officially starting until Monday, the move is bound to infuriate Everton supporters.

- Baines excited about Martinez era

The insult is not necessarily the bid; the insult is the size of the bid. Even more so as these words came from Moyes in 2011: "I've always said it, it's expensive to buy off Everton in the main. If you're going to come and try to take our better players we don't sell cheap, that's for sure."

Moyes ought to know better following eleven years of service at the club. There is an argument for little sentiment in the hustle and bustle of modern-day football, but offers such as this are little more than a slap in the face.

Since Everton firmly rebuffed this enquiry, the next steps promise interesting viewing. The club insist the player is not for sale and hope the attraction of a new contract can keep Baines at Goodison.

On the back of this initial rebuttal, the resulting actions of Moyes are sure to attract intense scrutiny. Manchester City relentlessly pursued Joleon Lescott in 2009 and Moyes labelled their constant attentions as 'disgusting'.

Following the Everton assertion that Baines is not for sale, Moyes would surely face accusations of hypocrisy should his new employers decided to retest the resolve of the decision makers on Merseyside.

Nearing on his own additions, Martinez is keen to retain Baines and recently outlined his plans for a new deal for the left back: "It is very important and it's a case of rewarding players who have been phenomenal for the football club. I think Leighton is in that category."

For the Everton board, these developments represent a chance to disprove the small club mentality seemingly adopted in recent years. After addressing the Marouane Fellaini clause at the first Martinez press conference, Bill Kenwright said, "The others are not for sale. We don't want them to go. I am confident that squad, plus some Roberto signings, will form this club's squad for next season."

Unless Baines indicates his desire to move, an occurrence totally out of character, or the offers rise to astronomical amounts, Everton would show impressive resolve by resisting the financial carrots dangled in front of them.

The TV deal ensures there is no pressing need to sell players, something reinforced by the aforementioned Kenwright comments. However, the worry for supporters is the sense of deja vu looming large of the situation.

This latest episode has similarities to the eventual sale of Wayne Rooney in 2004; Everton began by standing firm, but the club eventually sold the player for considerably less than expected. A number of quotes prior to the sale of Rooney left the club with egg on their face when the move transpired.

Kenwright claimed, "David Moyes and I agreed Wayne has to be a £50m player now. I would turn down any bid for him." The then Chief Executive Trevor Birch added, "The definitive position is that he is not for sale. You don't sell your best players."

As supporters fear history repeating itself, this is a chance for Everton to prove there is still a backbone within this football club. Accept silly money should it arise, just do not leave fans feeling short-changed and let down on yet another significant decision.