South Africa's loss is Everton's gain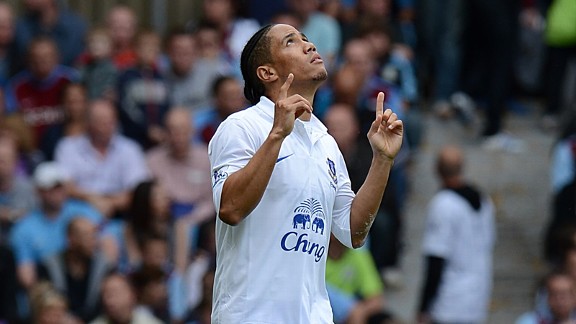 EmpicsSteven Pienaar: Now fully committed to Everton
Steven Pienaar has announced his international retirement with South Africa due to announce their squad for upcoming matches. The news is a major boost for Everton with the Africa Cup of Nations starting in January. Previously faced with the possibility of being Pienaar-less for up to six weeks, Evertonians can breathe a huge sigh of relief.

According to national coach Gordon Igesund, Pienaar called him on Monday to inform him of his decision. Igesund was disappointed to see his captain retire but he understands Pienaar's decision: "I am disappointed but the way he has retired is the right way. I think it was a tough decision for him".

In a statement from the player, Pienaar's pride at representing his country shone through. He said, "I'm proud to have played for and captained my country. For that I thank you". Pienaar also explained his decision, "I am now at a stage where physically I am struggling to balance the demands of playing in England with the number of games required by South Africa".

Before today, Everton faced losing a key player for a significant part of the season. The signing of Bryan Oviedo is a nod to this with the Costa Rican able to fill either role on the left hand side. Now, following Pienaar's retirement, Everton can look to press on with one of their best players intact.

The current South Africa captain, Pienaar has represented his country on 54 occasions. However, with more yellow cards (10) than goals (3) or assists (5), some would argue that South Africa never saw the best of Steven Pienaar. The same could not be said of his time with Everton.

Since returning to Everton last season, Pienaar has helped transform Everton. As outlined here and here, Pienaar is an integral part of the team and his partnership with Leighton Baines is one of the best in the world. With a lopsided 45% of Everton's play coming down the left hand side, it is clear how vital the Baines – Pienaar combination is.

With six assists and four goals in just 14 appearances, Pienaar proved vital to Everton's impressive end of season form in 2011/2012. Starting this season with 14 chances created and 2 assists, Pienaar is continuing last season's form and Evertonians will hope he continues in this rich vein.

In international football, timing is everything with Tim Cahill suffering for continuing with his Australia commitments. Starting the 2011/2011 season with a bang, Cahill had nine goals by mid-December. Leaving for the Asia Cup midseason, Cahill returned fatigued and injured as he failed to score again in 10/11. In total, Cahill had to wait 13 months for his next Everton goal.

With Pienaar turning 31 in March, the timing appears right in this instance. One-half of Europe's best left sided pairing; Pienaar is of huge importance to Everton and their style of football. With Pienaar in the team, Everton pass more accurately and more often whilst winning a higher percentage of matches.

Statistically and stylistically, Pienaar is a major part of this current Everton side. Able to reap the rewards of a fresher and fitter Pienaar, fans will hope the diminutive midfielder can help guide Everton towards European qualification in the coming months.