Mourinho's bold decisions are starting to pay off at Chelsea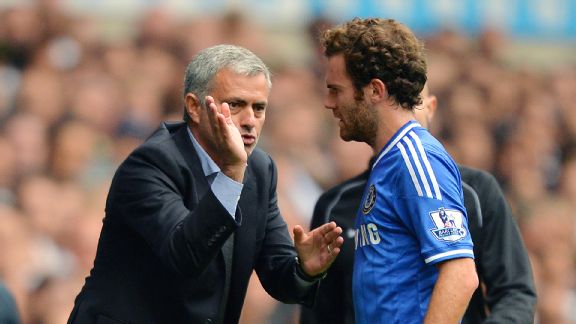 Darren Walsh/Chelsea/AP ImagesJose Mourinho's handling of Juan Mata has turned Chelsea supporters against him but the Spaniard's recent play has validated the head coach.
Jose Mourinho's return to Chelsea hasn't been as straightforward as he probably expected.

"You're not special anymore," is the new chant of choice for rival fans looking to bait Mourinho at Chelsea's away games. Fair enough, considering his "second coming" at Stamford Bridge got off to a faltering start. Defeats to Basel and Everton left questions hanging about the true merits of his managerial skill and the latest Chelsea squad. Even the most loyal Chelsea fan has probably questioned his decision to sideline star Juan Mata and loan out promising Romelu Lukaku.

But why would you ever doubt Mourinho?

Growing evidence suggests that he, again, knows exactly what he is doing, and is not frightened of making contentious calls to get exactly what he wants.

Take Mata, for example. The Spanish playmaker had won Chelsea's Player of the Year award two seasons running, but Mourinho saw a footballer who did not work hard enough when the team had lost possession. Left out of the matchday squad altogether against Fulham, Mata listened, learned and adapted. A hard-working display in a League Cup tie at Swindon prompted Mourinho to observe, "He has come a long way to meet me. So I will meet him. He's a good boy, a good pro."

Mata's match-changing cameo from the bench in the next game at Spurs signaled his rehabilitation, and good results followed. Chelsea went on to win well in Bucharest and at Norwich, and there are ominous signs that the Stamford Bridge messiah is starting to re-shape this team to his liking.

Now on to Lukaku. Time will tell if Mourinho is right to so readily dispense with the services of the prolific, young striker. Lukaku has scored four goals in three games for Everton thus far, but Mourinho doesn't seem to regret the decision, despite none of his strikers getting on a league-match score sheet yet. Asked about the Belgian's goal-getting start at Goodison, Mourinho rather arrogantly said, "Everton is not Chelsea."

Mourinho's risky call can only truly be evaluated in May, by which time we will know if either Fernando Torres, Samuel Eto'o or Demba Ba has filled the problem No. 9 position with any success. None of those three have had a major impact so far, though Torres's second half display at Spurs, until his red card, was a revelation. He was almost unplayable for 20 minutes, it's typical of his Chelsea career that he should be injured just as he appeared to strike form.

Another big Mourinho call in recent games has been to drop England's Gary Cahill and send Kevin De Bruyne to football's equivalent of Siberia. Again, that will be the manager's way of telling those players that they are not satisfying his stringent, tactical demands. The fact that John Terry, often omitted by Rafa Benitez, is back as leader of the pack is another indication of Mourinho's thinking. Bit by bit, he is reassembling the Chelsea jigsaw to produce a picture he likes.

He knew he had flair to burn with the likes of Eden Hazard, Oscar and Mata on the scene. But he also saw a team where the balance between creativity and work rate -- silk and steel -- were not quite right. His new Chelsea are not the finished product, but you sense they are starting to engage a higher gear.

In a season where upsets are always likely to be on the cards, it might be the team making the fewest mistakes that will prevail. With the streetwise Mourinho at the helm, that team might well be Chelsea.

Unless of course, the Lukaku loan proves that even the greatest managers can make horrendous mistakes. As one angry phone-in caller told him:

"You are good, not God, Jose."