Why is 'Big' Sam Allardyce so misunderstood?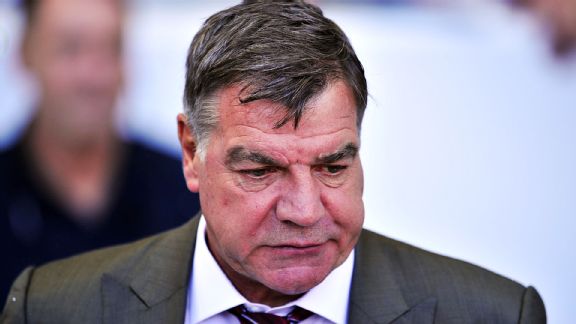 Glyn Kirk/AFP/Getty ImagesMany look down on Sam Allardyce, but it is the self-assured West Ham manager who is certain of his correctness.
He is one of football's great innovators and imagineers. He has long been a visionary and a trailblazer. There have been times where he has stood accused of heresy, but he has persevered, possessed by the courage of his convictions.

He was one of the first to see that football's truth might be held in its numbers. He assembled an army of analysts and technologists and whiz-kids to help him establish what they might say. That was more than a decade ago. Now every club has its own division, wielding statistics as weapons, each seeking an advantage in the arms race.

He was an early adopter of conditioning and diet and nutrition, a pioneering advocate of sports science and psychology. He bestowed upon English football the chance to see some of the game's great mavericks, coaxing order and orthodoxy from the wild men and the bad boys, and dredging the dried-out husks of the old for the last few vestiges of youthful exuberance.

DEFENDING SAM'S WAYS: Gold | Allardyce

His legacy stretches to almost every Premier League club, his influence reaching down into the depths of the Football League and his tentacles reaching into our very brains. It is not too much of an exaggeration to suggest he changed the way we think about football. His former pupils, the foot-soldiers he recruited for his assault on the establishment, now run the recruitment divisions at Manchester City and Liverpool to name but two, and until very recently indeed his star alumnus was one of the most powerful men at Chelsea.
He should be cherished as one of the most progressive, inspirational figures that English football has ever produced. Instead, he is seen as a Luddite, a dinosaur, an embodiment of everything that is wrong with the game on these shores. He is nothing more than a self-promoting reactionary. He is an unpleasant reminder of a less-aesthetic age. He is a face that looks like it has a moustache even when it doesn't. He is a flat Midlands accent, forever grumbling about some injustice or another. He is a spoof Twitter account, obsessed with WWE wrestling, 1980s pop stars and startlingly debauched self-abuse.

He is Sam Allardyce, manager of West Ham United, and he is one of the game's great misunderstood geniuses.

Well, no, he isn't. That is going a bit far. But there is more to Allardyce than he is given credit for, that much is certain. He is not the one-dimensional anachronism he is often cast as. Indeed, though he does his best to hide it, it is possible to describe Allardyce as one of the most fascinating dichotomies in football.

He is the man, after all, who found a way to incorporate and indulge the likes of Jay-Jay Okocha and Youri Djorkaeff at Bolton, and yet managed to render all of that good work irrelevant by simultaneously shoe-horning them into a quite devastatingly unattractive long-ball side.

If it hadn't been Allardyce, or if he had been French, you would have been half-tempted to think it was some sort of existential opus, a monument to irony or clever subversion of the idea of beauty. But he is Allardyce, and he is about as un-French as it is possible to be, so all you could do was assume that he had decided Okocha might be good for winning second balls.

That is the primary reason Allardyce has been so scorned, of course: because the upshot of all of his innovation, all of his originality, seems to be to how best to launch long balls at a striker.

He is an intelligent, pioneering presence right up to the moment when his teams take to the pitch, like a doctor who has spent two decades with the most modern equipment available and then prescribes leeches to his patients, or an army investing a fortune into weapons technology but going into battle armed with massive clubs.

There are other causes for his, well, unpopularity. His demeanour -- best described as "recently neutered bulldog" -- counts against him, as does his over-eagerness to blame everything that goes against his sides on some sort of cosmic conspiracy of referees. His membership of Sir Alex Ferguson's cabal was understandable, and he was obviously not alone among his peers in seeking a place at the great man's court. Yet his slavish devotion served to make him look something of a lapdog; it detracted from the idea that he was his own man.

Most damaging of all, of course, is his rampant self-promotion. His declaration that he should be managing Real Madrid or Barcelona is the best example, but do not forget his sincerely held belief that if he was called Allardici, he would be worshipped in all four corners of the globe.

That, Sam, is called hubris; it means you will forever find your shortcomings highlighted far more readily than your successes.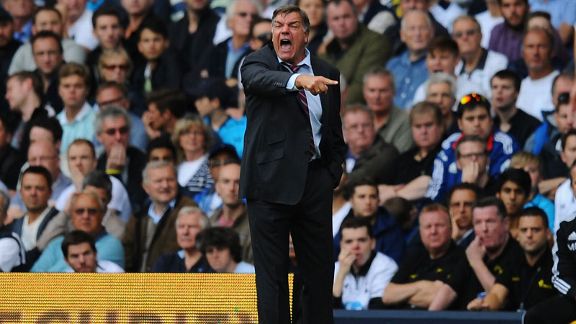 GettyImagesSam Allardyce barks instructions to his West Ham team.
And there have been successes; his nurturing of Ravel Morrison, most recently proves that somewhere inside Allardyce is not just an innovator, but a very gifted manager indeed. Even Ferguson had given up on the 20-year-old, lest we forget. Though Lee Clark and the player himself deserve some credit, there should be immense admiration for Allardyce for taking the risk in the first place and for slowly, surely, teaching Morrison what is required to be a professional footballer.

Allardyce, with his characteristic lack of self-awareness, will no doubt mention this at some point. He will ask for praise, rather than waiting to be given it. That is part of the problem, too, but it is not the primary reason.

That is something far more subtle. Allardyce is frowned upon because is us. He is English. He is English football's core values made flesh. He is everything we are and because of that he is everything we hate. Forget the numbers and the identities of the players and the pioneering off-pitch approach. On the pitch, he reminds us not just of what we once were, but of what we will always be.

Jose Mourinho -- another manager not exactly afraid of a direct pass -- spoke after Chelsea's victory at Norwich this past weekend of the folly of trying to be someone else. "If you try to play like another team, you are very stupid," he said. You will only ever be a pale imitation of your inspiration if you are not true to yourself -- that was his message.

Allardyce is pathologically true to what he is, to what we are. He makes no attempt to be anything other than himself. There is no pretension, no talk of philosophy, no high-faluting values. He is long balls and fight and passion and hard-running. He is industry in a world of art and intellectualism.

And because of that, he is something of a throwback. He is us, reflected back on ourselves. He is a pioneer and an innovator and an imagineer, but none of that matters, because he is also everything we do not want to be.