Poor planning leaves Lyon in limbo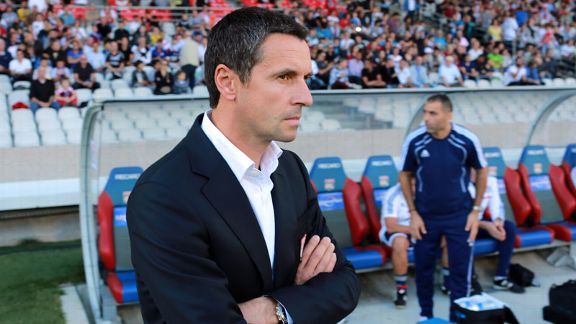 GettyImagesGarde concedes his job at Lyon is far from secure.
"Cette fois, ce sera dur de faire pire" -- "this time, it will be hard to do worse." The headline applied by Monday's L'Equipe to their report of Lyon's humiliating 5-1 defeat at Montpellier on Sunday said it all. After a promising start to the Ligue 1 campaign, a slip into mediocrity had suggested a difficult season, but this was a new low. The result is the club's heaviest defeat since the 6-1 beating at Nantes in February 2000.

Like the Trotters in Only Fools And Horses, Olympique Lyonnais had it all and frittered it away, flying too close to the sun. Since that low at Nantes 13 years ago, the club have won seven Ligue 1 titles, one Coupe de France, a Coupe de la Ligue and reached the semi-finals of the Champions League. If you tried to place a bet on Remi Garde's current crop repeating any of those feats in the near future, you might struggle to find a bookie that could stop laughing for long enough to take your money.

"Yes, I feel as if I'm in danger (of the sack)," Garde admitted after Sunday's game. "I didn't see that all our players were good enough for Ligue 1." Most damningly, the coach added: "I saw some players give up in the second half." That does not bode well. Garde's remit -- and an admirable one it is -- since taking the job has been to develop, encourage and protect the club's vaunted academy products. This writer was present for the coach cutting short and walking out of one press conference after a match against Lorient in April 2012 after becoming piqued by public and (perceived) media criticism of one of his star pupils, midfielder Clement Grenier.

Today, Garde is unable to properly perform at least two of those three key tenets, even if he is a hostage to financial circumstance. He deserves some sympathy. Though he may be some way short of the new Arsene Wenger that many have suggested, he has his merits as a coach, and presiding over such a programme of budget cuts is tough for somebody making his way in a first senior post.

He will survive, at least for now, simply because the club has little alternative at the moment. There are few top coaches who would accept working under a board that claims to be building towards a return to the Champions League, but wants it done on a shoestring.

This season's shortcomings have been in the post for a while. Club president Jean-Michel Aulas has transformed OL in his 26 years at the helm, from provincial also-rans, yo-yoing between divisions, into an established European player. A major part of Aulas' success was his buy low, sell high model, yielding huge profits on players such as Michael Essien and Mahamadou Diarra.

That philosophy fell by the wayside even before the ruinous Claude Puel era, as Aulas sought to bridge the gap between being perennial Champions League quarter-finalists (in successive years between 2004 and 2006) to potential winners. High-profile flops accumulated with Abdulkader Keita, Ederson, Jean II Makoun and others incurring huge losses. The reckless spending continued with Puel at the helm, notably with the €22 million signing of Yoann Gourcuff.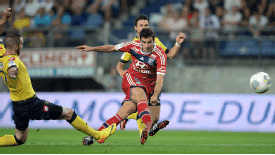 GettyImagesYoann Gourcuff is the last of Lyon's big money makers.
Gourcuff is one of the last of the big-money arrivals to remain, with his huge wages (reported to be in excess of €400,000 per month) and injury record making him hard to shift. The other is Bafetimbi Gomis, who the club unsuccessfully attempted to force out this summer by ostracising him from the first-team squad. After the France striker turned down a few offers, Aulas was forced to allow him back on board.

This messy episode was further proof of the president's waning powers as a transfer negotiator. The Gomis case is the latest in a series in which Aulas' desperation to slash the wage bill and focus on funding the club's privately-owned new Stade de Lumieres has seen his judgement err. So Al-Ain sealed a deal for Michel Bastos this summer at half the price they would have paid last year, when the incorrigible Daniel Levy got himself a bargain on Hugo Lloris.

So the current 'injury crisis' Garde must contend with is as much a result of poor planning as it is bad luck. Even if simultaneous injuries to defenders Milan Bisevac, Samuel Umtiti, Miguel Lopes and Mahamadou Dabo could not necessarily be anticipated, the squad is clearly not good enough, and always looked as if it would be easily stretched.

For all the talk of a back four containing non-specialist defenders, midfielder Gueida Fofana was preferred to Bakary Kone at centre-back (the latter's normal position) for the unsuccessful Champions League play-off against Real Sociedad. It was not an especially ringing endorsement of the coaching staff's faith in Kone's ability. He and Fofana partnered each other on Sunday at Montpellier, to disastrous effect. Poor Jordan Ferri, a midfielder on his third Ligue 1 start but playing right-back, was taken apart by an in-form Remy Cabella.

It didn't have to be like this. With a little more will -- or just a compromise on their demands when attempting to sell Gomis -- Lyon could have closed deals for right-back Sebastien Corchia of Sochaux, Bastia midfielder Wahbi Khazri and Nantes striker Filip Djordjevic for total fees of less than €10 million. Corchia is arguably France's right-back of the future, Khazri is continuing to score and create in an attractive side having done the same last season and Djordjevic has already scored six times since Les Canaris returned to the top flight this summer. All three would have leapt at the chance of a move to the Stade Gerland. Corchia even agreed terms before Lyon blew him out in favour of taking Sporting Lisbon's Lopes on loan, a cheaper option.

Reinforcement of the playing squad, even if buying another Bastos or Lisandro Lopez is out of the question, has become imperative. You can only take so many bricks out of the walls before the house falls down. Lyon's new 58,000-capacity home will look magnificent when it is ready in late 2015, but if the team continues on its current trajectory, who will be there to watch?