One goal enough for Boca in the 'superclasico'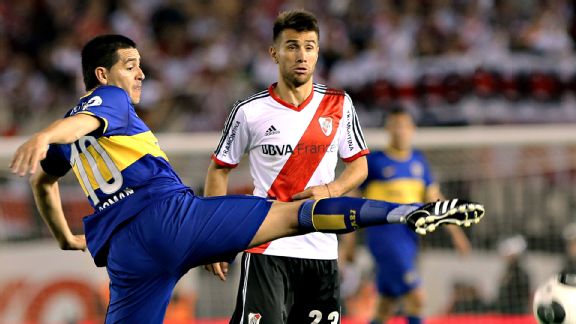 Daniel Jayo/Getty ImagesBoca's Roman Riquelme and River's Leonardo Ponzio in action in the Argentine 'superclasico'.
BUENOS AIRES -- "You have to adjust your aim", declared Boca manager Carlos Bianchi in a recent press conference before a game against Quilmes. Known as El Virrey (The Viceroy), he has been calling for this week after week. Like the prolific goal scorer he used to be, Bianchi finds it unacceptable to waste so many chances. River's manager Ramon Diaz asked the same from his players. But this wish would only be granted to one.

Both River Plate and Boca Juniors, overlooking the "medical problems" of the latter, came into the match on Sunday under similar circumstances in Argentina's Torneo Inicial: they were both getting positive results, yet with unconvincing play due to team seemingly bipolar disorders and difficulty in finishing off goal scoring chances. The Superclasico required a victory for one or the other, which meant that goal scoring was essential. And in the end Boca adjusted its aim...

Similar moments, but very different styles and opposing ideas. River was true to form: it came out firing. There was nothing else they could do. Estadio Monumental for the home side coupled with a slightly lower position in the standings compared to their nemesis brought on obligatory play. In its prior nine matches, River had exhibited intense brand of football with decent play at certain moments, and at others, appeared dazed and confused.

Conversely, Boca was limited due to all the problems arising during the week --a slew of injuries-- and preferred to hold back. Perhaps Boca knew that the high intensity of River at the start would not be sustained for long, or it was just looking for the right moment to strike.

In effect, after having wasted at least three clear chances (two headers by Federico Andrada and one by Gabriel Mercado) that drowned the momentum, Boca's midfield showed up, which Diaz had been so worried about.

And his players could do little to stop them. Christian Erbes, showing no signs of having been injured, took charge of the counter-attack allowing Fernando Gago to move up. River sought to take advantage of the little marking on the right side but ran into Jesus Mendez and Cata Diaz, who also looked to be playing at their fullest ability.

And what about Juan Roman Riquelme? He almost never touched the ball. Yet when he stepped onto the field, practically without moving, he revived the whole team. With just two touches he was able to put his team into attack mode. There was no coordination with Gago, although he facilitated play. Riquelme played intelligently and with precision while Gago contributed speed and mobility. The performance of Juan Manuel Martinez and the forward play of Manuel Sanchez Mino brought together the perfect combination for Emmanuel Gigliotti to do what Bianchi expected of him when he was called to play for Boca rather than for Mexico: score goals.

Specifically, the only score of the match came with a steal at midfield, Riquelme's dish to the right wing to a wide open Martinez, and with the area flooded, a cross to Gigliotti who one-touched it into the goal. This is no more and no less than was Bianchi has expected.

On the other hand, either he didn't pay attention to Diaz or he erred with the midfield but he chose to negate the good play of the other team, as he stated before the game. Carlos Carbonero has trouble defending and so Boca came in from the right side frequently. Nor did Ariel Rojas have much impact, both on defense and offense. Osmar Ferreyra had signed with a River Plate team that had already lost its form.

Perhaps Leonardo Ponzio or Matias Kranevitter would have been better company for Cristian Ledesma at Lazio. Ponzio, as a defensive midfielder who came on for Jonatan Maidana, showed little precision. Despite this, play did not stay in the middle and River was able to create several chances. They took advantage of the sides with Carbonero in the middle and Vangioni playing deeper. Teofilo Gutierrez despite shooting one off the post, continues to lack presence in the penalty area. Manuel Lanzini didn't coordinate well and played more as an individual. Rodrigo Mora was not on very long but headed one off the post. River fought to the very end but Boca had already pulled the curtains on the game.

After having scored the go-ahead goal to make it 1-0, Boca showed little ambition for increasing its lead. When Riquelme asked to be substituted and Gonzalo Escalante came on, Boca pulled back and defended for the rest of the game. Boca simply held on to the ball thanks in part to River's nervous play that resulted in gifting it several times.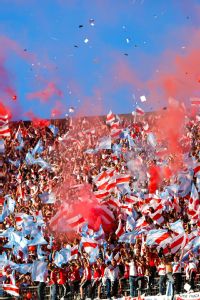 Gabriel Rossi/Getty ImagesRiver Plate fans in red and white at Estadio Monumental. Boca supporters were banned, due to fan violence measures.
River was too affected by the goal and was never the same team after. And as time wore on, Estadio Monumental, all colored in red and white, started to feel gloomy. The team lost hope and fell apart. The performance reflected on by Ramon Diaz afterwards was there, without a doubt. Purpose, experience and leadership were all absent. Three traits Boca showed.

Did River Plate play better? If centering the ball and creating lots of chances, but not scoring any goals is playing well, then yes. Did Boca play better? No. A big team that does not show any hunger for more goals and settles for a 1-0 score, which for a long time turns the attacking game over to its opponent, cannot be better. This was the most intelligent thing to do for taking the Superclasico. Boca simply was patient, scored, and then shut it down. Simply put: They won.

And that's what El Virrey ordered.