River-Boca, a bucket list spectacle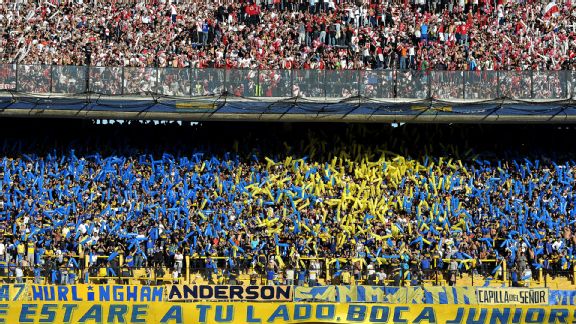 Alejandro PagniAFP/Getty Images)Boca, in blue and gold, and River supporters cheer in a Superclasico. On Sunday, Boca fans are banned from River's Monumental stadium.
In 2004, to celebrate 50 years of their sports supplement, the English weekly The Observer put together a list of 50 sporting things you must do before you die: The River-Boca derby was number one on the list.

Without a doubt, the passion this match generates across the country, the rivalry between the fans of each team (which even exceeds that of Real Madrid-Barcelona) and what it can produce in the face of an eventual defeat or victory turns this football event into a very special meeting.

The 190th edition of the Argentine Superclasico will be no exception. This match, beyond the way it ends up being played, always has an added urgency to it, although in this case the atmosphere in the stands at River Plate's Estadio Monumental will only be tinged with red and white.

Due to several incidents caused last season inside and outside stadiums by the notorious barrabravas, Argentina's brand of 'hooligans,' the Argentine Football Association and the national government decided that this Torneo Inicial season only home fans could attend matches. Hence, this Sunday at the Monumental stadium there will be no blue and gold followers.

Both teams need to win. Boca, with 16 points, is four behind Newell's Old Boys, the defending champion and current leader, and knows that a victory will place them as a definite title contender. The squad led by Carlos Bianchi will go for two wins in a row for the first time in the tournament: last weekend they defeated Quilmes in Boca's La Bombonera after a convincing performance.

River, with 14, cannot afford to give up points at home: a defeat will put an end to the illusion of the championship fight. This team, like its eternal rival, will also come in with momentum after beating the grueling Lanus on a goal scored in injury time.

Sure, for the River Plate Millionarios, hope comes in two fronts. In addition to the local tournament, the team from Nunez has just advanced to the Copa Sudamericana quarterfinals, where they will face Lanus once again.

River coach Ramon Diaz had a pretty quiet week in terms of team makeup. Unlike Boca, El Pelado doesn't have too many injuries to deal with, and except for a few question marks on tactical issues, the team is almost set.

On Boca's side, Carlos Bianchi had some difficult days with two of his would-be starters, Pablo Ledesma and Alan Aguirre, out with a bout of the mumps. Uruguayan central midfielder Ribair Rodriguez also joined the disabled list after tearing a muscle in the last match, while Cristian Erbes and Jesus Mendez are also in doubt. On a positive note, Cata Diaz, one of the team's key players, could make his return to the defensive unit.

Both coaches will field a 4-3-1-2 tactical scheme. Boca will use a top class tandem in midfield with Fernando Gago and Juan Roman Riquelme, who will play together only for the second time in the Torneo Inicial, after showing some hints of what they can achieve together against Quilmes. On the other side, Manuel Lanzini, who's had a very good performance recently, will be River's playmaker, with Colombian Teo Gutierrez and 19-year old Federico Andrada as strikers.

History tells us that the last Superclasico played at the Monumental without opposing fans took place in 2004, a historic Copa Libertadores semifinal return leg between the two Buenos Aires bitter rivals. That time, with Bianchi on the sidelines, Boca won on penalties and made it to the final, where they would lose, also on penalties, to Once Caldas of Colombia.

Today, the Xeneizes dream of celebrating again in a hostile environment, and the Millionarios of achieving their first official victory in a derby after being relegated to the Argentine second division for the first time ever in the 2011-2012 season (Boca has never been relegated). On Sunday, at 6:15 p.m. local time, a new story will begin.