FIFA's delay tactics on Qatar create more mess
By now, FIFA has an almost irreparable reputation. "For The Good Of The Game," its motto proclaims. Most other interested parties believe that FIFA's collection of brimming waistbands and overflowing expense accounts have only their own good at heart.

The decision to award the 2022 World Cup to Qatar in December 2010 may well have been a rubicon moment, a point of avarice that took Blatter and chums a step into self-parody and eventual self-destruction. A brazen grab for the booty from what has become the richest country in the world, there was little sense in the decision, and what has followed has only brought the free-loading Executive Committee's motives into focus.

There will be no change in 2022 host, say the spokesmen. A question of summer or winter is the only question to be replied to -- and that answer will be not be delivered until "at the earliest in 2015." A delay, then, and one in which deeper scrutiny can only be poured onto FIFA and Qatar, in the manner of France Football's "Qatargate" specials.

- Report: Winter World Cup verdict in 2015?
- Story: FIFA investigator denied Russia access
- Watch: Protestors descend on FIFA

A human rights question is at hand, too, with last week's Guardian report suggesting that Nepalese migrant workers are suffering premature heart attacks due to their being overworked on the stadium builds. "Slavery" was the claim, and one that FIFA sidestepped in the same truculent manner that they failed to address the Brazilian people's protests at this summer's Confederations Cup. Self-interest is the charge, and it is one that FIFA's activities rarely provide much evidence against.

The delay in decision suggests that FIFA at least recognises there are problems. Blatter himself, who is actually widely believed to have been supportive of the USA bid for 2022, has been evasive at best about the problems of playing in a Qatari summer. It is as if he would like to have been proved correct all along. However, as president he must shoulder blame, too. He cannot wash his hands of a mounting crisis that may yet deepen through further delay.

Blatter paints himself as a patrician conquistador, taking the game to the people of the developing football world. It is mere coincidence that such countries will vote him back in office. He barely needs the European elite if the rest think that, one day, he and his cronies will bring the World Cup to their country.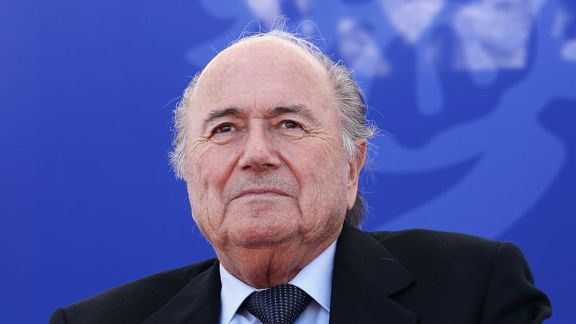 AllsportThe mess surrounding Qatar -- and the delay of any possible closure -- has put FIFA and Sepp Blatter in another difficult spot.

The choice of Qatar was painted as the chance to bring "the beautiful game" -- to use one of FIFA's most tiresome cliches -- to the Middle East. That in itself is an idea with considerable merit. After all, "world" means the entire globe, and that part of the world forms a key part of geopolitics. Football is a ruling passion throughout the region. Yet the choice of the tiny yet cash-rich Qatar was troublesome from the start.

Their vote was carried, the people of the emirate celebrated. Qatar has a hold on other sports, with athletics and horse racing leading the list. Yet the World Cup was the ultimate prize and FIFA was able to deliver it to them. On that Zurich evening, after England's David Beckham, David Cameron and Prince William commiserated on missing out to Russia for 2018, delegations from the U.S. and Australia went through the same emotions of bitter rejection.

Cries of corruption began at that very moment, and have barely abated since. Russia 2018 is almost the forgotten finals at the moment. Qatar is just under nine years away but the logistics have been debated from day one. Space-age technology may yet allow games to be played in mid-summer, but the spectator will be forced to move around a country that is almost completely inhospitable outdoors at that time of year. A winter finals makes more sense from a safety angle, but that is where another raft of self-interest comes in.

Major European leagues and TV rights holders are in protest, digging their heels. A winter World Cup may have a knock-on effect over three seasons rather than just one. A Winter Olympics may be be affected, too. In the U.S., where FOX have shelled out a record amount to show the tournament, the World Cup will cut into the domestic sporting calendar, be it in November, December or January. A winter World Cup will be novel and would open up further territories if it is a success. It is wholly organisable, too, but the problems it will cause throw FIFA into further disrepute.

It is clear that logistics were not properly considered in a bidding process surely lengthy enough to throw up such an obvious red flag as temperatures unfit for human consumption. At this point, FIFA's motives for making the original choice are again questioned. Qatar may have been a trough too much, the Mr. Creosote moment that everything explodes all over the walls and the other diners are disgusted.

FIFA's power has been wielded with a lack of responsibility, seemingly to anyone but itself. However, if Qatar 2022 and its attendant fallout yield a change in FIFA and its ways, then it will be for the good of the game.