Lukaku loan is Everton's gain
Bucharest, Monday evening, and Jose Mourinho abruptly takes his leave of a news conference.

"You have spoken about [Juan] Mata for three weeks," he says. "Now you're asking about Kevin [De Bruyne]. You are impressed with the players who are not playing."

A couple of hours later at Goodison Park and Romelu Lukaku has destroyed Newcastle United by half-time. Mourinho could rather do with such a striker, but here is another question to be asked at peril: Why is Lukaku with Everton and not Chelsea?

Indeed, chief among the reasons for Mourinho's flounce was his concern that Fernando Torres was facing a lengthy ban for his unsportsmanlike pawing of Tottenham defender Jan Vertonghen's face, a fear later proved unfounded by the vagaries of the Football Association's flaccid "retrospective punishment" policy.

With Samuel Eto'o yet to work off the possibly terminal torpor of two years at Anzhi Makhachkala, and Demba Ba becoming Stamford Bridge's invisible man, Torres' recent return to form is timely. The knee injury sustained on Tuesday is not as serious as first thought; the Spaniard will most probably be back after the international break. Still, he could do with a bit of support.

Meanwhile, Chelsea's loan is Everton's gain. Lukaku's Newcastle brace followed a match-winning header at West Ham. Goodison has a new hero; Roberto Martinez has pulled off a masterstroke.

But why would Mourinho let Lukaku go? The accepted truth among insiders is simplicity itself: Mourinho does not share others' high admiration for the player. The Belgian's preseason performances were not to the manager's approval, despite a winning goal against Roma in Washington DC in the final match of the US tour.

As Mata has discovered, tracking back and working hard in defence are a minimum Mourinho requirement. Lukaku's last kick as a Chelsea player came in missing the penalty in Prague that cost his club the Super Cup, but the Blues boss is believed to have been far more annoyed by the Belgian's defensive laxity as Bayern Munich swarmed over the dying embers of extra time.

Mourinho made it a personal mission to land Wayne Rooney, and the subsequent failure turned him further against his strikers. Torres is barely shiftable given his vast wages and the embarrassment a low-value sale would cause to Roman Abramovich; Ba is viewed, fatally, as a Rafa Benitez signing, and not of sufficient quality; Eto'o arrived as an afterthought when it was clear Rooney would not be coming.

Indeed, Ba would likely have been plying his trade on loan at Arsenal had the Gunners met Chelsea's £3 million loan fee. Mourinho later claimed Arsenal's landmark signing of Mesut Ozil led him to block the loan at the last minute, but Lukaku would have been retained had the Ba move been completed. Instead, Lukaku was allowed to move to Merseyside.

When the news came that Mourinho was prepared to let him go, a disappointed Lukaku was on Belgium duty, and Kevin Mirallas is said to have been key in persuading him to join Everton. The winger sat with Lukaku in his hotel room before the deal was completed in the final hour of the transfer window. At Upton Park, it was Mirallas who supplied the cross for Lukaku's winner. Without first-team football, a place in Belgium's first World Cup finals since 2002 could not be guaranteed; Christian Benteke is coach Marc Wilmots' first choice as lone striker.

Lukaku is now at a club where his talents are appreciated and a necessity; Everton desperately required someone to supplant the ailing Nikica Jelavic, and Martinez is more likely to indulge his rawness. Last season's loan at West Brom was considered successful, with 17 goals scored, yet Steve Clarke, Mourinho's former assistant, only started him in 20 Premier League games. Pragmatist Clarke usually preferred the discipline of Shane Long to start, before Lukaku was launched as an impact sub. A fruitful policy, but suggestive that a starting place at Chelsea could hardly be expected.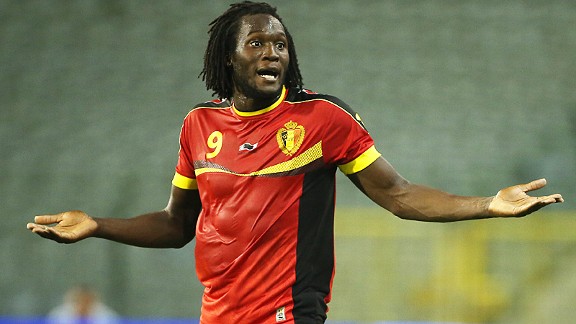 GettyImagesRomelu Lukaku has not been given a chance at Chelsea, so moved to Merseyside on loan.
In Belgium, the concern is rather more for De Bruyne, criticised publicly by Mourinho in Bucharest before that sharp exit. A Facebook page that translates as "Jose, what is your problem with Kevin De Bruyne?" has over 30,000 likes. Lukaku's treatment has been pinpointed by a wider suspicion of the Chelsea manager, who also has Eden Hazard under his charge. Hazard, whose dedication to defence has hardly ever been fanatical, may yet be the next in the Fastidious One's sights.

Lukaku has a reputation as Didier Drogba minor, helped in no small part by the elder man taking him under his wing during the 2011-12 season they spent together at Stamford Bridge. Lukaku made just one Premier League start, scoring no goals in Drogba's swan song, but the pair bonded. "Only those who don't take a penalty never miss and you were strong enough to do it," Drogba's Instagram page sympathised when his 20-year-old protege missed in Prague.

Yet there are distinct differences. When Drogba joined Chelsea at 26 in 2004, he was approaching the finished article -- his goals had helped Marseille to reach the UEFA Cup final the previous season. Even then, he had to follow the Mourinho doctrine, defend from the front, hold shape. Drogba played with the knowing hunger of a late developer, having not signed a professional contract until he was 21.

Lukaku has been a pro from the age of 16. Since making his debut for Anderlecht in 2009, he has been regarded as a player most likely to. Mourinho is not a coach to pander to those who exhibit an air of entitlement; star quality is little use without industry. The likes of Zlatan Ibrahimovic and Eto'o were made to toil and sacrifice themselves at Inter. Lukaku can only become a Mourinho player if he shows similar dedication, though, this being Chelsea, by the time his loan ends and he returns, there is always the possibility that he might be working under a different coach entirely.

Until then, he is an Everton player, an arrangement that suits both club and player. Just beware of asking Mourinho about it.