Jozy Altidore a shocking omission for USMNT
As Jozy Altidore discussed his current form for the U.S. national team last week, he uttered the words "if I get called up" more than once. It's a stock phrase that players often use when talking to the press, a kind of smoke signal to their manager that they aren't taking anything for granted, and are hell-bent on continuing to fight for their spot in the lineup.

As it turned out, Altidore wasn't spinning, he was dead serious. So was U.S. national team manager Jurgen Klinsmann, who on Monday announced his World Cup qualifying roster for games this Friday away to Antigua & Barbuda, as well as a home encounter against Guatemala in Kansas City the following Tuesday.

Altidore was the most conspicuous of the absentees.

As roster announcements go, this was a stunner. Altidore is joint top scorer in the Netherlands' Eredivisie with club side AZ Alkmaar, and you would think that a U.S. side that has been struggling to score goals would want as many of its top guns available as possible. But Klinsmann had other ideas. On Monday's conference call with reporters, the U.S. manager threw Altidore under a steamroller. And Klinsmann insisted the move had nothing to do with a petulant tweet from Altidore – since deleted – that is alleged to have been in response to critical comments the U.S. manager made about him in an interview with ESPN.

"I communicated with Jozy that I was not happy about his latest performances with us, maybe over the last 14 months," Klinsmann said Monday. "Jozy can do much, much better. The reason why he's not coming in is mainly about his performances at Jamaica and at home, also in training, also certain things that went on through the May-June camp. So we decided to bring in Eddie Johnson and Alan Gordon and give them a chance to show they've improved. They're both doing really well in MLS now."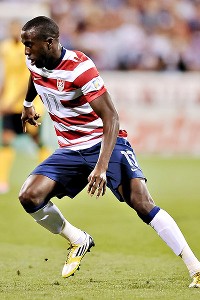 Jamie Sabau/Getty ImagesOne of the main reasons Altidore wasn't called into the team was his poor performance against Jamaica at home.
To be sure, Klinsmann's characterization of the AZ striker's form is accurate. Even before the Jamaica games, Altidore stated that Klinsmann had spoken to him not only about his lack of goal production -- his last U.S. goal came against Slovenia last November -- but also his overall play.

Yet Altidore struggled mightily to get touches in the away match against Jamaica on Sept. 7, and contributed little in a substitute's role in the home encounter four days later, with his decision-making on the ball especially suspect. Altidore himself admitted that his performance in the second match left much to be desired.

"I wasn't on the same page as the guys, and that's my fault," he said via telephone. "I have to get on the same page and understand that we had the lead, and that we kind of had to kill the clock. If we can look for a second goal on the counter, good, but if not, keep the ball and make them work a little bit."

Assessing the away match is a bit more complicated. The U.S. midfield, which was stocked with three defense-minded players, had a shocker, struggling to cope with the pressure applied by their Jamaican counterparts and leaving the likes of Altidore stranded as a consequence.

"I went out there and just tried to do my best," he said. "But I think the Jamaica game [away] was difficult. Especially, the pitch was hard and I don't think the service was there for the strikers, and even for Clint who was playing underneath us."

All true. But if the U.S. manages to reach the final round of World Cup qualifying, as seems likely, there are bound to be more nights like the one the Americans suffered through in Kingston where the ball is not their friend. In those moments, it's imperative that Altidore find a way to be impactful.

"I've been in a lot of those games," said former U.S. international and ESPN television analyst Taylor Twellman via telephone. "Your midfield is struggling a little bit, and you're trying to get the ball out of the back four, and it ain't happening. Well, guess what? As a forward, you'd better be a nightmare; run till you puke and just be a nuisance.

"That's why I think Herculez Gomez right now is performing for Klinsmann," Twellman added. "Gomez is working hard, he's defending, he's running channels. He's not getting the ball a lot, but he's still offering something. Jozy is a big, strong guy. If he finds that part of the game, then he becomes a nightmare to play against. If he just doesn't stop, then look out."

This seems to be precisely the message Klinsmann is sending by selecting a player like San Jose Earthquakes forward Alan Gordon, who has made his living this season by being a constant threat with his aerial prowess and physical play.

But there still seems to be a fair amount of disconnect between what Klinsmann is saying in public and what he's implementing on the field. His personnel choices in midfield throughout his tenure have often flown in the face of the attack-minded style he espoused upon his hiring, and the play of the team's forwards has suffered as a result. Club form, which Klinsmann has long used as a justification for leaving out veteran players, would also appear to count for little in reality. Gomez has seen his minutes drop considerably this season with Santos Laguna, while Altidore has been tearing it up. That's not to say Altidore should be starting, but omitting him entirely seems a step too far.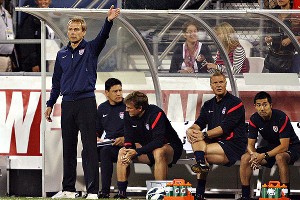 GettyImages / Andy Mead/Icon SMI"I communicated with Jozy that I was not happy about his latest performances with us, maybe over the last 14 months," Klinsmann said Monday.
That said, is it worth knocking Altidore down a few pegs to get better performances out of him later? It's worth pointing out that it hasn't all been sweetness and light for Altidore since he moved to AZ. Granted, the U.S. international scored 15 goals in 31 league appearances last season, but there were moments where he exasperated AZ manager Gertjan Verbeek with his inability to contribute more to the team's buildup play, and he endured some brief spells on the bench as a result. But to Altidore's credit, he worked, adapted, and has become a staple in Verbeek's lineup.

"Verbeek wants his striker to be part of the team play, in combination with his teammates, and he has to recognize situations so he moves the way the coach wants him to move," said Charles Bromet, who covers Dutch soccer for De Volkskrant. "Last season, Altidore made a couple of great goals, but you didn't see development from him as a striker. It was also surprising how easy it was for defenders to get him off the ball because he has a huge physical presence. If you look at what he did with it, it was under par.

"That's the thing he does better now and in combination with this teammates," Bromet continued. "He's gone from a player who fans and media were not that impressed with to one where people see he is capable of much more than he showed last season."

Indeed. Altidore's play this season has raised eyebrows not just for the quantity of his goals but also the quality. In a Sept. 30 match against RKC Waalwijk, Altidore scored a highlight-reel goal where he received the ball with his back to goal, turned his marker and dribbled through three other defenders before hitting a worm-burner inside the near post. Granted, the reputation of the Eredivisie is one where the emphasis is on attack, not defense. But you still have to take your chances, and Altidore has been doing that in droves. There's also no doubt that his game has improved since arriving in the Netherlands.

"I believe in myself, and I'd like to think that I could have scored a goal like that when I was 18," said Altidore. "But I think the biggest difference is I just understand the game better. I think I've just become an all-around better player, knowing what's around me. I think experience is a huge factor that is really, really underestimated. I even underestimated it. Experience plays a big role, being in a position where you have a thought of what a defender is going to do and you try to react to that. Just playing, and playing consistently is also a big factor. It helps your confidence, and you're a different player when that happens."

Altidore also feels that improved training habits have benefited his game, something that was forced upon him by the cut-throat nature of European soccer. The irony here is that his play in training is among the reasons Klinsmann cited for the player's omission.

So does that hint at a deeper rift between player and manager, and is Klinsmann running the risk of permanently alienating a player with tremendous upside? Altidore stated that, "You have to do what the boss says, whether you agree with it or not." That certainly doesn't hint at a warm relationship. But Klinsmann, for his part, indicated that the door for Altidore to come back is still open. And Altidore didn't sound like he was ready to turn his back on his international career. But the onus is now on the player to get back into Klinsmann's good graces.

"The message for everybody is clear," said Altidore. "Nothing is a given. It's always been like that, but I think now more than ever, you have to constantly show that you deserve to be in the team, and not just for one or two weeks. I think [Klinsmann] has sent that message to everybody."

And to one striker in particular.