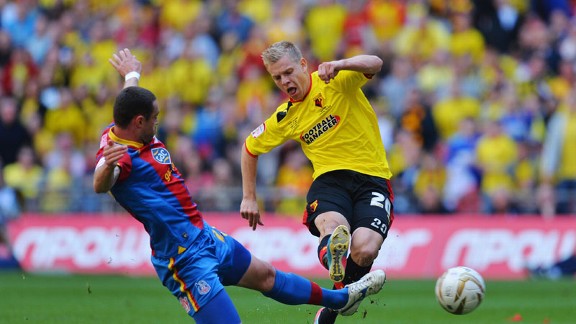 GettyImagesMatej Vydra scored 22 goals while on loan at Watford last season.
After Romelu Lukaku continued to prove Chelsea made a mistake by sending him to Everton for the season, Nick Miller charts football's best loan deals.

10. Half of Udinese/Granada to Watford, 2012-13
Speak to most fans of the other 23 clubs in last season's Championship and they would spit the name "Loanford" at you, disgusted at this horrendous and underhand practice happening at Vicarage Road. In fact, Watford did absolutely nothing wrong and were simply exploiting the rules, which allowed only five domestic loans, but as many from outside the country as you could squeeze into your squad. Thus, the club's owners, the Pozzo family, filled Gianfranco Zola's team with some fringe players from the other teams they owned, including Matej Vydra, Almen Abdi, Marco Cassetti, Cristian Battocchio and Daniel Pudil. It damn near worked, too, with only a Crystal Palace penalty keeping Watford out of the Premier League.

9. Henrik Larsson to Manchester United, 2007
Here's the thing, Larsson only actually scored three times in 13 games in his spell at United. One goal in seven league games. Not that impressive. However, he arrived at a vital time, when United needed leadership and a calming influence up front, and their record while he was there -- 10 wins, two draws, one defeat -- was superb. "If there is one regret I have from my career, it is that I came home to Sweden when Mr. Ferguson was trying to get me to stay at Manchester United," Larsson said in 2010.

8. Jermain Defoe to Bournemouth, 2000
Shortly after Defoe was "recruited" by West Ham from the Charlton academy, Harry Redknapp sent his young striker out on loan, as he did with a few younger players before him, to Bournemouth. There, Defoe suggested that England had a new hotshot striker on their hands, scoring 18 in 27, featuring a record-equalling and oft-referenced 10 goals in successive games. While he has been a very good player since then, his career has never quite lived up to that early promise. He'll always have Bournemouth.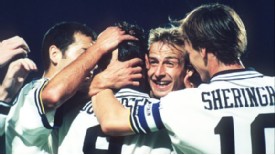 GettyImagesKlinsmann had two impressive spells at White Hart Lane.
7. Jurgen Klinsmann to Spurs, 1997-98
While his first spell at White Hart Lane was obviously more high-profile, his second was arguably more important for Spurs. When Klinsmann first signed in 1994, he was a genuine, bona fide superstar. He scored 21 times then shuffled back to Munich, leaving a trail of grateful and swooning Spurs fans in his wake. A few years later, when he was struggling at Sampdoria and Spurs were struggling full-stop, he was back. Nine goals in 15 games (including four in a mental 6-2 win over Wimbledon) later, he shuffled off again, those same Spurs fans grateful and swooning again.

6. Jimmy Glass to Carlisle, 1999
What's the point in football if it doesn't provide glorious, unlikely, just plain stupid moments? And what could be more glorious, unlikely and just plain stupid than Glass -- a goalkeeper on loan at Carlisle from Swindon -- scoring the goal that saved his temporary team from relegation? "I was always a frustrated forward," he said years later. "I looked over to Nigel Pearson and he waved me on. That was it, it all came down to that last kick. If I could bottle that feeling I would be a very rich man now."

5. Kevin Campbell to Everton, 1999
It wasn't looking good for Everton at the end of March 1999. Hovering just above the relegation zone, having only escaped the drop on the final day of the previous season, manager Walter Smith played something of a Hail Mary pass by bringing Campbell, in the middle of his first season with Trabzonspor, in on loan. And man alive were his prayers answered -- Campbell scored nine goals in eight games (including six in his first three) as Everton won four of their final six to survive comfortably.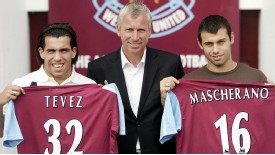 GettyImagesCarlos Tevez almost single-handedly saved West Ham from relegation.
4. Carlos Tevez to West Ham, 2007
When is a loan not a loan? When it's not really from a club, but from a chap who "bought" a promising young player, like cattle of some description, and then shoved him to whichever club would pay the requisite price. First it was West Ham, then it was Manchester United, but it was at the former that Tevez had the most influence, scoring the goals that would save them from relegation, including the one on the final day to secure their place in the top flight. Of course, it did end up costing West Ham some £18 million in compensation to Sheffield United ... but it did really annoy Neil Warnock, so all's well that ends well.

3. Christophe Dugarry to Birmingham, 2003
There have been plenty of "He played for them?" moments in football, but Dugarry loafing round St. Andrews is up there with the most impressive. Birmingham were struggling in the nether regions of the table in 2002-03, hardly surprising in a team "boasting" the "talents" of Paul Devlin. Manager Steve Bruce then pulled the fluffiest of rabbits out of his big hat by recruiting Matthew Upson, Stephen Clemence and the World Cup-winning Dugarry, who inspired them to seven wins in their final 11 games and ensured their survival. And yet all this wasn't quite enough for Dugarry to win the club's player of the year -- Robbie Savage did.

2. Edgar Davids to Barcelona, 2004
The Barcelona team as we know it now very nearly didn't happen. If Joan Laporta had been a little more trigger-happy and sacked Frank Rijkaard as everyone thought he would after a dreadful first half of the 2003-04 season (including a 5-1 spanking by Malaga) saw them some 16 points off the top of the table in January, things could be different. However, Davids was recruited on loan from Juventus, and inspired a phenomenal run of 10 wins from 11 that very nearly won them the league. Davids signed for Inter after his spell in Catalonia ended, and of course went on to fulfil his dream by becoming manager of Barnet.

1. Fernando Morientes to Monaco, 2004
Pop quiz, hot shot -- what's the first thing you do when you loan a player out to a team you might face in some competition or other? You make bloody sure that he can't actually play against you, of course. Unfortunately Real Madrid forgot to do this when lending Morientes to Monaco in 2003, and it came back to bite them in a big way. Real faced the principality side in the quarterfinals of the Champions League, and Morientes scored in both legs, as his temporary employers beat his permanent on away goals. Morientes helped Monaco reach the final, losing to Porto, and was sold to Liverpool the following season.