Flamini stoking Arsenal fire
Arsene Wenger was enjoying the mood again and, clearly, feeling a little mischievous. So, when news was sought about his team selection ahead of the Champions League game with Napoli, he couldn't resist the smallest of good-natured digs back: "In central midfield, you know, we have [Mathieu] Flamini and many people questioned us when we did that, but since he played he has done very well."

That is undeniably the case, and perceptions of the free transfer have changed almost as much as predictions about Arsenal's prospects after an eventful August. In truth, though, it was also Flamini's initial departure that led to the first deeper long-term questioning of Wenger's management. That move to Milan in the summer of 2008 undeniably marked a watershed in the club's history.

Prior to then, Arsenal had seen Patrick Vieira and Thierry Henry leave in the summers of 2005 and 2007, respectively, but only as both players were also leaving their prime. Ashley Cole's 2006 exit amid ominous statements about the club's financial capabilities did hint at the future, but was at least temporarily offset by the capture of William Gallas.

Flamini's move to Milan was the first time, however, that a player had left before his peak while simultaneously depleting the overall balance of Wenger's best team to an unusual degree. It marked a trend. Since then, for the next five years, Arsenal's squad seemed to be consistently spiraling downward in quality. Their transfer activity, most notably, never seemed able to solve the growing issues.

If the midfield was hit by Lassana Diarra and Gilberto Silva's exits in the same year as Flamini, the nadir was deadline day on 2011, when the money for Cesc Fabregas was belatedly spent in a panic on Per Mertesacker, Mikel Arteta and Andre Santos. Yet, as notorious as the Brazilian's signing became, it was arguably Arteta who most defined this period.

Before going further, let's be clear. The Spaniard is undeniably a fine player and a useful squad member for a Champions League club.

At the same time, it was telling that Wenger is reported to have held off his interest in the former Everton midfielder for quite a few years because the manager wondered whether he truly possessed the required ability for that elite level. It was more telling still that Arteta ended up drifting into defensive midfield, underpinning a passing team that always needed a particularly solid platform in order to properly express themselves. Although he kept the ball moving further forward and screened the defence well behind, it was all in a rather detached manner that still required extra cover elsewhere and that Arsenal weren't always equipped to offer.

This is essentially what Arteta came to represent in that position: a feeling of mere adequacy rather than any sense of adventurous conviction. Despite an admirable work-rate, he only ever seemed to possess some of the attributes required, which was also the case for the Arsenal team as a whole.

It is not the case with Flamini, at least in that old defensive midfield position he excelled in over the 2007-08 campaign alongside Cesc Fabregas. Even if the Frenchman was not the type of signing so many wanted, he may end up proving exactly that kind of rare purchase that a team needs and where all the circumstances just fit. Even at this extraordinarily early stage, and despite the duo playing alongside each other in the 2-0 win over Napoli, there is an argument Flamini should permanently displace Arteta in defensive midfield.

He effectively signposted the difference with an abrasive challenge in his first game against Tottenham, of the sort a more measured player like the Spaniard would simply never risk.

Former Arsenal striker Alan Smith summed it up well in his Daily Telegraph column.

"Flamini is a sleeves-rolled-up type of scuffler, the sort who never stops running or indeed talking," he wrote. "His ability to organise, in fact, comes as a welcome addition to a team that hasn't always been vocal enough in the past. It could be far too quiet when things needed to be said."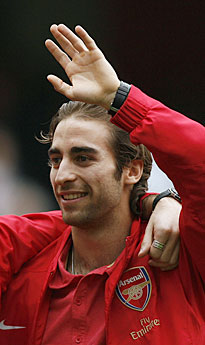 GettyImagesThe French midfielder waves goodbye to the Arsenal fans in 2008.
That could be seen and heard in the Stoke match, as Flamini regularly got very vocal with both Per Mertesacker and Laurent Koscielny behind him, making sure they were organised in a way Arteta didn't.

Of course, they weren't the only players he got vocal with on the pitch. When Marc Wilson had the temerity to tackle Jack Wilshere, Flamini attempted an already infamous -- and rather distinctive -- line in intimidation: "Do that again and I'll blind you."

Obviously, this is a despicable statement and deserves to be condemned. On the other hand, it is something of the reality of a game where any psychological edge is attempted. Many at Arsenal have repeatedly said over the past two seasons that the team has lacked a "spikiness" or "nastiness" since Fabregas left in 2011. There it was in spades, not just ensuring Arsenal stood their ground but trying to ensure the opposition didn't dare get too close.

Even with that kind of attitude, it makes the side much less willing to just be adequate, much more prepared to take even more if they can get it. While Arteta's passing in the same role fosters a certain passiveness in the sense of just hoping the team hit their notes, Flamini's more extreme aggression demands extra.

Wenger, naturally, was never going to discuss that level of mischief -- if not outright malevolence.

"His contribution has been big and I think acknowledged by everybody. Honestly, he convinced me in training and what I have seen in training has been as well seen on the pitch. He balances well our team, accepts to work for the team, he is doing very well."

So, for the moment, are Arsenal.