Five things Mancini must do at Gala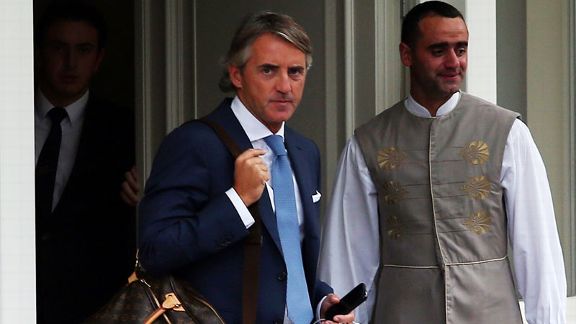 GettyImagesRoberto Mancini faces a challenge in his new job as Galatasaray manager.
Roberto Mancini's arrival at Galatasaray sees him faced with a distinctly different task than when he arrived at Manchester City. This is a club accustomed to success, not building to achieve it, and with that the 48-year-old will face a number of different challenges if he is to succeed.

1. Find his alignment on the fan/president spectrum.

The most delicate of those challenges for Mancini may be altering the perception of his alignment on the spectrum of unruly fans and president Unal Aysal. The decision taken by Aysal and the board to sack club legend Fatih Terim last week was laced in a web of political intrigue and shadow play.

A large and vocal group of Galatasaray fans were appalled by the way the Terim situation was handled, with the three-time manager learning of the dismissal from his daughter, who was watching rolling news coverage. The grievances, aimed mainly at Aysal, were aired at Saturday's dispiriting 1-1 draw with Rizespor, with a number of fans holding aloft banners in support of Terim, with various shouts of "istifa" (resign).

This delicate situation holds importance for Mancini as he replaces a manager Galatasaray fans affectionately refer to as the "Emperor," and whose dismissal is seen by many as unjust. The Italian can't, however, pay too much homage to his predecessor due to the previous feuds with Aysal, who it is suspected has wanted to bring in a more "sophisticated" coach from the west of the continent for some time.

Mancini, therefore, needs to tread carefully, not wanting to allow his relationship with the president to deteriorate, yet knowing that the opinions of the 52,000 fans who pack the Turk Telekom Arena have just as much significance for his future.

2. Incorporate the 6+0+4 rule

Managers operating outside their native country often seek to bring in players from their homeland, both due to familiarity and ease of communication. At Galatasaray, Mancini's often vast recruitment policy will be impinged upon by the new "6+0+4" rule, as it's referred to in official literature.

The rule, brought in for the 2013-14 season, is a further adaption of the 6+5 rule mooted for English football as a way to try to encourage the development of domestic players. In Turkey, though, the quota of nondomestic players is even stricter, with clubs given just six foreign players in their match-day squads, with four more allowed to be registered, but not included in the same match-day squad.

These restrictions mean that Mancini will be required to field at least five Turkish players -- with Lig Radyo and TRT Haber broadcaster Ugur Karakullukcu calling the rule "awkward" but also suggesting that "Mancini will have to think differently here" -- and will be forced to make Galatasaray's domestic players such as Semih Kaya, Sabri Sarioglu, Selcuk Inan and Burak Yilmaz integral parts of the first team.

3. Bring defensive solidity

The task that the former Manchester City manager may most be accustomed to is tightening the defensive unit, something that needs immediate attention as Galatasaray face Juventus in the Champions League on Wednesday night.

With just one clean sheet all season, including a harrowing 6-1 home defeat to Real Madrid, the assorted centre-backs Semih Kaya, Aurelien Chedjou, Dany Nounkeu and Gokhan Zan look unreliable and creaky.

Throughout the Turk Telekom Arena at Saturday's draw with Rizespor, there were nervous glances every time the opposition launched a counterattack, with Kaya and Nounkeu often leaving gaping chasms both between and behind themselves. Sivasspor forward Leonard Kweuke enjoyed his evening in Istanbul, and Mancini must ensure that future strikers do not have as much freedom.

4. Sort an attacking formation

For his many merits as a manager, Terim failed to solve the conundrum of how to effectively field Didier Drogba, Burak Yilmaz and Bruma in the same starting XI. With the situation unresolved, and the attacking movement looking as unsynchronised as ever, Mancini is now faced with the task.

With both strikers offering goals and extreme talent, Terim first turned to a Sven Goran Eriksson-like diamond formation, allowing Drogba and Burak to operate close to goal. The signing of the explosive Bruma this summer, however, means the need to adapt to a wider style has presented itself, offering another problem for the Galatasaray shape.

Against Rizespor, the side nominally morphed into a sort of 4-3-3. Because with Bruma most comfortable operating from wide areas, a midfield diamond becomes impossible. Here Burak, the main goal-scoring threat before the arrival of Drogba, was continually forced into wider positions than his natural game would dictate. Galatasaray were then left stumbling between a midfield diamond and a 4-3-3, with just one winger on the pitch. The result was forced, laborious build-up play, with Galatasaray unable to hold on to the ball effectively and always liable to be caught on the counter.

5. Get an assistant who knows the league

For any manager beginning a role at a new club in a new country, it is important to appoint an assistant manager who both knows the footballing landscape of that country and who isn't too strongly allied with the previous regime.

At Manchester City, Mancini looked to Brian Kidd, a vastly experienced assistant manager, not too deeply entrenched in the Mark Hughes camp, and here, at Galatasaray, it looks like former Blackburn Rovers midfielder Tugay Kerimoglu may fill the role.

Tugay had previously worked as the coordinator of the club's youth setup and as assistant to Gheorghe Hagi, but his distance from the backroom staff of Terim and the shared experience of English football should prove for a competent assistant.