Rotation a no-win game for Moyes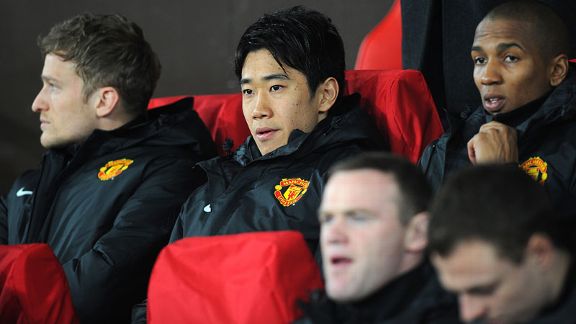 GettyImagesShinji Kagawa has not been used much by new manager David Moyes.
Sir Bobby Charlton used to play a game that, by his own admission, he was poor at. Manchester United's record goal scorer helped appoint Sir Alex Ferguson, knew him for decades and had the benefit of private conversations with the manager. Yet when it came to second-guessing him, he invariably failed. The World Cup winner tried to predict Ferguson's team and ended up marvelling at the Scot's enduring ability to surprise him.

Charlton could chuckle because, more often than not, Ferguson won. Six league games into life after the 71-year-old, the criticisms of his successor involve two seemingly contradictory arguments: David Moyes fields his strongest side too often yet loses too many games.

Saturday's defeat to West Bromwich Albion encapsulated his problems: It was the first time Moyes had attempted to copy Ferguson's eclectic approach to selection in a league game and it backfired horribly. Yet he is damned if he does and damned if he doesn't; needing a win, he sent out Patrice Evra, Rio Ferdinand and Nemanja Vidic against Crystal Palace for Old Trafford's previous Premier League match, picked up three points and paid a price when each of the veterans struggled in his third game in eight days, the following weekend at Manchester City.

It was a tipping point, yet the ignominy against Albion represented a false start to life as the tinkerman. The managerial job description changed drastically when Moyes swapped Merseyside for Manchester; the resources and the responsibilities are equally different. He had a team at Everton and possesses a pool of players at United. He had 45 competitive games last season and -- if United's form improves sufficiently -- he may have 60 this year.

At Everton, understanding came from continuity and vice versa. Nine footballers played 31 or more Premier League games for the Toffees last season and even if the majority of Steven Naismith's appearances were as a replacement, five of them began at least 35 times. Only 15 players made five league starts; in short, no one rotated less than Moyes.

And none moved players in and out of the side quite like Ferguson. It was another way in which he rewrote the rules. Squad rotation was controversial when Rafa Benitez practised it at Liverpool, yet accepted without question when his arch-enemy took the policy further.

His successor has struggled to accommodate many of the men Ferguson tended to slip in and out of the side without warning. Jonny Evans, Chris Smalling, Shinji Kagawa, Nani and Javier Hernandez have made a solitary league start apiece. The injured Darren Fletcher, the inexperienced Adnan Januzaj, the unfancied Wilfried Zaha and the unused Anders Lindegaard have none.

The demanding early-season fixture list is one factor, along with an understandable wish to start well, and the reality it is a small sample size -- indeed, perhaps because of Moyes' reluctance to show favouritism towards his new recruit Fellaini, Anderson has started twice, and few expected him to begin one-third of matches. Yet less than two months into the season, Moyes has given the impression he does not trust his younger central defenders or understand how to use the creative Kagawa.

The feeling is that he would be more comfortable with an all-powerful first XI than a multipurpose 25. Moyes has admitted he believes United need more players capable of going straight into the side and was frustrated in his attempts to sign them. Instead, he is left with a squad whose flaws he recognises, needing to emulate Ferguson by finding a way to win when chopping and changing.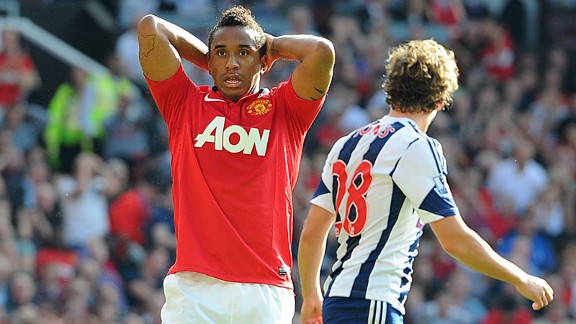 PA PhotosAnderson holds his head after a missed chance.
One interpretation is that Robin van Persie and Wayne Rooney scored enough goals to camouflage the failings of their colleagues, another that too many opponents lacked the belief to beat much-weakened United teams, yet the sheer volume of wins suggests Ferguson was a master of mix-and-match selections. Occasionally, he took it too far -- he fielded a ludicrous side with Ji-sung Park and Rafael da Silva paired in the centre of midfield against Blackburn in December 2011 and lost -- but often got results at Old Trafford with undistinguished performances, placated his players by keeping enough of them involved and protecting those with fragile physiques.

Because the reality is that squad rotation is both an art and a science. There is a mathematical element -- since 2009, Ferdinand has never played 40 United games in a season, Vidic has only done it once and there are reasons to doubt either ever will again -- as well as the skill in pinpointing particular players for certain matches.

For years, Fletcher, Anderson, Nani and Park were guaranteed starters against Arsenal, part of a high-energy formula Ferguson used every time he encountered the Gunners. So perhaps the two pivotal wins in last season's title race, away at Stamford Bridge and the Etihad Stadium, did come with Ashley Young and Tom Cleverley comprising half of the midfield. In all probability, neither would have got into the Chelsea or Manchester City side.

Yet they and their ilk form a large part of Moyes' inheritance, and having complained he lacks "five or six world-class footballers," the feeling is that rotation of the rest is enforced and unwanted. The Albion game suggests he is approaching it hesitantly and from a position of weakness, while Ferguson seemed to do it confidently from a position of strength. Whereas selecting the United team was long a no-win game for Charlton, now it is for Moyes.