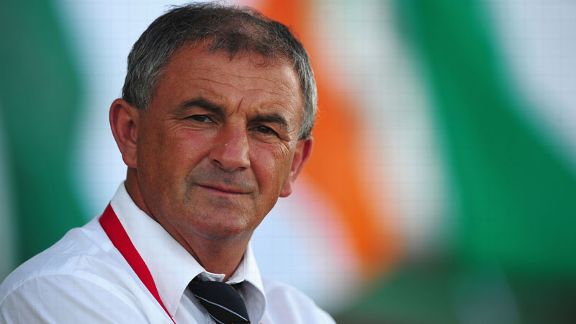 GettyImagesNoel King: The new man for Ireland (for now).
Not many people outside of the Republic of Ireland will know who interim manager Noel King is. In fact, quite a few of the team's senior players won't know him either, but he is exactly what is required right now.

As he took his seat in front of the various microphones and dictaphones at the Football Assocation of Ireland's (FAI) headquarters on Monday, King beamed a big smile and invited questions from the media.

There was certainly no shortage of hands raised as everyone in the room wanted to know how the 56-year-old had taken to his role of stepping in after Giovanni Trapattoni's departure and why he was bold enough to make some interesting call-ups.

On his squad list of 26 players, the names of Darron Gibson, Andy Reid, Kevin Doyle and Anthony Stokes had been printed. These were men who were either exiled by Trapattoni or placed themselves in a self-imposed exile during the Italian's reign, but now they are back.

King simply selected the best squad available to him for the 2014 World Cup qualifiers against Germany and Kazakhstan. It was music to the ears of the Irish media, who had put up with five years of stubbornness and bizarre reasons for leaving out talented players under the previous manager.

Clearly, the biggest winner of this international lottery is Reid. Now 31, the Dubliner has been in superb form for Nottingham Forest with four assists already this season, yet few had expected his name to be on the list compiled by King.

"He [Reid] seems to be doing very well. I made enquiries about him to several people. He has trimmed down, he's in good condition and is playing very, very well," said King.

"I like him as a player, he's technically very smart, internationally smart and I'm glad to have him in the group. The logic [in picking him] is selecting the best players suited to try and win both games."

Bringing back a fans' favourite (Reid), selecting the only Irishman in Champions League action (Stokes) and paving the way for the return of the country's best central midfielder (Gibson) were small but significant moves made by King and they should stand to him.

The current Ireland Under-21 boss cleverly sidestepped the issue of being in the mix to be Trapattoni's successor on a full-time basis, although his chances will not be harmed if he can secure positive results in his two games in charge. Then he would go from not even being in the conversation to a very real contender.

Anybody who knows King will not be surprised that he is in such a position. Having cut his teeth in the League of Ireland, he achieved head-turning results with the Ireland women's team, U-17 girls and the men's U-21s. So he was, in essence, the only man to take the reins temporarily.

Is King the man to land the job permanently? It is too soon to say. Firstly, he needs to taste senior management at international level. Then, Ray Houghton and Ruud Dokter will recommend a shortlist of candidates to the FAI. By that stage, which will probably be in early 2014, a decision can be made.

The various names being thrown around, like Martin O'Neill, Roy Keane, Guus Hiddink, Ruud Gullit, Alex McLeish, are just cannon fodder for the media right now. The actual process of finding the right man should not be rushed, because this next appointment is a massive one for Ireland.

At least they have a man in King who has steered clear of controversy thus far and brought the focus back on winning football matches. The managerial saga will rumble on, but why not try to beat Germany and Kazakhstan in the meantime?