Three Things: Spurs vs. Chelsea
Three observations on Tottenham's 1-1 draw with Chelsea:

An angry Torres is no better

There have been cynics who suggested Fernando Torres' problem at Chelsea has been his lack of fire, his apparent eagerness to accept that his golden days are behind him.

Yet this was an afternoon when he clearly became engrossed in an increasingly fractious contest against big Jan Vertonghen, with the aggression he was exuding from early in the first half not being translated into a performance that suggests he is ready to explode into scoring life any time soon.

He had his chances in front of goal and produced what have sadly become his new trademark finishes, with his lack of cutting edge when the whites of the goalposts are presented to him a flaw that has been exposed time and again both in his first year at Liverpool and at Chelsea.

This latest display came with an added touch of spice, as he indulged in an ongoing battle with Vertonghen that could have resulted in a red card when he tipped the defender before appearing to scratch his face mid-way through the second half, then ended with an almost inevitable dismissal after another clash with the Belgian.

Television replays suggested Torres may have been unfortunate to see red for the second aerial battle that could have fallen into the 50-50 category, his slow march to the touchline and instant post-mortem with boss Mourinho symbolised another day of disappointment for the one-time striker supreme.

The trouble for Mourinho must be that Samuel Eto'o and Demba Ba may not provide him with the striking threat his side need if they are to be crowned champions this season. However, he probably knew that on the day the transfer window slammed shut at the start of September.

The Townsend Effect

As Tottenham spent their summer scouring Europe in a bid to offload the £100 million that was burning a hole in their pocket ahead of the imminent sale of Gareth Bale, few would have predicted that the potential star of their season was on among those on their 'For Sale' list.

However, Andros Townsend is defying all logic to confirm his worth in a Spurs side that offers much more of a rounded threat than they had during the Bale era.

The kid who impressed during a loan spell at Queens Park Rangers last season didn't seem to fit into this new generation of Tottenham optimism, with imports lurking in the undercarriage of their revamped squad who would surpass him.

Yet Chelsea full-back Ashley Cole will confirm that Townsend gave him one of his most disturbing examinations in some time, with the fleet-footed 22-year-old displaying a maturity and class that may well keep some of the club's big money arrivals on the bench for some time to come.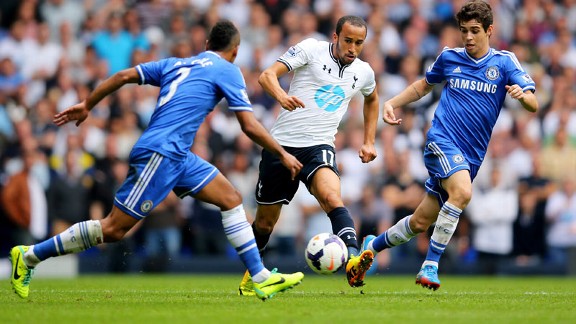 PA PhotosAndros Townsend had a big impact before he was taken off.
His searing pace, his trickery on the ball and the unpredictability he is offering are important facets of the Tottenham make-up so far this season and even though he only played for 62 minutes of this game, the work he put in was relentlessly compelling.

It was his flicker of inspiration that so nearly paved the way for a Paulinho goal on two occasions. First on 23 minutes and again on the stroke of half-time as he crashed a shot against the post.

He may have blotted his copy book as he was booked for diving when he really didn't need to be in the first half, but Townsend's rise from the shadows looks set to continue on the evidence of this latest performance.

What must concern boss Andre Villas-Boas is the reality that, once Townsend's threat faded as he tired, so the potency of his side diminished. Christian Eriksen, Mousa Dembele, Paulinho and the rest needed to come to the party when the local lad had run out of gas. That they didn't is a failing that needs addressing.

Oscar still has questions to answer

Could it be that Jose Mourinho backed the wrong No. 10 when he nominated Oscar to fill that role at Chelsea this season?

A week after Mourinho dropped Juan Mata from his entire squad for the Premier League game against Fulham and went public to tell the Spaniard that he 'had to learn a lot' to get into his team, it was Mata who the Chelsea boss turned to when his side were contemplating a mini-crisis at half-time in this compelling London derby.

Mourinho's move served to highlight the anonymity of Oscar in the first half. Ineffective on the few occasions when he touched the ball, his lack of movement and invention was as much a part of Chelsea's misfiring performance as the blunt display of lead striker Torres.

The Brazilian's fragile frame does little to support the notion that he is equipped to play such a demanding role in the Premier League and when he was shifted onto the left flank to make room for Mata, his efforts were no more influential.

It is wholly wrong to condemn Oscar for one poor display in a high-profile game that passed him by as his emerging talents should be cherished, but the impact Mata had when he was introduced to the action reminded us of just what a Chelsea No. 10 needs to do in the heat of battle.

A solitary 45 minutes of brilliance may not transform the opinion of a manager who has put his own reputation on the line in his stand-off with Mata, but Mourinho may be forced to sample some humble pie as he needs to reintegrate his best player in his line-up.