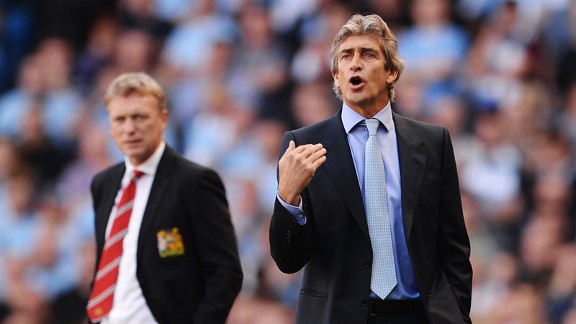 GettyImagesManuel Pellegrini and David Moyes have endured different starts to the campaign.
John Brewin grades the managers who have found themselves in a new job in the Premier League this season.

Jose Mourinho, Chelsea:

The flagrant puckering up at the start of his return has subsided. A cold shoulder is already being utilised. The old snarls and sneers are back in harness. Mourinho has swiftly reminded us that it is his way or the King's Road. Some are already feeling the cold comfort of working under him, with Juan Mata and David Luiz leading that list, while Romelu Lukaku's loan to Everton looks ever more bizarre as, week by week, the rest of the strikers falter. Talk of a crisis after defeats at Everton and to Basel was premature, but Mourinho's unsportsmanlike post-match behaviour after the Super Cup was a reminder of the worst of the sort of excesses he ought to have left in Madrid.

Chelsea remain in touch and dangerous, too. We are just not used to a Mourinho team that is not the juggernaut it was at Chelsea the first time, Internazionale and then Real -- apart from when Barcelona were in view. There is no longer a sense of invulnerability and, for the first time since he was at Benfica, he has not been given the squad he wants. This being Mourinho, every move is picked at for signs of his motives. And he knows that, too.

Must do better: Goals have hardly flowed so far. That owes plenty to a weakness in that department and, for all their attacking midfield talent, creativity must improve.

Mark: 6/10

Roberto Martinez, Everton:

The doubts lay in his Wigan team's inability to defend, and there were concerns about the Everton squad's ability to respond to a fresh approach after years of sticking to the tight lines of the David Moyes regime. The defending has not yet been pitch perfect, but the players have responded well to Martinez's methods; Everton have become entertainers.

They are currently the only unbeaten team in the Premier League, and their fans are really enjoying themselves. Moyes was admired and appreciated, but the new air of unpredictability feels novel and fun. The response to setbacks has been positive so far; at West Ham on Saturday, goals were conceded against the run of play before the quality of Everton's play won out. Three transfer window successes were key: Lukaku scored the winner, Gareth Barry probed from midfield, and Leighton Baines' brilliance showed why his club fought so hard to keep him from joining Manchester United.

Tuesday's League Cup defeat to Fulham was a disappointment, since Martinez must surely have wanted to go far in that competition. The chance to win a trophy where Moyes failed has to go down as a target missed.

Must do better: "The draws were more 'victories without goals'" was a pearling Martinez quote delivered to our own Roger Bennett, but it has some credence. There remains a defensive vulnerability when Everton are trying to build or protect a lead.

Mark: 7.5/10

Manuel Pellegrini, Manchester City

In swapping the histrionics of Roberto Mancini for the stolid, understated charms of Manuel Pellegrini, City have chosen progress over profile. Mancini remains beloved among City fans, but Pellegrini has shown signs of being capable of surpassing him. Much of the credit amassed so far comes -- of course -- from the Manchester derby, but if Pellegrini had previously been reaching for a working strategy he seems to have found one with three heavy victories in a row; the 4-1 thrashing of United was bookended by a 4-0 win at Viktoria Plzen and a 5-0 thumping of Wigan on Tuesday night.

Pellegrini was granted the best squad of players in the Premier League before he had even started, and there are signs that his summer signings are now bedding in. Fernandinho has freed Yaya Toure, Jesus Navas pinned back Patrice Evra against United, and Steven Jovetic's double against Wigan meant he could join Alvaro Negredo in breaking his duck. Suddenly, City have thrown themselves to the front of the queue to be the team to beat. One caveat: Vincent Kompany must be protected. City are simply not the same team without him.

Must do better: In the wake of a free-scoring last ten days, it may seem like picking holes for the sake of it, but there were notable flat spots in their matches with Hull and Stoke. Lesser teams need to be buried better.

Mark: 8/10

David Moyes, Manchester United

Nobody said it would be easy, least of all Moyes himself -- and that has proved part of the problem. Fear from a Manchester United manager was a rare beast for 26 years, even when Sir Alex Ferguson fielded teams that set out not to lose rather than seek victory. Three matches against immediate Premier League rivals yielded one point and a single goal, and that was a consolation in the final minutes of a truly depressing defeat at Manchester City.

Moyes' teams have not played negatively, but they have hardly grasped the nettle of rampant adventure either. He has been conditioned by 11 years of making do and mending at Everton. After Wednesday's League Cup defeat of Liverpool, he admitted that the reserve line-up that won him his biggest victory yet had given "food for thought." A series of static team selections has previously not made the most of considerable resources. Complaints about the fixture list risked a loss of credibility and made Moyes field what he thought was his best team. A plus point worth heavy mention: Moyes has Wayne Rooney playing as well as he has done for four years.

Must do better: Moyes' Tuesday admission that he was "two players short" was a statement of the obvious. The transfer window ought to be forgotten and given up as a bad job. Increased creativity must be found, but so too must proper protection for the defence. Perhaps he might consider playing three midfielders against better opponents. All the pieces matter -- the formula has not yet been found.

Mark: 5.5/10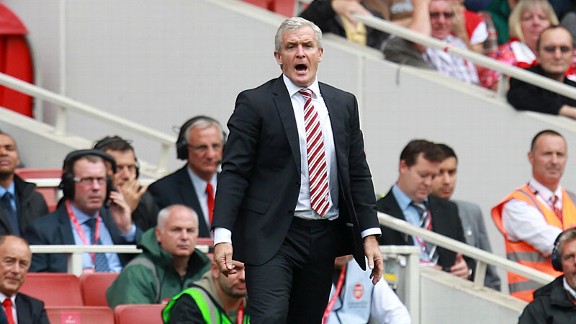 PA PhotosMark Hughes barks orders from the touchline at The Emirates.
Mark Hughes, Stoke City

"Stokealona" was a jokey label attached to Sparky's dreamers a couple of weeks ago after a highly promising, passing start to the season. The partnership of club and manager is a paired attempt to revive reputations, and so far all seems to be going well. Stoke's players have exchanged the ball with a patience that was verboten under Tony Pulis. They seem to be having fun with it, too.

The fans also seem to be enjoying the brand of football, and Hughes has done some productive bridge-building with some of those who frozen out by the Pulis regime. Jermaine Pennant was rescued from free agency and has responded well. Kenwyne Jones, another who looks revived, has spoken openly of his problems with the former manager. However, Stoke's difficulties lie in a lack of striking class; they might even have won at Arsenal had they possessed it. The next transfer window will be key, but the Potters look destined for comfortable mid-table, and in a happier style than ever achieved under Pulis.

Must do better: Hughes is forced to jam square pegs into round holes in attack, where options are scant and of mediocre quality. No player has scored more than a single goal.

Mark: 7/10