Top Tenner: Player revolts

After Paolo Di Canio was shown the door on Sunday after reportedly falling out with his Sunderland players, Nick Miller charts football's most infamous player revolts in this week's Top Tenner.

10. Sunderland v Paolo Di Canio, 2013
A butchered version of Heisenberg's uncertainty principle is this: you can tell where an object is, but you can't tell how fast it's going. That applies in some ways to Paolo Di Canio's tenure at Sunderland: we all knew it was going to go wrong at some point, it's just we weren't sure exactly when that was going to happen. Perhaps we should have been given a hint by words like this, from Adam Johnson, back in May. "You just have to accept he is the manager and get on with it," he said. "It depends on which type of player you are, I suppose, and how you take it. It could kill players' confidence and things, but with other players it could inspire them." With the benefit of that famous, crystal-clear 20/20 hindsight, we can safely assume that, for most Sunderland players, it was the former.

9. Nottingham Forest v Pierre van Hooijdonk, 1998
The gentlemen's agreement is one of the lengthiest passages in the hefty tome that is football's Unwritten Rulebook. Thou must not break the gentlemen's agreement, or else hell will be paid. Forest did this after Van Hooijdonk was told he could leave the club in the summer of 1998 -- well, according to the Dutchman, anyway. The club reneged on this 'promise' and after the sales of Colin Cooper and Kevin Campbell compounded Van Hooijdonk's dissatisfaction, he retreated to the Netherlands and refused to play, waiting for a team to rescue him from his chains. When no club arrived, he slunk back to Forest. "If you see him walking funny, you know where we stuck his olive branch," said Forest boss Dave Bassett, welcoming Van Hooijdonk back to England.

8. Chelsea v Avram Grant, 2007
This is all very hush-hush, but it seems that not too many Chelsea players really rated Avram Grant. "Chelsea deserve a bigger coach than him," an 'unnamed player' told The Guardian. "Grant does not have the quality to coach a team like this. When we play big opponents we will suffer because of him." Indeed, it has been said more than once that the Chelsea players would ignore Grant's instructions and drew up their own game plan. And it would seem that if the Chelsea players weren't fans of Grant, Grant wasn't a fan of the Chelsea players. "Some of the players there have problems that you can't find at a children's team," he said shortly after leaving.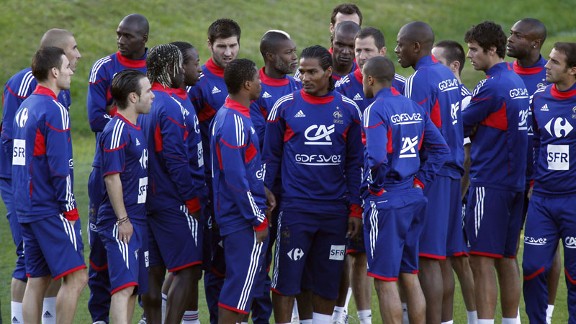 APFrance's players refused to train at the 2010 World Cup in protest against Nicolas Anelka's expulsion from the squad.
7. Roberto Mancini v Carlos Tevez, 2011
All's well that ends well. Sort of. In the Allianz Arena on September 27, 2011, it certainly didn't look like Carlos Tevez's Manchester City career was going to end in anything but tears, after it appeared that he refused to come on as a substitute against Bayern. As it turns out it may have all just been a big misunderstanding, as Tevez denied this mini-strike ever happened. Mancini said on the night that Tevez was "finished", but he was eventually welcomed back into the fold, and scored some pretty important goals as City won the league. "I was close to retiring after the fight with Roberto," said Tevez, possibly sighing with a forlorn look on his face.

6. Manchester United v Paul Scholes, 2001
Paul Scholes? Model professional? Refusing to play? Quiet unassuming Paul Scholes? Surely not. But it's true -- Scholes did indeed refuse to play for Manchester United, in a League Cup tie against Arsenal back in 2001. Scholes had been left out of a league game against Liverpool a few days before, and was instructed by Sir Alex Ferguson to join the kids and other assorted fringe players for the trip to Highbury. Scholes decided he didn't fancy it, but in true Scholes fashion knows he was wrong with hindsight. "Yeah, that was a stupid thing to do, I know that now," said Scholes in 2011. "It's something I should never have done. I will always regret that but it's done now and there's not much I can do about it."

5. Chelsea v Luiz Felipe Scolari, 2008-09
A World Cup-winning manager, a collection of players who'd just reached the Champions League final, more money than the Almighty -- what could possibly go wrong? Well, perhaps when those Champions League final-reaching players with some of that money in their pockets decided that they allegedly didn't fancy doing as they were told by the World Cup-winning manager -- that's what. "The real owners of football at the moment are the players," mused Scolari after he was sacked. "The coach, in most European clubs, has no strength to contradict them. The people sacked are always the coaches. The main players already know this. That was my problem at Chelsea. [Didier] Drogba, [Michael] Ballack and [Petr] Cech did not accept my training methods or my demands."

4. Netherlands v their players, all the time, ever
Often, chaos is preferable to order. Unpredictability is just so much more fun. Especially with the Dutch national team, who until recently, when they appear to have got it together, were good for at least one highly entertaining bust-up at every international tournament. From Johan Cruyff nearly pulling out of the 1974 World Cup and actually pulling out 1978 tournament over mysterious disagreements, to Ruud Gullit not travelling to the 1994 World Cup after a tiff with Dick Advocaat, to Edgar Davids leaving the Euro '96 squad amid political divisions and a disagreement with Guus Hiddink, they once knew how to keep us amused. Maybe they will do again one day.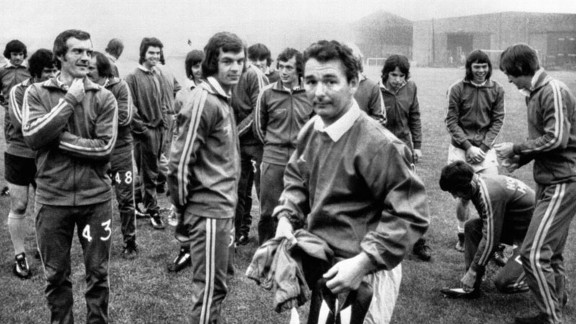 PA PhotosBrian Clough seemed destined to fail at Leeds from the start.
3. Ireland/Mick McCarthy v Roy Keane, 2002
Said Roy Keane: "Mick, you're a liar... you're a f**king w**ker. I didn't rate you as a player, I don't rate you as a manager, and I don't rate you as a person. You're a f**king w**ker and you can stick your World Cup up your arse. The only reason I have any dealings with you is that somehow you are the manager of my country! You can stick it up your b*llocks." And all over a set of training cones. And a bit more than that, granted.

2. France v their players, 2010
"It came from someone in this group, who wishes the French team harm. The problem isn't Anelka, it's the traitor among us, you have to say it." That's what Patrice Evra said about the revolt that followed Nicolas Anelka being cast out of the French World Cup squad, which led to the remaining players refusing to train, team director Jean-Louis Valentin resigning, fitness coach Robert Duvane storming off the training pitch, throwing away his accreditation and climaxing with the hapless Raymond Domenech rather humiliatingly reading out a statement prepared by the players to the press. Oh, and France went out at the group stage.

1. Leeds v Brian Clough, 1974
Who thought this was going to work? Surely not even Manny Cussins or Clough himself truly, in their heart of hearts, believed that bringing a manager with methods so opposed to the much-loved predecessor (never mind him being on record as actively despising the way they did things) would be a good idea. Perhaps they wanted it to be -- they wanted to succeed with the unthinkable, but it would never and could never happen. What actually happened to finally end things for Clough is up for debate, and has indeed been discussed in the courts, but Clough thought he knew. "It's not true that Mafia headquarters are in Sicily," he said a few years later. "They are in Leeds and the top man is Johnny Giles."