David Moyes playing risky game of diminished expectations
With the critics howling at the door, David Moyes came up with exactly the right result to restore some calm and perspective at Manchester United. Any win over bitter rival Liverpool is gold dust at Old Trafford, even in the sadly downgraded league cup, and the relief of the United fans was palpable when the final whistle blew Wednesday.

But that win rather deflects attention from Moyes' stark warnings after the "demolition derby" 1-4 surrender to City on Sunday. "I was taking over from a great manager and it was always going to take time to change things," declared the new boss. "You'll have days like Sunday, and there might be more because we are in a transitional period. ... We may have to take a few more blows, maybe even more than that, maybe all season."

This was incendiary stuff for fans who demand and expect their club to be in the title race every season, and usually winning it.

Moyes effectively was lowering expectation levels and more or less telling supporters to buckle up for a bumpy ride.

Is Old Trafford ready for such a heavy dose of realism? And for how long will the more fickle fans accept that it is a "transitional period?"

Remember, it took Sir Alex Ferguson, or just plain Alex as he was then, four years to deliver his first trophy after his appointment in 1986. Moyes is smart enough to know that in the current Premier League hothouse, he will not get nearly so long to get things right.

Fans might accept a comparatively fallow year this season, for example, but not one that ends outside the Champions League places. And from what we have seen so far this season, United are far from being bankers for the top four in a year when Spurs and Arsenal are looking stronger, Manchester City are ominously powerful when in the mood, and Chelsea and Liverpool have to be in the mix too.

Yet this is the same group of United players who romped to the title by an 11-point margin last season. The main difference this campaign -- Marouane Fellaini has been added.

Moyes has gone public by declaring that his team need two more players who can go straight into the starting lineup, a tacit admission that the summer transfer window was indeed the calamity it looked to the rest of us. After all the arrows fired at rookie executive vice chairman and director Ed Woodward after that debacle, expect United to make a splash in January.

Could there be new bids for Barcelona's Cesc Fabregas, Real Madrid's Fabio Coentrao or Everton's Leighton Baines -- all targets who eluded United in the summer?

Wayne Rooney is fit and sharp again, and it was a smart piece of psychology for Moyes to give him the captain's armband for the Liverpool game. But is he truly settled at Old Trafford even now? No one is really saying.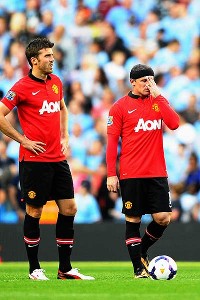 Laurence Griffiths/Getty ImagesDemolition derby left United and their supporters in a grim mood. Will it get worse before it gets better?
Moyes will have been alarmed by the displays of a few in the City game, during which Fellaini looked a plodding presence in midfield (he was always more effective at Everton marauding further forward). The manager must also be concerned about wingers Antonio Valencia and Ashley Young, both of whom looked like luxuries the team could ill afford. There was also a lack of pride and hunger, always a characteristic of Sir Alex's teams and, to be fair, those of Moyes at Everton.

The battling win against Liverpool might have been a turning point.

But Moyes needs those reinforcements in January, and a fair bit of patience from fans in an era when every result brings a kneejerk reaction from hysterical callers to phone-in shows.

Following Sir Alex was never going to be easy for anyone. But like the banner at Old Trafford says, Moyes is "The Chosen One," and the support for him in the ground was touching last night. There was a sense of the support knowing he has a tough job.

But we all know that mood could change quickly if United make a mess of a rather kinder run of games in the next few weeks.