Lore-making and law-breaking in Moscow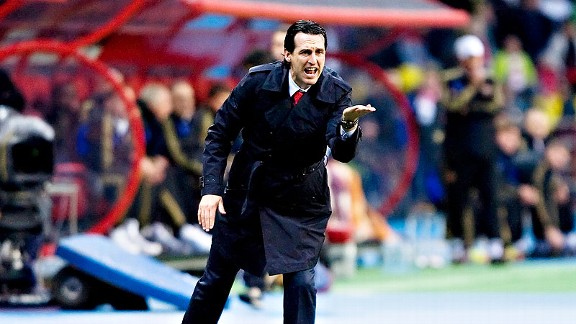 Dmitry Korotayev/Getty Images Unai Emery was focused on the Moscow derby but was powerless to prevent his Spartak side from losing 2-0 to CSKA.
You knew this was going to be no normal day when, on the Metro train to Spartak Moscow's Luzhniki Stadium, a boy no older than 15 wearing sunglasses and a Spartak Moscow hoodie, cracked open a can of super-strength lager and began swigging from it. But then derby day, even in a city as unpredictable and visceral as Moscow, is not your average day. Of the few rules most Russians keep to -- not drinking on their prized Moscow Metro, arguably the city's finest living, working museum, is one of them -- most go out of the window when Spartak and CSKA biannually go head-to-head.

On a Sunday of derby matches across Europe, Russians would argue this was the biggest of all. "The Russian Premier League exists only for the sake of the two derby games a year," explained Ivan, a Spartak fan, outside the stadium. Even Spartak boss Unai Emery played along. Asked for his prediction for El Clasico at the Camp Nou, he told journalists: "I've got no interest in the game." He was roundly applauded.

The Moscow derby is indeed one of the few domestic football matches that captures Russian imaginations. It's partly a recent phenomenon -- an independent Russian national football league has only been in existence since the early 1990s, carved out of the old Soviet Top League, and CSKA and Spartak are its two most successful sides. Yet this season, both are currently hanging onto the coattails of last year's champion, Zenit St. Petersburg.

But the rivalry also runs deeper given the contrasting histories of the two clubs. CSKA -- literally, the Central Sports Club of the Army -- was adopted by the Soviet military in the 1920s and the Ministry of Defence remains a shareholder. Spartak, on the other hand, was the Soviet Union's sole club without political alignments -- nominally, at least -- and for many fans, siding with Spartak was as much an expression of independent thought as it was a sporting choice.

These days, such political nuance has largely been eradicated. It might be expected that CSKA's fans are more of a right-wing bent, confirmed when their section began chanting "White Power, White Power" late in Sunday's game. Spartak fans are no angels by comparison but if there remains a political divide between the clubs, it's hard to discern.

In spite of it all, the rivalry continues to inspire. At the near-80,000 capacity Luzhniki, Spartak's average home crowd over the last few years has hovered around the 20,000 mark. For Sunday's game (Spartak was the home side), 63,000 were in attendance, a sell-out given that police had cordoned off large sections of the stadium in an attempt to prevent trouble between the two sets of fans. Indeed, the police were out in force, particularly the heavily-armoured riot police (nicknamed "cosmonauts" by Russian fans for their round helmets) trying to keep a lid on things.

They certainly provided plenty of muscle on the way into the press lounge, with journalists subjected to two pat-down searches followed by a walk through a metal detector. All of which makes you wonder how, throughout the 90 minutes, both sets of fans seemed to have more fireworks and flares in their possession than for a Fourth of July celebration.

Russia's football authorities have made repeated attempts to clamp down on illegal pyrotechnic displays at stadiums, particularly in view of their successful World Cup 2018 bid. But the ban continues to be flouted. Asked how he felt about the succession of loud explosions coming from the stands throughout the game, CSKA's Nigerian striker Ahmed Musa admitted: "I was afraid to be honest." To repeat -- normal rules don't apply.

The first point-scoring opportunity for either team actually came before kick-off. Derby day tradition dictates that both sets of supporters choreograph a "performance," something usually involving combinations of flags, banners and flares as the teams file out of the dressing-rooms. "It actually takes several weeks to prepare for this kind of game," CSKA fan Aleksey, one of the performance organisers, told the newspaper Argumenty i Fakty. "Obviously we have to draw the banners, agree everything with the police, work out how to get it onto the stands and coordinate the whole thing."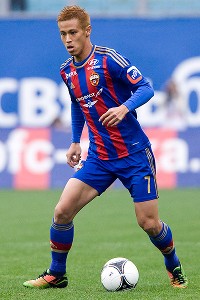 Dmitry Korotayev/Epsilon/Getty ImagesKeisuke Honda was outstanding for CSKA -- he has five goals in 11 league games so far this season.

As the players took to the field, Spartak fans held up banners bearing the slogan "And on the Seventh Day / God created Spartak" -- a nice touch for a Sunday, and equally impressive to look at. CSKA's effort was rather muted by contrast, a sea of blue and red replete with a CSKA emblem. Most observers scored that 1-0 to Spartak.

Sadly, that turned out to be the last positive for the home side. Spartak, languishing outside the league's top four, was still licking its wounds after a 3-2 Champions League home defeat to Celtic in midweek, a match it had expected to win comfortably. CSKA, in contrast, had won five out of its past six games and a win would have seen it retain its place at the top of the Russian Premier League.

Both sides played to the form book --Spartak looked tentative and slow while CSKA was well-organized, sharp and had an extra gear in attack. In particular, the blossoming partnership of Japanese playmaker Keisuke Honda and Musa reaped huge dividends all evening. CSKA took the lead in the first half when Honda played a skilful one-two with Zoran Tosic and played the ball in to Musa, who finished with ease. Emery continued the day's theme of tearing up the rulebook, immediately withdrawing one of his centre backs, Juan Insaurralde, and introducing another striker, Artem Dzyuba, much to the puzzlement of those in the press box.

Despite the tactical innovations Spartak never established a foothold, and in the second half Musa returned the compliment to Honda, holding up the ball brilliantly on the half-way line before breaking at speed towards the Spartak back four. A pass to his right laid the ball on a plate for the on-rushing Honda, who could hardly miss from close range.

All told, it was as comprehensive a 2-0 victory as you will ever see, even allowing for a Spartak goal from Dzyuba that was farcically ruled out for offside despite his position four yards in front of the last defender. Clearly on Moscow derby day, even the match officials can indulge in some rule-breaking.

To the neutral observer, CSKA provided only positive impressions. Despite being shorn of its main striker, last season's 23-goal hotshot Seydou Doumbia, and arguably Russia's most talented player in midfielder Alan Dzagoev, the team did not put a foot wrong. Honda's performance stood out yet it was very much a collective effort. Such was the certainty with which CSKA played that manager Leonid Slutsky's post-match press conference barely lasted a minute. There was hardly a question to be answered after such a comprehensive result.

For Spartak the opposite was true, and Emery spent a quarter of an hour attempting to explain such a limp performance. The Basque has largely made a positive impression since arriving in Moscow in the summer -- though he continues to refuse requests for interviews with the Russian press -- but questions are beginning to be asked about his ability to get the best out of his side, which has now gone a decade without a major trophy. In truth, Emery struggled to explain quite why his side had mustered only one memorable scoring chance in the match.

Indeed, if there was just one rule which held firm on derby Sunday in Moscow, it was one of football's oldest: if you don't score, they will.