Three things: Man United vs. Liverpool


Three observations on Manchester United's 1-0 League Cup win over Liverpool at Old Trafford:

Something in reserve?

There is life in David Moyes yet. He has his first big win as Manchester United manager and achieved it with a team that was very far from his first-choice selection.

The chance to make amends for slaughter at City was removed for all but three players. Wayne Rooney and David De Gea were United's only decent performers at Eastlands. Chris Smalling might offer that he was playing out of position. Central defence was his domain now, alongside Jonny Evans, who has sat out all six games so far.

Moyes' previous reluctance to shuffle his pack may have had the unexpected side effect of producing a performance from a putative reserve lineup that began with zest and played with desire even when pinned back by Liverpool's power. Phil Jones' return was welcome as he used his physical presence to win tackles in a manner that looked beyond Marouane Fellaini on Sunday. Rafael, spuriously linked with a return to Brazil in the morning's press, reminded why he is the best full-back at the club, both in defence and attack.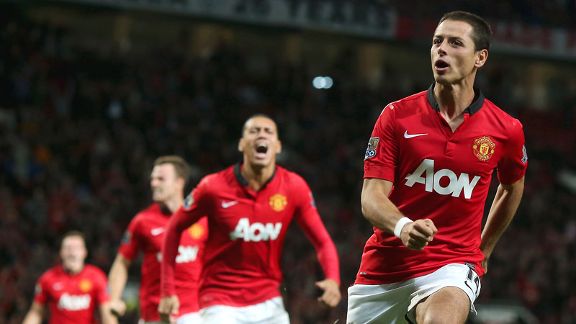 John Peters/Man Utd/Getty ImagesJavier Hernandez's energetic play scored David Moyes his first big win as United's manager.
The Shinji Kagawa club did not receive much encouragement from early loose touches, though he was involved in the passing interchanges with which United created their best first-half opportunities. He looked better suited to playing off the right after halftime. One cut in and fizz off the top of the bar showed the hype might have reason behind it.

There were periods of the flatness of play that has been too apparent in Moyes' reign so far, but the energy of Javier Hernandez helped, and his crucial 47th minute goal showed he is still the best poacher at the club.

Rooney played as both playmaker and central midfielder, clearly enjoying the responsibility and often smiling his way through the game. When he was grimacing his way through Glastonbury in the summer, few would have predicted that Rooney would now be playing with the sunny demeanour of Dwight Yorke.

And another who thrived off involvement was Nani, here to stay after that five-year deal. His creativity threw the recent performances of Ashley Young in particular into a bad light. The League Cup will have taught Moyes far more about his squad than he knew previously. It had him punching the air and clapping in vindicated fervour after the final whistle had gone.

Suarez simmers to the boil

The boos were only half-hearted from United fans. They have greater concerns than Luis Suarez at the moment. They chose instead to back their wounded heroes.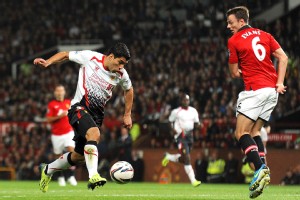 Andrew Powell/Liverpool FC/Getty ImagesLuis Suarez returned to action Wednesday for Liverpool, showing some rust and frustration in an otherwise promising effort.
Liverpool had been doing just fine without Suarez until just over a week ago. Daniel Sturridge has staked impressive claims to be a constant starter. Suarez, a soloist rather than duettist, has usually done as he pleased, but now the aim is to pair him with his English colleague. Brendan Rodgers' choice of three at the back allowed him two strikers.

Suarez's first chance to score came and went with a heavy touch that bore a sign of rustiness. A hint of his devilment came when he fooled Ryan Giggs into thinking that he was a teammate by calling out -- rather unsportsmanlike, but low down on his previous list of offences. Then, a heavy touch prevented him taking advantage of an Evans error. De Gea's speed of pounce probably put him off. The gossamer touch, of goals like his rounding of Newcastle's Tim Krul last November, looked absent, though his influence when running from deep grew. Not that Sturridge was any less wasteful, though Jordan Henderson and Kolo Toure were both guilty of missing sitters when Liverpool were chasing an equaliser.

The Suarez touch and threat grew as time ticked on. A sidewinding shot spilled into the sidenetting, then the crossbar was crashed by a free-kick to remind who used to be Liverpool's main man and still might be, for however long he stays. It was eventually an unhappy return, but was not an unpromising one, either.

Rodgers wanted this, probably needed it, too

No Europe for Liverpool this season, and that meant Rodgers could play his first XI, while Moyes had to stay mindful of next week's trip to Donetsk. Last time Liverpool were absent from Europe, they won this trophy. Before that, we go back to 1999-2000 for their last absence, and that was a season of rebuilding.

A push for this trophy and the FA Cup could be prioritised if the hunt for fourth began to go awry. Not now, after this defeat. Rodgers has a squad big enough to shuffle around, even if the likes of Iago Aspas and Luis Alberto will need time. Victor Moses is fitting in well and Mamadou Sakho is feeling his way in. The worry is that the injury to Philippe Coutinho has cast a shadow. Liverpool survived well enough without Suarez, but has the little Brazilian now surpassed the Uruguayan's importance? A lack of any second-half goals whatsoever this season is even more of a concern.

Silverware did not save Dalglish but it might do for Rodgers. The talk of projects and building cannot wash for too much longer, even if there are signs of positive development. Liverpool are not a club to be comfortable in fifth, sixth, seventh. Even fourth is not good enough by previous standards. And losing the chance to damage a bitter rival when at their most vulnerable has come and gone. Do the doubts about the Rodgers regime resurface once more?